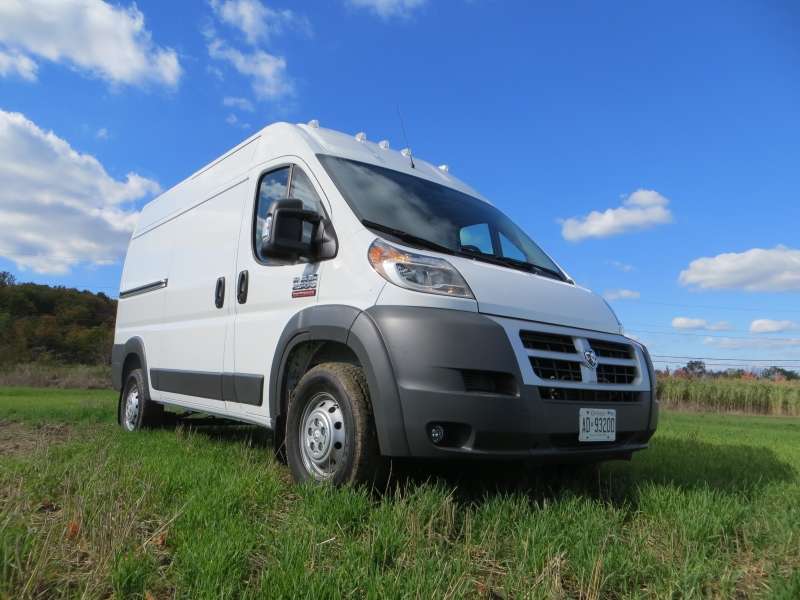 While the rest of the automotive universe moves forward at breakneck pace of technological development and innovation, at times the commercial van segment can seem like a window to the past.  Body-on-frame vehicles that typically borrow their mechanical details from the pickups of yesteryear dominate the landscape, thanks in part to a heavy investment in parts and specialized knowledge from fleet owners and the mechanics that service these rugged vehicles.
The 2014 Ram Promaster walks a different path, choosing to import a new full-size European van philosophy in a bid to revitalize Chrysler's commercial lineup and lure operators over with the promise of better fuel efficiency and more cargo space.  After having driven the new Ram Promaster, it's easy to see that the van has a strong chance of being competitive right out of the gate.
The More Things Change
The More Things Change
I want to start off by discussing what makes the 2014 Ram Promaster such a unique entry in the commercial van market, and that's its dramatic turn away from the kind of full-frame design that has been the established blueprint for cargo hauling for decades.  True, the Promaster doesn't offer full unibody construction, but in addition to its non-traditional chassis it also bundles in a front-wheel drive setup that does wonders for its hauling capacity.
The Ram's front-wheel drive layout huddles all of the van's drivetrain hardware forward of the cargo area, with the engine, transmission, and fuel tank all kept underneath the Promaster's cabin.  The end result is an impressive 530 cubic feet of maximum cargo space and a load floor that sites seven inches lower than its next-lowest rival.  If you are thinking that a low load floor doesn't just make it easier to get in and out of the Promaster, but also adds much-appreciated headroom, then you would be right: I could stand straight up inside the tall-roof 2500 series model that I drove (1500 series models offer a lower roof height if desired).  In addition, the Ram comes with larger openings at the side and the rear of the cargo area than other competitive van, with a rear door that swings 260 degrees to facilitate loading.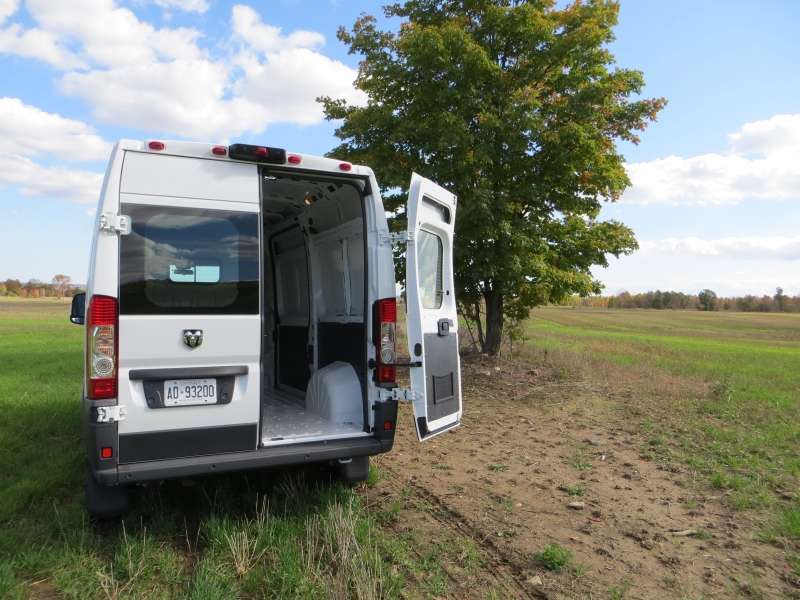 Gutsy V-6 Power, Turbodiesel Efficiency
Gutsy V-6 Power, Turbodiesel Efficiency
Questions about the practicality of a front-wheel drive van in a cold winter climate where a full load could shift the vehicle's center of gravity to the back axle have already been answered by years of operation in Europe.  The Promaster's roots as a Fiat Ducato - albeit one that has been significantly revised for North American duty - bear out its viability as a commercial platform, and should silence doubts related to its stepping outside the established rear-wheel drive commercial van hegemony.
It also doesn't hurt that standard on all versions of the 2014 Ram Promaster is a 3.6-liter V-6 engine that generates 280 horsepower and 260 lb-ft of torque.  Managed by a six-speed automatic transmission, the V-6 turns in an admirable performance - although it must be stated that the Promaster 2500 that I piloted wasn't carrying any cargo.  Given that the 3500 edition of the van is rated to haul/tow a combination of roughly 10,000 lbs, it's conceivable that the 3.6-liter Pentastar might see its output rating drop from 'excellent' to 'passable' when lugging a load uphill.
If one is truly concerned about the effect of a steep grade on the Ram's V-6 then there's always the option of a 3.0-liter four-cylinder turbodiesel engine.  The four-banger puts out 180 horsepower and 295 lb-ft of torque, and it also swaps in an automated six-speed manual in place of the traditional autobox.  The single-clutch setup is designed to require less service than a torque converter-equipped automatic, and the diesel engine allows the Promaster to go close to 20,000 miles between oil changes.  Chrysler has yet to release fuel mileage details for either drivetrain option, but claims that the Promaster will offer 'best in class' efficiency.
I found that the V-6 model I drove was adept at merging with traffic and was responsive to throttle inputs at all speeds.  I was a little disappointed with how the Promaster handled, however.  Sitting directly over the front axle gave me the impression I was coaxing a bus, not a van, through the corners, a feeling that was burnished by the vagueness of the Ram's steering wheel (which could have been the result of the pre-production status of the specific vehicle I was given to test). 
A Horse Of Every Color
A Horse Of Every Color
Chrysler has taken an interesting approach when it comes to the 2014 Ram Promaster's configurability, preferring to let buyers choose the options they want rather than be locked into various packages.  This means that in addition to regular and tall-roof models (all 2500 and 3500 series models feature the latter body style), the Promaster can also be had with and without rear windows, in a chassis cab edition, as well as a cutaway model.
The passenger compartment is finished in the kind of industrial hard plastic that one expects from a vehicle that will be ridden hard and put away wet, but it was be dressed up with features such as the Chrysler uConnect touchscreen entertainment and navigation interface, as well as an optional three-passenger seating arrangement and even a leather-wrapped steering wheel.  It's definitely not luxurious, but the cabin of the Promaster is a more than acceptable place to spend some time.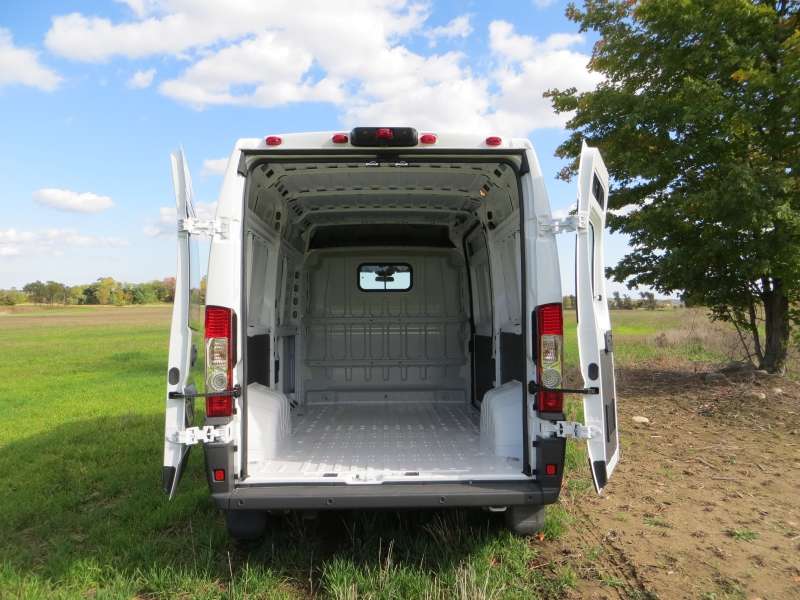 Take It Or Leave It Looks
Take It Or Leave It Looks
My only real reservation regarding the Promaster - other than its unimpressive handling - isn't really an issue at all for the van's target market.  Fleet buyers aren't going to care that the 2014 Ram Promaster won't be winning any beauty contests, but they will like the fact that the van's front bumper has been designed to offer modular replacement of its cover, and that the rear bumper protrudes just enough to ward off the occasional concrete pillar or loading dock.  The vehicle's headlights are also located high up on its forward fascia, which means that the rough-and-tumble world of urban delivery will exact a lesser toll on parts replacement costs.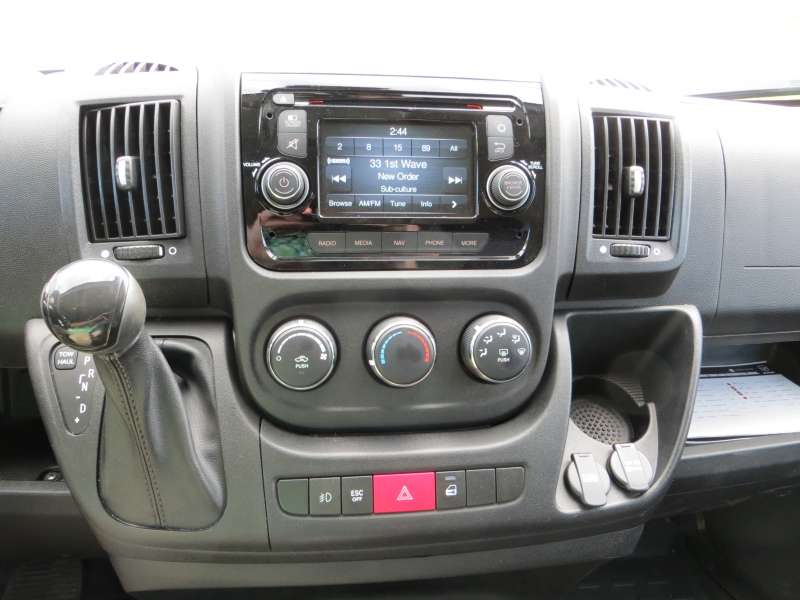 A Sea-change Comes Early
Venerable nameplates like the Ford E-Series and the GMC Savana have become thirsty anachronisms in an era where fleet managers are clutching tight to every penny.  Newcomers like the truck-based Nissan NV200 haven't done anything to overturn the body-on-frame order, and vehicles like the pricy Mercedes-Benz Sprinter have been unable to build much of a following in the United States.
The stage seems set for the 2014 Ram Promaster to swoop in and scoop up disaffected commercial van buyers who are seeking something truly new.  Chrysler's full-size model also has the virtue of hitting the market a full year before Ford's large Transit van makes it to American shores (a Euro-hauler that sticks with the rear-wheel drive concept).  With so much going for it, it's hard to imagine a better time for Ram to introduce such an important product.