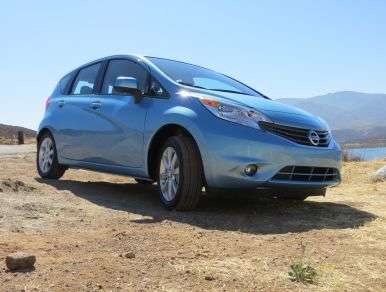 Just because you offer the least expensive hatchback on the American market doesn't mean you have to cater to the expectations that go with that particular appellation.  The 2014 Nissan Versa Note steps in to pick up where the previous-generation Versa hatch left off, and the result is a prime example of what can be accomplished when respecting the limitations of a price point without going out of one's way to highlight them.
The 2014 Nissan Versa Note is quite good at giving subcompact shoppers more of what they want without asking them to pay for features they could just as easily do without.  Take a look at the styling that come with the hatchback's new duds, a shape that shortens the car's front and rear overhangs while dropping down its overall height and infusing a bit of fun by way of a 'squash' mark scalloped out of its side.  Despite its diminished exterior, the five-door Versa Note actually manages to be larger everywhere that it counts, and that means more rear leg room, cargo space (21.1 cubic feet with the rear seats in place) and headroom than before.  It also helps the Nissan lead its category in many of these measurements, with the vehicle's passenger compartment so large that it surpasses the subcompact class and is officially considered a compact by the EPA.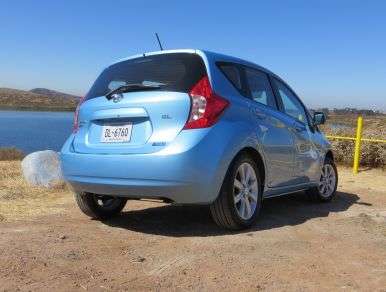 Where did Nissan restrain its engineers when the Versa hatch went back to the drawing board last year?  A clear example is under the hood, where 109 modest ponies are paired with 107 lb-ft of torque from a smaller, 1.6-liter four-cylinder engine that now matches that found in the Versa sedan.  You might notice that these numbers aren't that impressive in a world of turbocharged, direct-injected motors that push out 20 to 40 percent more power from similarly-sized mills. Consider, however, that the Versa Note has been built to a price, and that specific figure dictates that the brand pass over costly technologies that in most cases aren't going to be missed by A-to-B commuters.
This lack of lamentation for a more exotic power plant becomes even more understandable when considering that the 2014 Nissan Versa Note manages to achieve 40-mpg during highway cruising, a feat that owes much to the ingenuity of the company's aerodynamic experts (which have even punched out vortex-canceling slots in the hatch's tail lights) as well as the strength of Nissan's second-generation continuously-variable automatic transmission.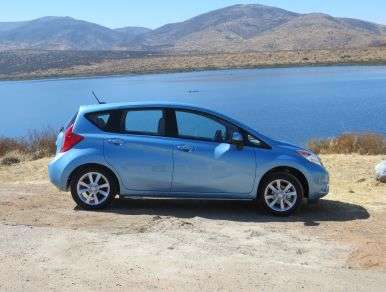 While tooling around San Diego, California (Nissan's launch pad for the updated Versa Note), I was caught off-guard by the occasional balkiness of the gearbox.  The issue surfaced when asking it to abruptly change speeds using mild throttle input and when traveling uphill, or around a sharp bend.  Aside from this very specific scenario, the unit was typical of Nissan's ability to wring the most performance and the least noise possible from this type of transmission configuration.  A five-speed manual transmission can also be had with the Versa Note, but I was not given the chance to sample its charms.  The shift-it-yourself tranny also lops several miles-per-gallon off of the hatchback's city and highway ratings.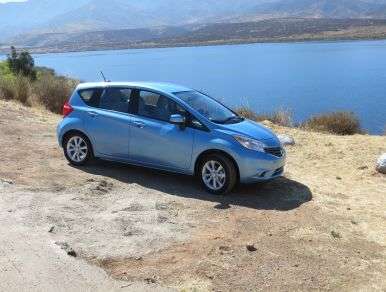 There is one area where the 2014 Nissan Versa Note disconnects from the reality of its entry-level pricing, and that comes when examining the options and features offered on the top-tier SL trim.  A car as basic as the Versa Note doesn't really need to be equipped with a touchscreen navigation system, nor does its rearview camera require the assistance of Nissan's admittedly impressive Around View top-down video system (which provides a video image of the area 360 degrees surrounding the car).  Nice as they are, they add thousands to the hatchback's bottom line and do nothing to alleviate the plasticky, bargain feel of the dash buttons, door panels, and interior trim.  Mixing the upper and lower scale of the automotive market with this kind of feature accessibility creates a driver experience that is a bit disorienting, and while it might be profitable for Nissan it's not something most buyers should feel the need to spend more money on – particularly when examining the larger, and in some cases equally-efficient compact car contenders that lurk near the top of the Versa Note's pricing pyramid.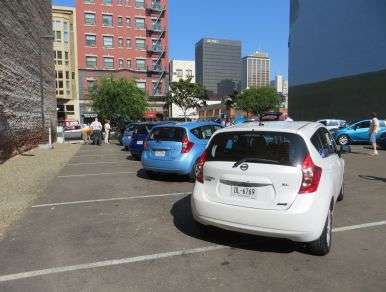 The 2014 Nissan Versa Note is a practical, comfortable, and very fuel efficient small hatchback, and one that also happens to deliver a smooth ride that belies its diminutive size.  With pricing that leads buyers into showrooms where they might also be enticed by models like the Sentra and the Altima, and with a suitably gigantic interior to go with its 40-mpg bluster, the Versa Note is worth a look from budget-oriented new car buyers.  Just make sure to keep control of your pen when checking off the options sheet, and you'll find yourself happy with the deal that Nissan has to offer.