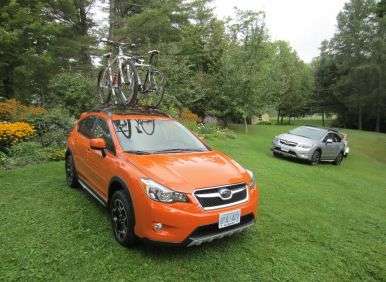 Once upon a time, Subaru could count on luring in compact and mid-size crossover shoppers with the one-two punch of the Subaru Forester and the Subaru Outback.  The gradual increase in size of each of those platforms has left a gap in the Japanese brand's SUV lineup - a gap that has now been filled by the 2013 Subaru XV Crosstrek.
The 2013 Subaru XV Crosstrek might at first seem to be an Impreza hatchback with a taller ride height and a longer name, but don't let that first impression fool you.  Subaru has managed to build a legitimate compact crossover competitor on what was already a formidable platform.  This allows the automaker to once again swoop in and woo small SUV buyers who have been left behind with the plus-sizing of the Outback and the disappearance of the Impreza Sport.
Subaru has worked hard to give the XV Crosstrek a different look than its Impreza sibling, and thanks to the judicious application of rocker and bumper guards, svelte fender flares, black-and-silver 17-inch rims, and a new look for the front end, they have largely succeeded.  It also doesn't hurt that the Crosstrek features 8.7 inches of ground clearance - more than several larger sport-utility vehicles on the market - which not only give it a more bruising personality, but also help to visually stretch out its proportions to provide it with more of a wagon rather than hatchback look.
Inside, the 2013 Subaru XV Crosstrek's switchgear and trim are torn right from the page's of Subaru's conservative playbook, which means functionality is solid but style leaves something to be desired.  Moving past its unexciting appearance, there's no doubt that buyers will be satisfied by the healthy amounts of passenger room front and rear, as well as with the 51.9 cubic feet of storage space available with the backseat folded down.  Leaving the seatback up offers 23 cubic feet for groceries and luggage, placing the XV Crosstrek just below the Forester in terms of interior versatility.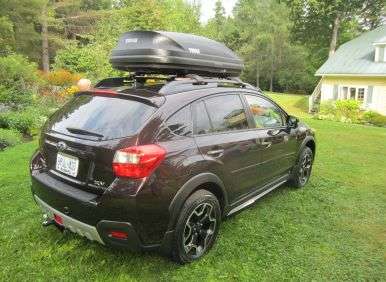 The 2013 Subaru XV Crosstrek borrows not just its platform from the current Impreza, but also its drivetrain.  A 2.0-liter, four-cylinder engine is standard with the crossover, and it produces 148 horsepower and 145 lb-ft of torque.  This output is sent to all four wheels via Subaru's trademark symmetrical all-wheel drive system by either a five-speed manual or a continuously-variable automatic transmission.
Given that the XV Crosstrek is heavier than the Impreza, and that the CVT gearbox found in the compact car has been almost universally derided for its unresponsive nature, the assumption would be that the Crosstrek would offer even less of an engaging driving experience with the automatic tranny installed.  Fortunately, this is not the case - revised ratios inside the CVT unit have transformed its performance from tedious to acceptable, offering reasonable acceleration at all speeds and, more importantly, delivering fuel mileage that is rated at 25-mpg city and 33-mpg highway.  These impressive figures drop somewhat when specifying the manual transmission, which doesn't really offer an improvement over the CVT.  The latter additionally features six virtual gear ratios that can be sampled via paddle shifters.
From a dynamics perspective, we were quite pleased with how the 2013 Subaru XV Crosstrek handled itself on rough pavement, smooth highway, and narrow, rutted mud trails.  The ability of the crossover to acquit itself well in a number of different environments proved that Subaru's claim of 'light off-roading capability' for the vehicle was not merely an empty promise designed to suck in adventure-seeking urbanites.  Towing capacity is listed at roughly 1,500 lbs, and Subaru had one of the test vehicles at the First Drive event hitched up to a trailer hauling a couple of ATVs to prove their point further about the lifestyle the crossover is aimed at.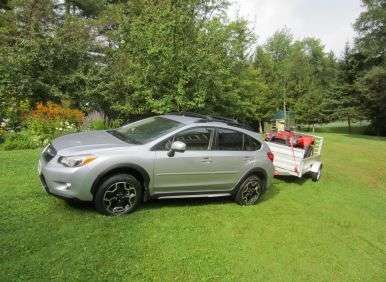 The 2013 Subaru XV Crosstrek is one compact crossover that is better than the sum of its parts.  More than just a jacked-up Impreza, the XV Crosstrek proves that it is possible to freshly combine the elements found in a given platform and produce a vehicle that speaks to a very different clientele.  Despite its somewhat smaller size, the XV Crosstrek has been priced at $21,995, which is about $700 more than the entry-level edition of the Subaru Forester.  Officials at the event we attended were quick to disavow any concerns that the new suv would cannibalize Forester sales, but it's hard not to imagine at least a few Forester owners trading 'up' for the latest crossover on the block - especially if they are looking to trade interior room for miles per gallon.