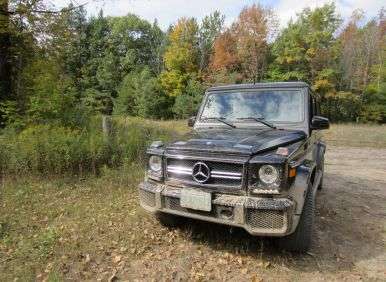 There really isn't anyone out there who 'needs' to be driving the 2013 Mercedes-Benz G63 AMG.  Ok, maybe a secret agent on the run from his or her would-be captors across the frozen tundra, or searing desert sands could make full use of the all-terrain performance potential provided by one of the world's most capable sport-utility vehicles.  Outside of that very specialized customer base, however, exists a world of drivers who are drawn to the G63 AMG simply because it defies all convention and logic. 
And that's fine with us.  We were given the chance to pilot the new 2013 Mercedes-Benz G63 AMG both on and off-road this past month, and while we can't say we understand the demographic the German automaker is aiming for with this hairy-chested behemoth, we are quite certain that it includes us.
Something Old, Something New
The 2013 Mercedes-Benz G63 AMG features a pleasing mix of new and old personality traits.  Although its exterior styling has been refreshed in order to include new lighting and mirrors, as well as an aggressive front bumper, the SUV still carries the familiar, almost throwback upright lines that have defined it for decades.  This is most certainly a good thing, and it makes sense that Mercedes-Benz chose instead to focus the AMG-tuned G-Class' updates where they would be the most appreciated: inside the passenger compartment, and under the hood. 
The Mercedes-Benz G63 AMG features a cockpit that not only offers a commanding view of the road ahead thanks to its regal, throne-like seating position, but also a raft of luxury features that are a dramatic improvement over past models.  This includes a full range of electronic safety features such as adaptive cruise control and parking assistance, which are much appreciated in such a hefty, ponderously-sized vehicle.
The engine compartment of the 2013 Mercedes-Benz G63 AMG offers another clue as to how the brand's Teutonic engineers elected to cope with the size and sheer mass of the SUV.  The G63 AMG sports a new 5.5-liter V-8 that is force fed via twin turbochargers in order to produce 536 horsepower and 560 lb-ft of torque.  Amazingly, this motor leverages a seven-speed automatic transmission and start/stop technology in order to turn in identical combined fuel mileage when compared against its less powerful, base model cousin (13-mpg).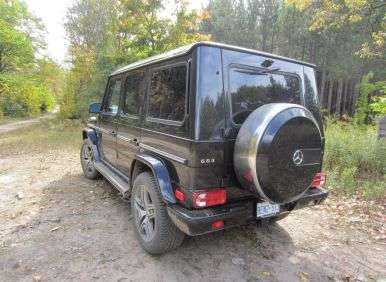 All-Terrain Performance Machine
Of course, far more interesting than the G63's fuel efficiency figures is its ability to chew up and spit out whatever obstacles its driver chooses to put in front of it.  On the paved roads leading to our off-road trail the Mercedes-Benz G63 AMG offered frightening acceleration for a vehicle of its size.  0-60 miles per hour is achieved in a scant 5.3 seconds, and the vehicle does an excellent job of holding on to the tarmac despite its tall ride height and precipitous center of gravity.  While we wouldn't want to slalom the G63 AMG, we can understand how it offers much more of an interesting dynamic through faster corners than the GL550.
A big part of the Mercedes-Benz suv's handling capabilities can be attributed to its four-wheel drive system, which features three locking differentials and of course low-range gearing should owners feel the need to conquer something a little more exotic than a mall parking lot.  For our part, blasting down muddy trails while the side exit exhaust pipes sang a primal eight-cylinder symphony in our left ears was an impressive demonstration of just how unstoppable the G63 AMG feels.  We have no doubt that it would be extremely difficult to get the uber-G-Class stuck (we definitely weren't able to do it), which makes showing up at the local drag strip with the truck covered in mud that much more authentic - and fun.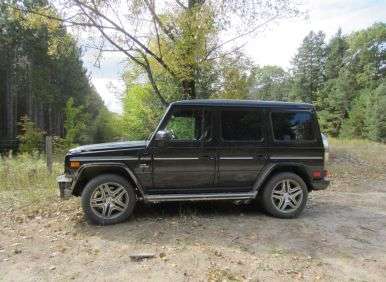 A Must-Buy For Posh Survivalists
The 2013 Mercedes-Benz G63 AMG is a worthy entry into the pantheon of absurdly powerful suvs.  As we stated above, its unlikely that your personal vehicular needs will ever require the unique mission profile of this military-inspired hot rod, but that doesn't mean that it's not great fun to pretend like they do while piloting the G63 around town, or over hill and dale.  What's more, aside from being thirsty at the pump there's no definitely no comfort penalty in choosing this particular AMG over a more common sedan - in fact, if you need to tow a trailer or haul cargo, you can consider it a practical upgrade. 
A practical upgrade that could help you survive the upcoming Mayan apocalypse.
Photos by Benjamin Hunting.
Test vehicle provided courtesy of Mercedes-Benz.