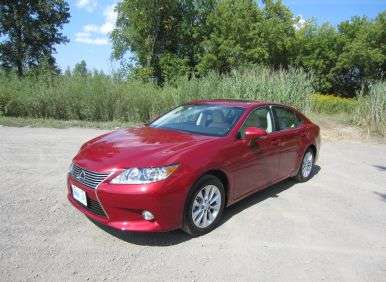 Lexus has made premium hybrids a distinct part of its image as a luxury automaker, which is why it is surprising that it has taken this long to debut a battery-assisted version of its most popular sedan - the ES.  The 2013 Lexus ES 300h is the very first hybrid edition of the mid-size automobile, and one that comes as part of an overall refresh of the company's bread-and-butter model.  With the loss of the Lexus HS 250h hybrid, the ES becomes the most affordable gasoline / electric sedan in the brand's lineup and introduces a more versatile way to get behind the wheel of a Lexus hybrid for the very first time.
Visually, the redesigned 2013 Lexus ES 300h adopts the "spindle" grille that now graces the maw of almost every vehicle in the premium automaker's lineup.  The trapezoidal shape does not disrupt the familiar lines of the ES, but rather gives the sedan additional purpose and helps to make it a little less bland than in years past.  Yes, the ES 300h is a hybrid that is designed to offend as few people as possible from a styling perspective, but it's no longer as anonymous as it once was.
Inside, a wheelbase that has been stretched by almost two inches helps to improve passenger room, with those riding in the back gaining roughly four inches of additional leg room and almost three inches more knee room.  All of this is accomplished without increasing the overall length of the sedan by more than an inch, which helps to keep the ES 300h relatively maneuverable. 
Lexus has put together an attractive, although somewhat busy dashboard, built around an enormous center LCD screen concealed underneath a swooping cowl in the model we drove (which was outfitted with almost every conceivable option).  Many individual vehicle functions can be accessed via this screen using the mouse-like controller (Remote Touch Interface) that is mounted just to the right of the vehicle's shifter.  The system is relatively simple to use, although the graphics are larger and clunkier than one might expect from a luxury car.  Comfort-wise, the Lexus ES 300h provides amply padded leather seats as well as a quiet interior - at least until the vehicle is asked to travel down a gravel road, when things become decidedly less calm inside that passenger compartment.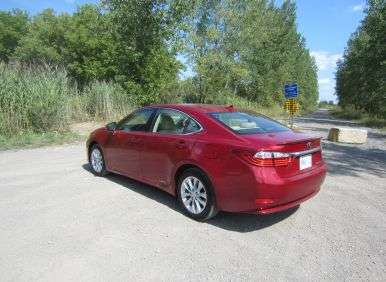 Underneath the hood, the 2013 Lexus ES 300h comes with Lexus Hybrid Drive, a system which consists of a 2.5-liter, four-cylinder gasoline engine that works together with a battery-powered electric motor in order to produce a total of 200 horsepower.  Pilots can select from several different drive modes using a rotary dial that is found on the center console.  Normal mode attempts to balance fuel mileage and performance, while Sport focuses on providing the liveliest acceleration possible.  ECO reconfigures the continuously-variable automatic transmission and the Hybrid Drive system as a whole to favor efficiency, while EV (which is accessed via a button beside the dial) restricts the car to battery power only.
Both Normal and Sport mode offer more than enough thrust for daily commuting, with the latter providing a slight edge when pulling out to pass or accelerating away from a stop.  Surprisingly, ECO doesn't require owners to pay too much of a power penalty in order to enjoy the vehicle's maximum fuel mileage rating of 40-mpg city and 39-mpg highway, as the automobile is eminently drivable when ECO is engaged, and only the somewhat slower response with the pedal down gives away the fact that the ES 300h is doing its best to minimize your ability to get anywhere quickly.  We were able to engage EV mode for short distances, but the driver information screen was quick to scold us if we engaged in "Excessive Acceleration" or "Excessive Speed," before cutting off our access to the battery-only setting.
Handling was also better than average while driving the 2013 Lexus ES 300h along a variety of different road types, with country lanes, four-lane highways, and short city blocks posing no real challenge to the sedan's suspension system.  The ES 300h remained comfortable and poised at all times, and while it's certainly not intended as a driver's car it was well-mannered through the corners and did an impeccable job handling a variety of different traffic situations.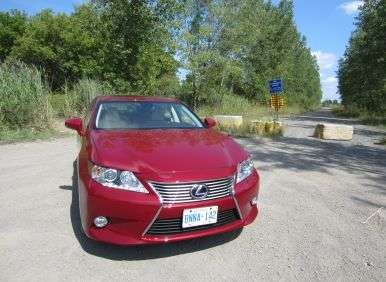 The 2013 Lexus ES 300h is an important car for Lexus.  Not only does it represent the sixth generation of a model that had begun to get a little stale, but it also offers brand loyalists the chance to get behind the wheel of a Lexus hybrid that isn't a compact hatchback or a rear-wheel drive sports sedan.  Excellent fuel economy and an easy-to-live-with package are what define the ES 300h, and with a starting MSRP of $38,850 - which is $20,000 les than the next-step-up GS 450h, and only a few thousand more than the gas-only edition of the car - the automaker will most likely be able to coerce current ES owners to spend the extra cash on a hybrid when it comes time to upgrade to the latest model of the sedan.