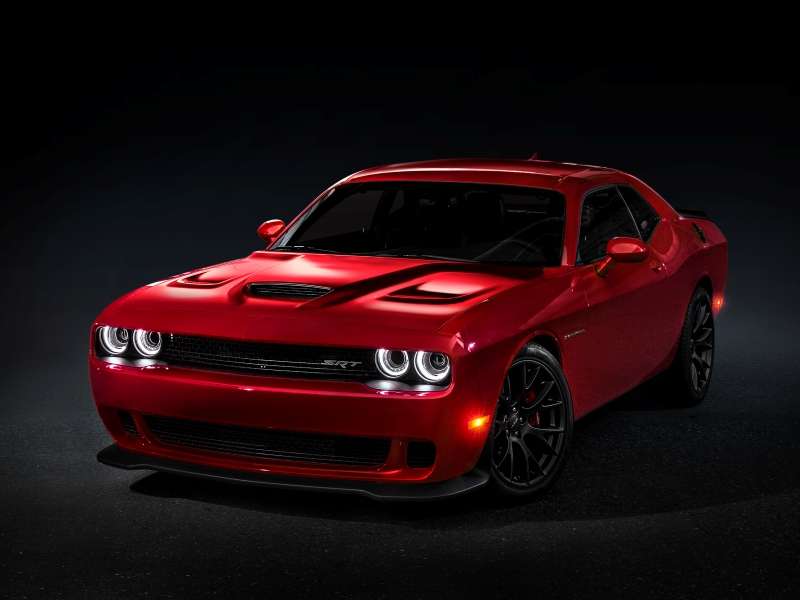 Red 2015 Dodge Challenger SRT Hellcat
As the world's fastest, most powerful production muscle car, the 2015 Dodge Challenger SRT Hellcat already—obviously—tops its crosstown competition when it comes to quarter-mile times and horsepower. But now Dodge will take on the Chevy Camaro and Ford Mustang in another important battle: for top dollar on the charity-auction circuit.
The latter two, of course, have made a recent tradition of auctioning new models to raise money for charity, and with a fair amount of success. For example, a cursory spin around the ol' Internet turns up a high point of $648,000 for Team Mustang, which earned that amount for the Carroll Shelby Children's Foundation with the 2007 Shelby GT500. That amount was then exceeded early this year by a 2014 Chevy Camaro COPO model that raised $700,000 for the Achilles Freedom Team of Wounded Veterans.
Raising that bar will be no easy task, but that doesn't seem to worry Tim Kuniskis, president and CEO of the Dodge and SRT Brands for Chrysler Group LLC: "The 2015 Challenger Hellcat is already guaranteed to be one of the hottest cars that will roll through the Barrett-Jackson auction lanes in decades to come. The VIN 0001 being auctioned this year is the ultimate one-of-one collectible 2015 Dodge Challenger, as Dodge is ensuring there will never be another one like it."
Now, those exclusives seem to be limited to the car's Stryker Red exterior finish—usually reserved for the Viper—as well as some special badging and a well-packed presentation box of memorabilia. But with the 2015 Dodge Challenger SRT Hellcat already offering a supercharged 6.2-liter HEMI V8, possessed by 707 hp and 650 lb.-ft. of torque, the auction winner is unlikely to feel disappointed.
Potential bidders should mark their calendar for Sept. 27, 2014, as that's when the 2015 Dodge Challenger SRT Hellcat is scheduled for sale, at the Barrett-Jackson Las Vegas 2014 auction. It's also worth pointing out that auction house itself will waive its typical sale fees for the No. 1 Hellcat, so that the entire amount of the winning bid will go to Opportunity Village, "a not-for-profit organization that serves people in the Southern Nevada community with intellectual disabilities."
For more info on the auction, visit www.Barrett-Jackson.com.
Just remember, drivers who aren't worried about being first in line for the Hellcat can still get one from later in the production run, beginning in the third quarter of 2014, and for an MSRP that starts at $59,995.