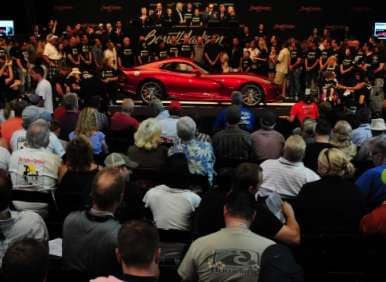 There's a new trend in American high performance and it doesn't have much to do with crazy amounts of horsepower or blistering top speeds. Lately, the Big Three's most athletic new rides have been battling at the auction block, where the first production model of the new 2013 SRT Viper GTS recently raised $300,000 for the Austin Hatcher Foundation for Pediatric Cancer. That's $50,000 more than Chevrolet raised with the first Chevy Camaro ZL1, and the same amount garnered by recent charity auctions of a Ford Mustang Boss 302 Laguna Seca and a development car for the 2013 Ford Shelby GT500. And even though all of these results pale before the performance of the Chevy Corvette 427 Convertible, which reaped $600,000 for the AARP's hunger-prevention work, that certainly didn't dampen the enthusiasm for the latest auction all-star. 
"What an exciting and momentous occasion for the Austin Hatcher Foundation and the SRT brand," said Beth Paretta, director of Marketing and Operations for the Chrysler Group's SRT Brand and Motorsports. "We've enjoyed a lot of attention since showing the all-new SRT Viper to the world just three months ago in New York; and now being able to use some of that interest in our flagship supercar to generate support for this deserving charity is simply outstanding." 
Added Dr. Jim Osborn, co-founder and chairman of the board of directors for the Austin Hatcher Foundation: "We're extremely grateful to team with SRT and Barrett-Jackson on this auction effort. The monies raised here will allow us to continue developing and funding services that empower families to live happy, meaningful and successful lives as pediatric cancer survivors." 
2013 SRT Viper: A Super Serpent Summary
The 2013 SRT Viper retains the same commitment to extreme performance that helped the previous version post a record-setting time at Germany's famed Nürburgring race track, but now boasts a full complement of next-gen technologies. For example, the new Viper will be motivated by the same hand-built, all-aluminum V10 that powered past models, mounted in a mid-engine position for excellent weight distribution. However, for 2013, that 8.4-liter powerplant gains high-strength forged pistons, sodium-filled exhaust valves, an aluminum flywheel and a composite, ultra-high-flow intake manifold. The result? An extra 40 hp with a similar sized upgrade in torque as compared to the last Viper, with a bottom line of 640 hp and 600 lb.-ft. of torque—more twisting power than any other naturally aspirated sports-car engine in the world.
When you also consider that the 2013 Viper is more than 100 lbs. lighter, too, it's highly likely that the new car will obliterate the performance numbers turned in by its predecessor, meaning a top speed of over 200 mph and 0-60 times of well under 4 seconds.
Drivers will also benefit from a more modern approach to comfort according to the brand: "The all-new, driver-oriented interior cabins of the SRT Viper models have been totally revamped for 2013 with superior craftsmanship, premium material appointments and performance-oriented technologies."
Even the Chrysler Group's award-winning Uconnect system, with an 8.4-inch touchscreen, will be available, as will a multi-function steering wheel with launch-control switchgear, audio systems by Harman Kardon, and premium leather cabin surfaces.
"After a gut-wrenching period of uncertainty, the Street and Racing Technology brand team is extremely proud that our hand-built in Detroit, flagship supercar is back and ready to take on the performance car world," said Ralph Gilles, president and CEO of SRT and Motorsports for the Chrysler Group. "Willed to live on by a very special group of performance enthusiasts inside the company and across Viper Nation, this SRT team under our new leadership was challenged to not just continue the legendary Viper, but to create a world-class supercar that would showcase the very best we have to offer."