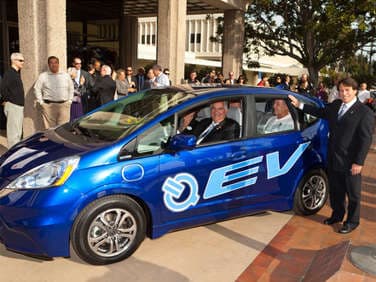 Honda unveiled the all-electric 2013 Honda Fit EV last year at the Los Angeles International Auto Show, and it delivered one of the first models set for a test fleet to the mayor of Torrance, Calif. (where Honda's North American headquarters is located), Frank Scotto. Honda has also worked with the city of Torrance to set up charging stations and consumer events before the first retail Fit EV models go on sale this summer in California and Oregon. Honda will also deliver test vehicles to Google and Stanford University for real-world testing.
Mayor Scotto took delivery of his Fit EV from Steve Center, vice president of the Environmental Business Development Office at American Honda. Honda also said that it will present the city with a plug-in hybrid electric vehicle (PHEV) at a later date, but it did not reveal which car this would be.
"This is an exciting day as we take another important step toward Honda's comprehensive vision for reducing CO2 emissions while at the same time advancing our relationship with the city of Torrance," said Center. "Honda has a long history with electric vehicles starting with the introduction of our first battery-electric car, the EV Plus, nearly 15 years ago. With Honda's extensive experience and the real-world feedback from the city of Torrance, we will be even more prepared for the further customer adoption of electric vehicles."
Page 2
The 2013 Honda Fit EV is powered by a 92-kw coaxial electric motor -similar to the motor used in the Honda FCX Clarity fuel cell EV - which receives its charge from a 20 kwh lithium-ion battery. This is expected to give the Fit EV a driving range of 123 miles with a combined city and highway range of 76 miles. Even better, Honda says that system can be charged in just three hours using a 240-volt outlet, and most of the vehicle's EV-related information can be viewed and/or controlled remotely by the owner using smartphone or computer apps.
Honda lists the starting MSRP of the 2013 Fit EV at $36,625 (not including a $770 destination charge), but initial models will only be available as a lease vehicle with monthly rates starting around $399. Production is expected to be around 1,100 units over the first three years, and it should eventually become available for consumers to purchase if this initial run of Fit EVs is successful.  
"The Fit EV is the next critical step in Honda's portfolio approach to alternative fueled vehicles," said John Mendel, executive vice president of sales, American Honda Motor Co., Inc. "There is no other automaker on the planet whose spirit is more deeply invested in the effort to realize a cleaner, more energy-efficient and ultimately more sustainable transportation future than Honda."
Consumers wanting to learn more about the all-electric Honda Fit - including signing up for updates - should check out www.FitEV.honda.com.