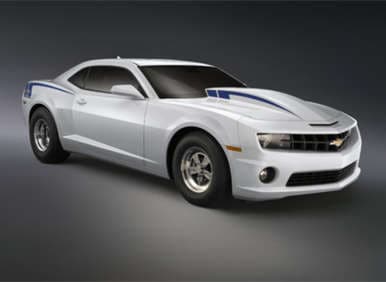 Destined for a drag strip somewhere in the United States, the first examples of the 2012 Chevrolet COPO Camaro have rolled off the assembly line alongside the street-legal Camaro models in Oshawa, Ontario, Canada. Going head-to-head against other factory drag cars like the Ford Mustang Cobra Jet and the Dodge Challenger Drag Pak, only 69 of these high-performance, track-only Camaros are being built for 2012 with a price starting at $89,000.
The origin of the COPO Camaro dates back to a limited number of 1969 Camaro cars equipped with more-powerful Corvette engines, and the latest version was introduced as a concept at last year's SEMA show. The all-new Chevrolet COPO Camaro drag cars start with the same body as the conventional Camaro models, but it adds grippy Hoosier drag slicks and a massive hood cowl hiding the trio of available engines. To match the rest of the car, the interior of the stock Camaro has been stripped out, and in its place, the COPO Camaro gets racing bucket seats, a standard chrome moly roll cage and a driver safety harness. The COPO Camaro can be painted in five exterior colors (Flat Black, Summit White, Victory Red, Silver Ice Metallic and Ashen Gray Metallic) with an optional graphics package to make the car look more like the SEMA concept.
In the new version of the COPO Camaro, three distinct V-8 engines will be available for customers to select from. Two supercharged 5.3-liter (327 cubic inches) V-8 engines will offer different power figures depending on which supercharger is chosen, and then there is the naturally aspirated 7.0-liter (427 cubic inches) V-8. A competition floor shifter and a solid rear axle finish off the powertrain upgrades.
All of the 2012 Chevrolet COPO Camaro models will be sold as a performance part rather than a street-legal vehicle meaning that the car is not able to be registered or titled.