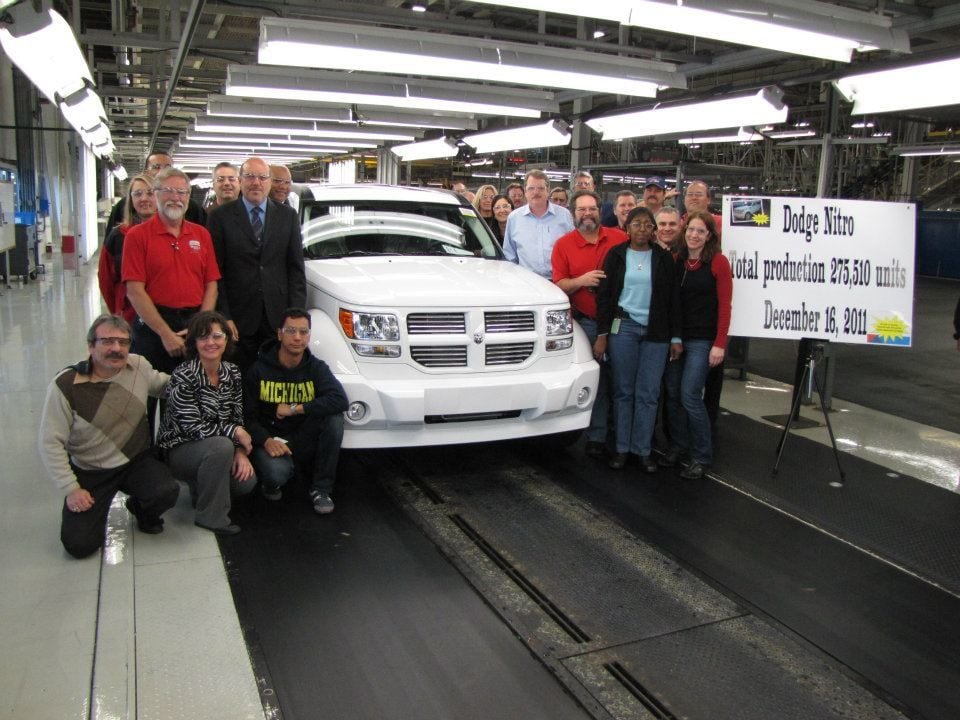 Of all the vehicles in Dodge's line-up to benefit from the numerous changes for the 2011 model year, the Dodge Nitro and Dodge Caliber were both left out in the cold. While the 2013 Dodge Dart will be introduced next month to replace the Caliber, the Nitro was killed off, at least in retail form, following Dodge's prolific 2011 model year and soldiered on as a fleet-only vehicle for 2012. Introduced for the 2007 model year, the Dodge Nitro was a sportier and less-rugged version of the Jeep Liberty, and on Friday, the final Nitro rolled off the line at Chrysler's Toledo Assembly Complex.
photo credit: Chrysler Communications
Without the Nitro, the plant will now have more capacity to built the more popular Liberty and Jeep Wrangler models - the latter of which is the Chrysler Group's second-best selling model in 2011. Through November, Wrangler sales are up 29 percent at 111,045 units while the Liberty has sold 60,523 (an increase of 36 percent). While the Nitro has still managed to gain 11 percent over last year, the boxy Dodge has only accounted for 22,445 sales this year. Through its production run, Chrysler says that it has produced 275,510 Nitros.