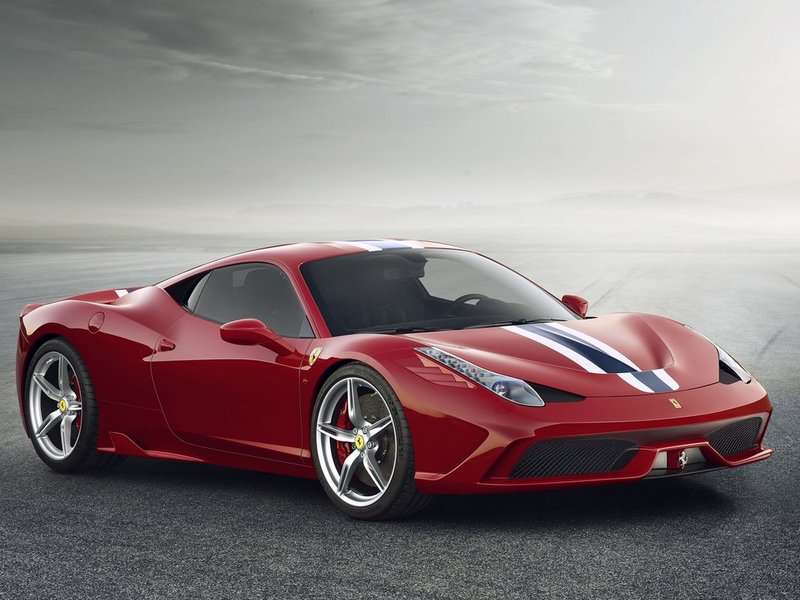 Ferrari has pulled the veil off the new 458 Speciale, the successor to the 430 Scuderia and hardcore model of the 458 Italia family.
To start, the 458 Speciale packs the 4.5L V8 found in the 458 Italia. The difference lies in power output. The Speciale's V8 produces 597 horsepower at a screaming 9,000 rpm and 398 pound-feet of torque at 6,000 rpm. This is Ferrari's most powerful naturally-aspirated V8 engine - about 133 horsepower per liter.
More impressive is how much weight Ferrari was able to cut out of the 458 Speciale. Curb weight of a 458 Speciale stands at 2,844 pounds. That represents a 430 pound loss when compared to the standard 458 Italia.
Performance figures are astonishing:
0 - 62 MPH: 3.0 seconds
0 - 124 MPH: 9.1 seconds
Lap time around Ferrari's Fiorano Circuit: 1:23.5
The 458 Speciale is Ferrari's most aerodynamic regular-production model thanks to styling tweaks and new front and rear movable flaps.
The 458 Speciale also features Ferrari's new Side Slip angle Control system (SSC), which uses a new algorithm to analyze the car's side slip, compares it to the car's projected trajectory, and then uses the electronic differential and the F1-derived traction control system to change the distribution of torque to the rear wheels. This makes the 458 Speciale a bit easier to handle on the limit. There are also a set of Michelin Pilot Sport Cup tires designed exclusively for the Speciale.
Ferrari will show off the 458 Speciale at the Frankfurt Motor Show next month.