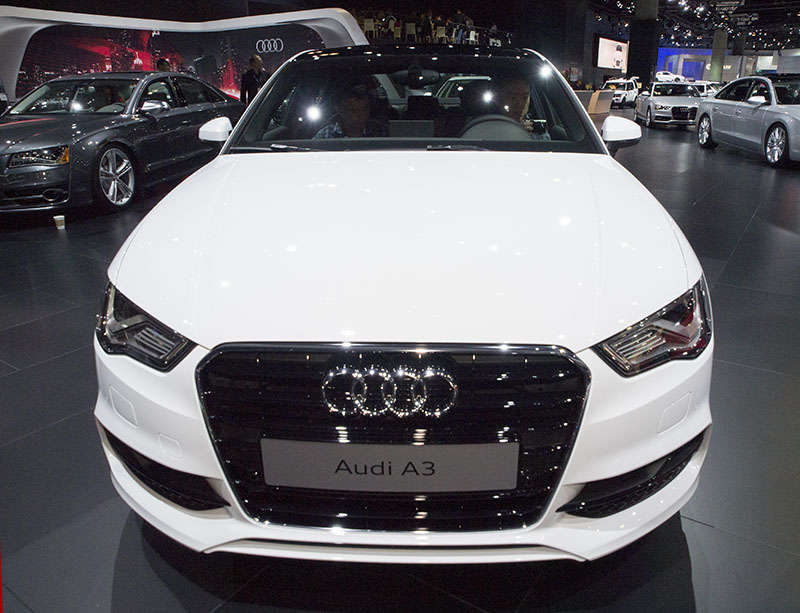 Yes, Audi did achieve its 38th straight month of record sales in February, when it delivered 10,881 units, but it was by just about the thinnest of margins. That total was just 4 sales higher than the brand's performance from February 2013. Which, if you're curious, comes out to an increase of .037 percent. Still, with total industry sales declining by about 1.4 percent last month, Mark Del Rosso, executive vice president and COO of Audi of America, could legitimately note that: "Audi sales continued to remain strong with C- and D-segment vehicles—A6, A7, A8, Q7—throughout the month of February, which shows the progress of the Audi brand and our retail partners are making in the U.S."
The brand did see some strong performances, too, including from two key areas: Diesels and the new Audi A3 family. The brand has a lot of money and effort involved in both, and as regards entries powered by its TDI clean-diesel engines, deliveries climbed to 1,048 units in February for a 14.6 percent jump that was well ahead of the overall industry's decrease.
The reborn Audi A3 family is just establishing itself at dealers now, and garnered 563 February sales that were 43.6 percent higher than the previous-gen model's performance from the same month last year. Also in the black from the brand's car portfolio were the Audi A6 and A7. The Audi A6 raised sales 27.2 percent in February, when it delivered 1,743 units (and also earned a 5-Star Overall Vehicle Score in NHTSA safety testing); the A7 enjoyed 638 sales in the past month, marking a 6.8 percent increase.
Audi's crossovers continued to gain traction during February as well. The Audi A5, for example, continued to lead the brand in terms of volume last month, while the Audi Q7 had a notably robust 33.6 percent growth rate for the month, on 1,229 sales.
The brand's final entry with positive sales in February was the Audi R8, as the range-topping sports car's 70 deliveries represented a 40 percent advance over its results in the same month in 2013.
Photo courtesy Megan Green for Autobytel