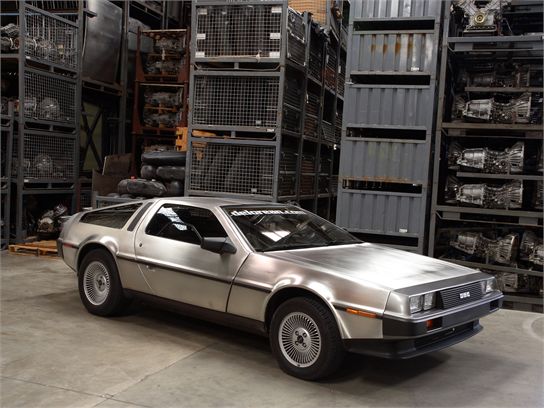 Its hard to believe, but after a couple of decades we've reached a point where the words "classic" and "vintage" can be appropriately assigned to cultural happenings of the 1980's. PacMan, Rubik's Cube, and a just about any film directed by John Hughes qualifies for such classification. In the realm of automobiles, there is no better example than the DeLorean DMC-12.
Originally manufactured in Ireland from 1980-82, the DeLorean caught the attention of the automotive world with its futuristic design, stainless steel body, and trademark gull wing doors. But despite its trendy style, the vehicle was considered under powered and overpriced. The lack of critical acclaim combined with cash flow issues and John DeLorean's legal battles over drug trafficking charges, forcing the DeLorean Motor Company to fold in 1982. But like a starving artist, the DeLorean DMC-12 became more famous after death due to its prominent role as Doc Brown's time machine in the popular "Back to the Future" film series.
Fast forward to 2008, and even Doc Brown might have a hard time believing his eyes, as "new" DeLorean DMC-12 models are once again available for purchase. We use the term new loosely; more accurately, these DeLorean's are newly assembled, using a combination of original, replacement, and reproduction parts. The new cars look virtually identical to the originals, but the underpinnings and interior features are completely modern. Prices for a new DeLorean range from $57,500 to $72,000.
The idea to produce new DeLoreans has been brewing for some time. After the DeLorean Motor Company went out of business in 1982, an enormous factory full of DeLorean parts sat gathering dust in Northern Ireland. The company's assets, including original parts, schematics, tools, and intellectual property, were eventually purchased and imported by an American company, which later sold the lot to entrepreneur and long time DeLorean service technician Steve Wynne. In 1997, Wynne acquired the rights to the name "DeLorean Motor Company," and since then his team of DeLorean experts has been repairing and re-furbishing original cars. Over time, predictable patterns of wear became obvious, leading the company to redesign several components and eventually the entire chassis and underbody.
Newly assembled DeLoreans now ride on a rust proof, stainless steel chassis and body parts are attached to a much improved carbon fiber underbody. The new cars can also be fitted with all the convenience features one would expect in a modern automobile. Amenities and options include keyless entry, a premium Alpine audio system, iPod connectivity, a navigation system with live traffic updates, XM or Sirius Satellite radio, Bluetooth hands free cellular interface, a backup camera, and heated and cooled front seats. Power will still be a problem with the original 130 horsepower engine, but a stronger 197 horsepower engine is available. With a curb weight of just over 2700 pounds, the 197 horsepower engine gives the DeLorean a comparable power to weight ratio as the sporty Honda Civic Si.
We asked DMC if any new exterior designs were in the works, but company policy would not allow them to comment on future products. Besides, interest in the retro model is high, and with an entire warehouse of unused original parts, it will probably be a while before we see a truly new DeLorean.
By Mike Sullivan Photo credit: Oliver Bentley