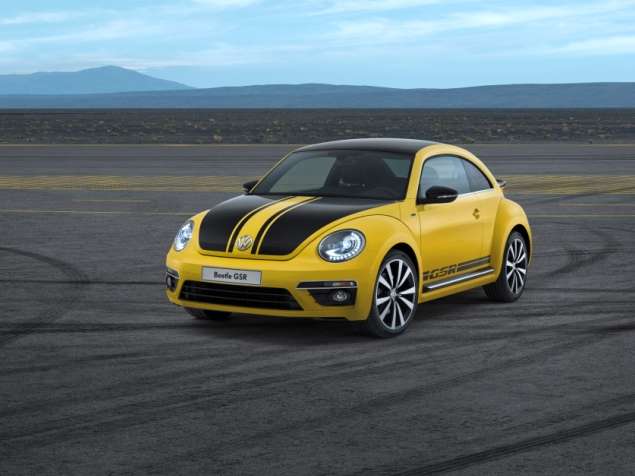 When Volkswagen reintroduced its iconic Bug last year, the automaker spent a lot of bandwidth explaining how the latest edition wouldn't just draw its design inspiration from the original, but also its performance pedigree. Which brings us to the 2014 VW Beetle GSR and 2014 VW Beetle Convertible R-Line that premiered at the 2013 Chicago Auto Show.
The former reimagines what was at one time the most athletic Beetle on the road, the early 1970s GSR. Known as the Yellow Black Racer—in German, Gelb Schwarzer Renner—the car wore a livery of the same shades and was limited to 3,500 units—traits that will be shared by the 2014 VW Beetle GSR. The R-Line drop-top broadens the very successful R-Line portfolio by bringing an array of aggressive appearance upgrades to a car that was just named "Best Convertible" by MotorWeek's 2013 Drivers' Choice Awards.
The 2014 VW Beetle GSR and 2014 VW Beetle Convertible R-Line also showed off a more aggressively tuned version of Volkswagen's turbocharged 2.0-liter TSI I4 engine. Now delivering 210 hp—a healthy bump of 10 horses—the unit also will be introduced in the 2013 VW Jetta GLI and 2013 VW Beetle Turbo.
Per the automaker, the Beetle GSR will arrive in dealerships this fall, with the R-Line convertible scheduled to go on sale "later this year."
2014 VW Beetle GSR: Highlights
Needless to say, the 2014 VW Beetle GSR retains the yellow-and-black appearance of the original, but relies on a more distinctive, more aggressive execution. For example, while the 1973 GSR simply had a black trunk and hood, the 40th anniversary model showcases more of a full-car striping effect enhanced by black graphics that create a yellow stripe on the hood itself. Also black are the car's mirror caps and side-skirt graphics, and the 2014 GSR's exterior is further accented by 19-inch aluminum-alloy wheels and silver-painted brake calipers.
The premium cabin of the 2014 VW Beetle GSR carries over the same yellow/black theme, with sport seats and a high-grip steering wheel that feature black leather and yellow accent stitching, similarly patterned floormats, a unique GSR shift lever, and special, numbered (1 through 3,500) owner's badging. In fact, upscale appointments are the rule here, not the exception, and also include a Fender audio system, panoramic sunroof, LED exterior lighting and ambient interior lighting, aluminum-alloy pedals, and everything else from the 2014 VW Beetle Turbo model with Sunroof and Sound package.
As mentioned, that includes the more powerful turbocharged I4 engine, now offering 210 hp that enables an electronically governed terminal velocity of 130 mph to go with 207 lb.-ft. of torque that propels the car from 0-60 in 6.6 seconds. And yes, both a six-speed manual and six-speed DSG automatic transmission will be offered in the 2014 VW Beetle GSR.
Note: If you're interested in the GSR, you may want to start bugging dealerships now, since not only is its production run limited to 3,500 units, but just more than half of that number will be offered in the United States.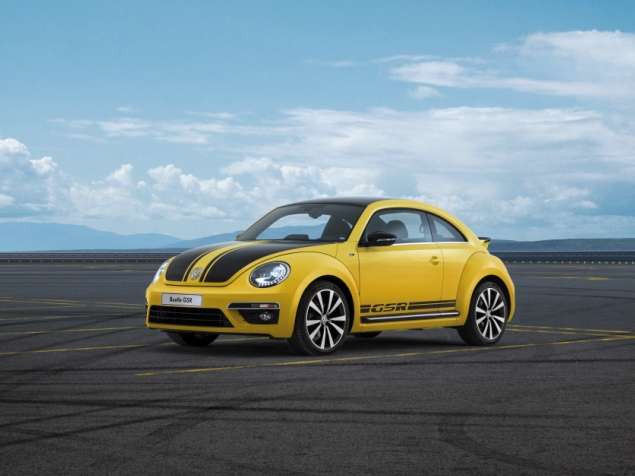 2014 VW Beetle Convertible R-Line: Highlights
Chicago also saw the 2014 VW Beetle Convertible Turbo join Volkswagen's R-Line family, bolstering a lineup that now includes R-Line variants of the 2013 VW CC, 2013 VW Tiguan, 2013 VW Toaureg and 2013 VW Beetle Coupe. The concept here? Leveraging the Euro-style driving dynamics already baked into Volkswagen's standard models, and combining them with aggressive appearance enhancements to deliver affordable performance with athletic design.
In the 2014 VW Beetle Convertible R-Line, that formula includes ingredients like restyled bumpers, Bi-Xenon headlights, LED daytime running lights, exclusive exterior badging, and 19-inch wheels wrapped in lower-profile all-season rubber. In the cockpit, drivers will welcome Volkswagen's RNS 315 navigation system, complemented by a 400-watt Fender sound system with eight speakers and a rear subwoofer, along with aluminum sport pedals, leather seating surfaces, and R-Line scuff plates, metallic-finish dash and door trim, and flat-bottomed steering wheel with integrated system controls.
And although it's not an R-Line upgrade per se, the increased power in Volkswagen's I4 turbo—detailed above—is deployed in the 2014 VW Beetle Convertible R-Line as well, along with its 210 hp and 207 lb.-ft. of torque.