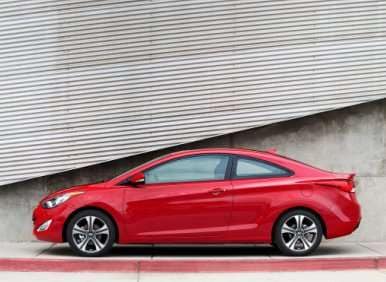 The high-mpg coupes of 2012 are seeing a notable uptick in popularity in this country, and for good reason. The same nimble dimensions and low curb weights that help those choices deliver strong EPA marks also make for higher power-to-weight ratios and a more dynamic driving experience. That means the best of the best-mpg coupes for 2012 are attracting two kinds of buyers: Those who want a lean, green, driving machine that's actually fun to own, and those who want an enthusiastic performer that is more eager to eat up the miles than drink up the fuel.
You know, vehicles exactly like those on Autobytel's list of best-mpg coupes for 2012, which includes …
Best MPG Coupes of 2012: Honda Civic
Long the "go-to" choice in the compact segment, the Honda Civic Coupe was fully redesigned for the 2012 model year and now showcases EPA grades of up to 28 mpg city/39 mpg highway/32 mpg combined when configured with an advanced five-speed automatic transmission or up to 28/36/31 with a five-speed DIY gearbox. The former grades represent increases of 3 mpg/3 mpg/4 mpg over the 2011 car, yet today's Civic offers the same peppy 1.8-liter I4 with 140 hp and 128 lb.-ft. of torque.
Then, to make sure drivers can maximize their driving enjoyment while driving past the fuel pumps, the new Civic Coupe rides on an athletic MacPherson strut front suspension, complemented by a multi-link setup at the rear, and standard stabilizer bars both front and rear. Honda's Motion-Adaptive Electric Power Steering is in the mix as well, providing superior steering response regardless of driving speed while eliminating the kind of efficiency-sapping parasitic losses seen with a more traditional, hydraulically assisted steering system.
The Civic Coupe also offers a starting point of $15,755, making it the most affordable member of Autobytel's best-mpg coupes of 2012.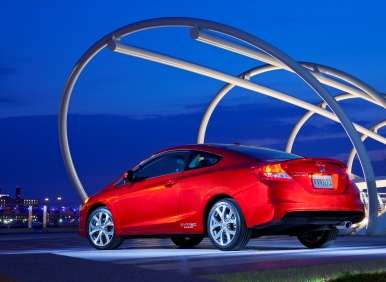 Best MPG Coupes of 2012: Hyundai Elantra Coupe
Boasting the highest fuel-economy ratings among Autobytel's high-mpg coupes for 2012 is the Hyundai Elantra Coupe. It leverages the same powertrain as the Hyundai Elantra Sedan—still the reigning North American Car of the Year—and posts a top EPA line of 29 mpg city/40 mpg highway/33 mpg combined (with its six-speed automatic) or 28/39/32 (packing a six-speed manual).
Either way, drivers can rely on 148 hp and 130 lb.-ft. of torque, along with a retuned suspension, while enjoying standard features like air conditioning, a six-speaker/172-watt sound system, premium cloth seating surfaces, heated fronts seats, Bluetooth technology, heated and power-adjustable outside mirrors, and front fog lights. And all that comes at a starting price of $17,445.
The Elantra Coupe also is one of the roomier of our best-mpg coupes of 2012. Its compact-sized exterior wraps up a mid-sized cabin with 95.4 cubic feet of passenger space and 14.8 cubic feet of cargo room. To put those numbers into context, the Kia Forte Koup offers up just 90.7 cubic feet for passengers and 12.6 cubic feet for gear.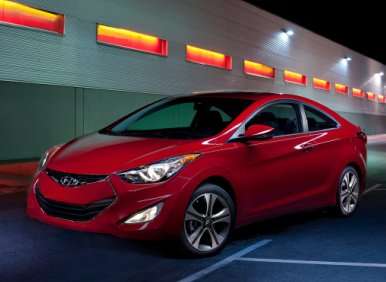 Best MPG Coupes of 2012: Audi A5
As the most premium pick among Autobytel's high-mpg coupes for 2012, the Audi A5 opens at $37,850 and includes a deep list of standard luxury amenities. In the cabin, for example, occupants are coddled by soft real leather, a triple-zone automatic climate system with separate settings for the driver, front-seat passenger and rear-seat passengers, a tilting panoramic sunroof, and Audi's concert-level audio system with 10 speakers; outside, the exterior is distinguished by custom touches like LED turn-signal indicators, halogen headlights and a sophisticated, sleek design capped off by Audi's signature single-frame grille.
On the other hand, along with all these creature comforts—and the automaker's advanced quattro all-wheel-drive technology—the A5 can squeeze 211 hp and 258 lb.-ft. of torque from its 2.0-liter turbocharged I4 with FSI direct injection. Of course, what's more important for the car's recognition as a high-mpg coupe for 2012, the sporty Audi also sports EPA marks of up to 22 mpg city/32 mpg highway/26 mpg combined with its manual transmission. Here, an interesting comparison is to the 2012 Nissan Sentra, which only manages 24/31/27 with about 70 fewer ponies beneath the hood.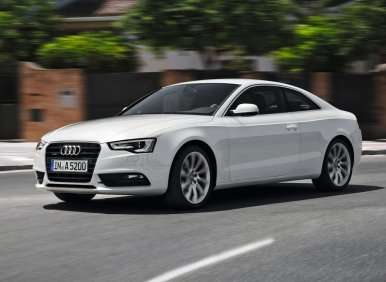 Best MPG Coupes of 2012: Scion FR-S/Subaru BRZ
When Toyota and Subaru teamed up to develop the all-new Scion FR-S and Subaru BRZ, the goal was to put a modern-day spin on the traditional sports coupe. Naturally, that meant designing a curvaceous, highly capable performance machine with cutting-edge technologies and an affordable price tag, but the two automakers didn't neglect a feature that's especially important for today's buyers: Fuel efficiency. Both the FR-S and BRZ are rated at up to 25 mpg city/34 mpg highway/28 mpg combined.
Those marks are enabled by a unique powerplant that draws on the engineering expertise of both automakers. The 2.0-liter four-cylinder engine brings Subaru's hallmark boxer-style configuration, for a compact, lightweight package, and then adds the same kind of D-4S fuel-injection setup used by the hi-po Lexus IS F. Thanks to a high 12.5:1 compression ratio, the engine delivers 200 hp and 151 lb.-ft. of torque to go with those stellar EPA numbers.
A few other stellar numbers: The Scion FR-S starts at $24,955, while the Subaru BR-Z, with a slightly better equipped base model, begins at $25,495. (Both of these best-mpg coupes for 2012 also were named Top Safety Picks in the most recent tests from the Insurance Institute for Highway Safety.)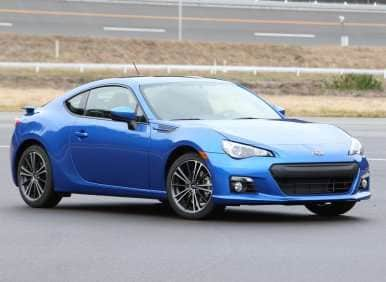 Best MPG Coupes of 2012: MINI Cooper Coupe
Living up to its name is the smallest entry on Autobytel's roster of best-mpg coupes of 2012, the MINI Cooper Coupe. Although it's not truly the mini-est of the MINIs, since it's a few tenths of an inch longer than the Cooper Hardtop, the Coupe is just a bit over 12 feet long and tips the scales at just more than 2,500 lbs. Those tidy proportions allow drivers to get the most from the Cooper Coupe's 121-hp I4 powerplant, including the ability to both dash from 0-60 in 8.3 seconds and attain EPA grades of up to 29 mpg city/37 mpg highway/32 mpg combined with its six-speed manual transmission. There's only a minor penalty for the automatic, too, which can deliver an EPA line of 28/36/31.
The MINI Cooper Coupe also has a fairly lightweight MSRP that begins at $22,150 and that includes one of the wider ranges of standard equipment from our list of 2012's best-mpg coupes. Among the goodies: An active rear spoiler, performance-tuned suspension, aerodynamic "helmet" roof, MINI's Dynamic Stability Control system, interior LED "waterfall" lighting, ambient lighting, leatherette upholstery, leather-wrapped sport steering wheel with integrated audio/cruise controls, Bluetooth technology and even a climate-controlled glovebox.