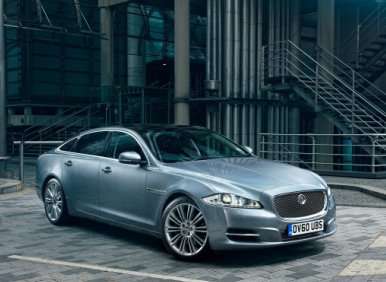 Crossovers have become the body style of choice for many owners who like to live large—and drive large—but a once-popular segment is returning to prominence with some very nice alternatives: The best full-size sedans of 2012 showcase expansive, high-comfort cabins, stylish exteriors, increasingly efficient powertrains, and a wide spectrum of the latest next-gen technologies, all thanks to an increasing focus on the segment from today's automakers. There is one thing that's decreased, however. Today's full-size sedans aren't quite as full-size as those from the days of yore, when 20-foot dinosaurs roamed the earth. Still, all entries on Autobytel's recommended list of full-size sedans for 2012 are at least 200 inches long, and they can differ dramatically when it comes to both pricing and the ownership experience. Which means there's something here for just about any drivers who want to super-size their sedans for added driving enjoyment.
Best Full-Size Sedans for 2012: Ford Taurus
The Ford Taurus was once the best-selling car in America, and while it's not likely to reclaim that title any time soon, the current-generation model has rebounded to become a highly popular choice among the full-size sedans of 2012. It's a trend that should continue, too, thanks to a significant refreshing for the new model year. The 2013 Ford Taurus is on sale now and shows off a restyled face, upgraded cabin, and an efficient new engine choice. It's a 2.0-liter EcoBoost I4 that can deliver a healthy 240 hp and 270 lb.-ft. of torque while still posting a typically Ford-like EPA line of up to 22 mpg city/32 mpg highway/26 mpg combined—advantages of 3 mpg city/4 mpg highway/3 mpg combined as compared to the Toyota Avalon.
At the other end of the power spectrum is the Ford Taurus SHO, with a 3.5-liter EcoBoost V6 worth 365 hp, 350 lb.-ft. of torque and EPA ratings of up to 25 mpg; and that's with the SHO's standard all-wheel-drive system. And yes, the Taurus also offers a naturally aspirated powertrain as well, relying on a 3.5-liter V6 with 288 hp and 254 lb.-ft. of torque as its standard choice; in front-wheel-drive trim, even the starter Taurus can still reach 29 mpg on the highway.
The Ford Taurus also is one of the least-expensive entries on our list of full-size sedans for 2012, with an MSRP that opens at $26,600.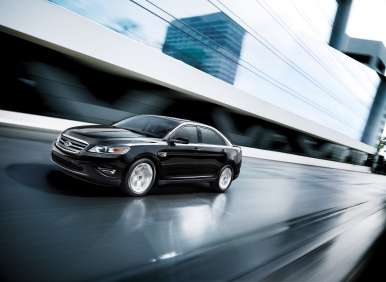 Best Full-Size Sedans for 2012: Dodge Charger
Technically, the Dodge Charger is "only" listed at 199.9 inches in length, making it the smallest choice among our best full-size sedans for 2012, but it's also the low-cost alternative with a price that opens at $25,595. The Charger is a bit of a throwback, with a big, bold presence, a rear-wheel-drive platform and available HEMI power. But it also mixes in plenty of cutting-edge technology, from the Chrysler Group's award-winning Uconnect infotaintment/connectivity system with an 8.4-inch touchscreen display to an eight-speed automatic transmission that enables the Charger to achieve 31 mpg on the highway.
And HEMI-wise, drivers actually have choices: A 5.7-liter version, making 370 hp and 395 lb.-ft. of torque, or a new 6.4-liter option, in the Charger SRT8, loaded with 470 hp and 470 lb.-ft. of torque. Packing the highest of the hi-po V8s, the Charger goes from 0-60 in under 5 seconds, and from 60-0 in just 120 feet, and it reaches a top speed of 175 mph.
The Dodge Charger also is one of the most-awarded vehicles on Autobytel's list of full-size sedans for 2012. Among its recent prizes are segment victories in both the 2012 Ideal Vehicle Awards, presented by Autobytel and AutoPacific, and the J.D. Power and Associates 2012 Automotive Performance, Execution and Layout (APEAL) Study. Further, speaking of honors, the Charger has garnered a couple of important ones from two of the country's top safety sources; it's both a Top Safety Pick of the Insurance Institute for Highway Safety and owner of a 5-star overall safety rating from the National Highway Traffic Safety Administration.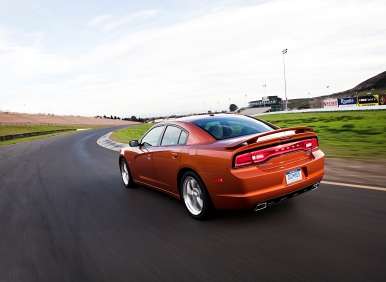 Best Full-size Sedans for 2012: Cadillac XTS
Critics weren't especially kind to the Cadillac XTS in the run up to its launch, but now that it's on sale, it's turning out to be an unexpectedly impressive player among the best full-size sedans of 2012. It certainly offers some of the most advanced technology in the segment, courtesy of the Cadillac CUE interface.
CUE is standard on all XTS models and is one of the most effective of the new wave of vehicle-control systems, able to recognize iPad-style gestures and natural-voice commands while also integrating steering-wheel-mounted controls and advanced touchscreen functionality with haptic feedback. Thanks to the latter, drivers can "feel" when they're using the touchscreen buttons to take advantage of CUE. And while the technology is no doubt intuitive, Cadillac also is making a proactive effort to help owners learn the ins and outs of the system, with a "practice app" for the XTS' complementary iPad and customer service advisors who have been specifically trained for CUE questions.
A similar high-tech approach was used to enhance the driving dynamics of the XTS. Motivation comes from a 304-hp, 3.6-liter V6 with direct injection, variable valve timing, and a composite intake manifold, mated to a six-speed automatic transmission with tap-shift control. Then, Cadillac engineers also integrated GM's HiPer Strut front suspension technology and standard Magnetic Ride Control damping system for impeccable ride and handling.
The MSRP for one of the finest full-size sedans of 2012: $44,075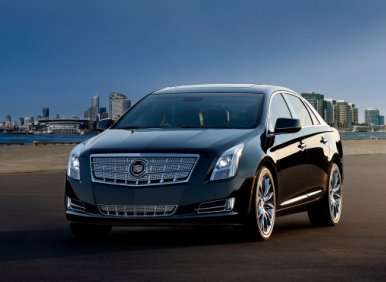 Best Full-size Sedans for 2012 Audi S8
What do you get when you add a high-powered twin-turbo V8 engine to the highest rated vehicle in the J.D. Power and Associates APEAL Study? The amazing Audi S8, which is the quickest car on this roster of the best full-size sedans of 2012.
The S8 offers high-end luxuries like heated, ventilated front sports seats with massage functionality, adjustable across 22 dimensions; ultra-premium sound from a Band & Olufsen audio system that features 19 speakers and an incredible 1,400 watts of power; tech features like Audi's MMI navigation system, access to the Audi connect suite of online services, Bluetooth hands-free calling, and a 360-degree top-down camera system; and Audi hallmarks like dramatic LED lighting and the quattro all-wheel-drive system—upgraded for S-level performance and leveraging a rear sport differential as well.
But the real difference-maker is under the S8's hood, where lurks a 4.0-liter twin-turbo V8 with FSI fuel-injection technology, all-aluminum construction, a two-stage variable intake manifold and more power than you'll find in any other vehicle on our list of approved full-size sedans for 2012. The bottom line: Routing 520 hp and 481 lb.-ft. of torque through one of Audi's eight-speed Tiptronic automatic transmissions, the S8 can sprint from 0-60 in 3.9 seconds. And it does so in notable comfort, too, thanks to a model-exclusive, sport-tuned adaptive air suspension.
The only hitch? The Audi S8—slated for a fall premiere—also is the costliest car among these full-size sedans for 2012, with a price of admission that begins at $110,000.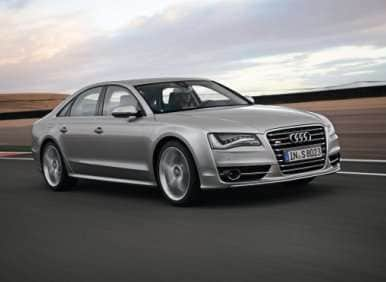 Best Sedans for 2012: Jaguar XJ
Jaguar is once again providing credible and relevant vehicles to discerning luxury drivers, and for this list of best full-size sedans of 2012, the brand is providing the Jaguar XJ. Coincidentally, both car and its maker finished second in their respective classes in the 2012 J.D. Power and Associates APEAL Study, with the XJ doing the honors in the Large Premium Car segment and Jaguar itself claiming the No. 2 spot in the entire industry; Jaguar also was the second-most improved brand in the Study.
On the other hand, the XJ is second to none in terms of cabin artistry. The lineup provides drivers with a choice between 20 color themes, 10 trim veneers, three grades of leather (in 11 colors), dual- or quad-zone climate control, and two premium sound systems, including a 1,200-watt surround-sound unit from Bowers & Wilkins with 20 speakers. In addition, the XF naturally boasts the JaguarDrive system, which rises from a center console between the front seats once the engine is turned on to provide an elegant solution to choosing between gears and driving modes. This exquisite cockpit is then complemented by a suitably dramatic exterior that has been detailed with striking LED accent lights, jewel-like side vents, and an agressive grille that adds a touch of Jaguar tradition to the XJ.
The Jaguar XJ finishes off our quintent of best full-size sedans of 2012 with a sextet of models that goes from the $73,700 XJ, packing a 385-hp V8, up to the XJ SuperSport, holstering a 510-hp supercharged V8 and a $111,200 MSRP.