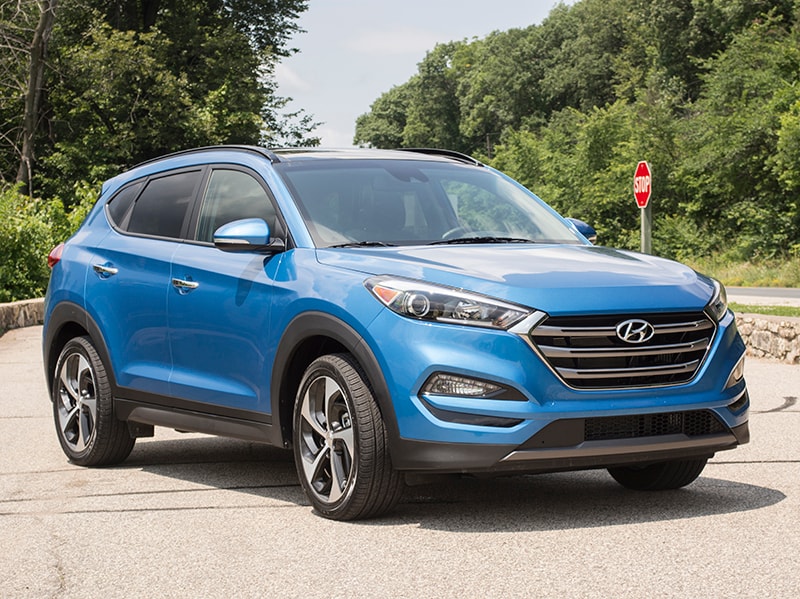 Heated seating is now fairly common in the auto industry, but until recently, finding affordable cars with ventilated seating was a bit like waiting for a Hellcat to freeze over. Today, however, even that nifty premium touch is beginning to migrate throughout the mainstream motoring world, helping to maximize comfort in a growing number of unexpected choices—such as the following:
Kia Forte
Kia has become sort of a surprise leader when it comes to ventilated seating, and the 2016 Kia Forte is a case in point: This is the company's 39-mph compact sedan, designed to take on mass-volume small cars from the mass-market brands, but it elevates its game by offering a ventilated driver's seat in the Forte EX. And while that does require a $9,000 jump over the cost of an entry-level Forte sedan, the resulting bottom line of $24,990 includes Kia's full EX Premium and Premium Plus packages, along with features like heated leather seats in both rows, a heated steering wheel, Voice-Command Navigation, the brand's UVO eServices telematics, LED exterior lighting, a power sunroof and push-button start. Plus, it's still one of the least expensive cars with ventilated seats, which also are available in its Forte5 hatchback model and the sporty Forte Koup.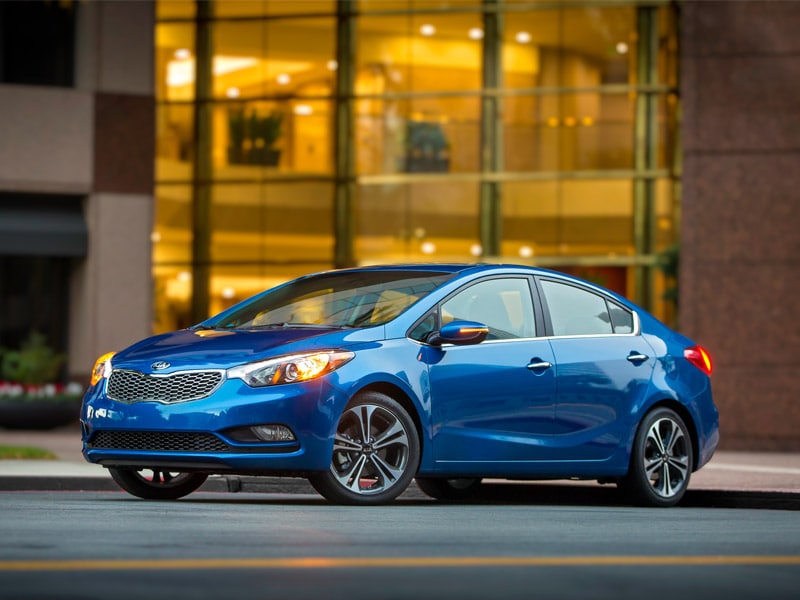 Jeep Cherokee
Right from the first look at its modernized exterior design—highlighted by a dramatic, fresh take on the brand's traditional seven-slot grille—it's obvious that the 2016 Jeep Cherokee was created to shake things up in the small SUV segment. So it's no shock to find out that Cherokee not only touts trail-rated off-road capability, but that it additionally showcases cutting-edge comforts like cooled seating. Indeed, the Cherokee Limited is among the country's least-expensive crossovers with ventilated seats, although it's certainly not cheap. The MSRP of a standard Cherokee opens at an easy-on-the-wallet $23,095, but a ventilated front row means upgrading to the Cherokee Limited, at $28,895, then adding the $1,745 Luxury Group to reach $30,640. Luckily, that new price tag covers premier accoutrements such as Uconnect infotainment technology, featuring an 8.4-inch screen, as well as a heated and leather-wrapped steering wheel.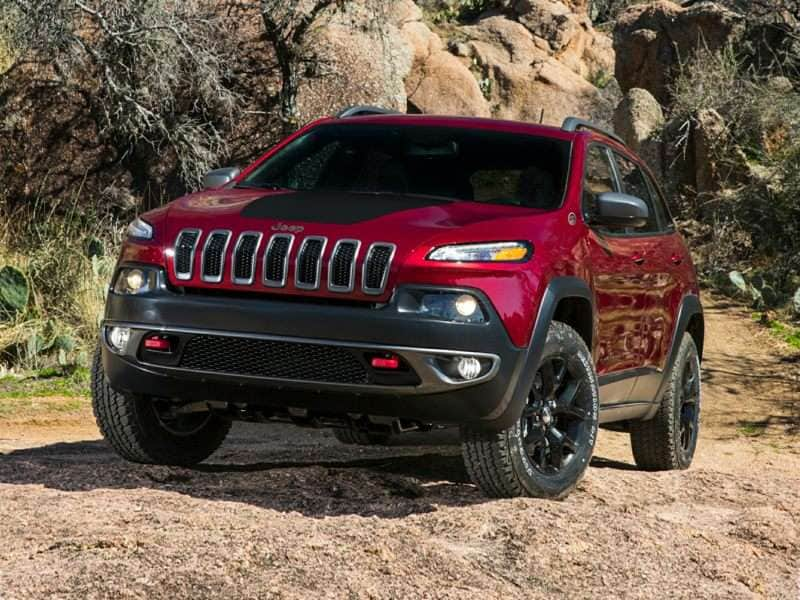 Ford Fusion
 One of the titans of the mid-size sedan segment, the 2016 Ford Fusion—in its range-topping Titanium trim—comes out as a bargain compared to today's cars with ventilated seats. True, they're not actually standard on the Fusion Titanium, but that model starts at $30,390 and buyers can add the benefits of bottom-cooling technology for an additional $395; if you're comparing the sticker prices of cars with ventilated seats, you'll find the Fusion's $30,875 fares pretty well. For 2016, owners also will find it easier to manage the Fusion's climate, audio and infotainment systems, since Blue Oval engineers have again redesigned the vehicle's center stack, this time to allow for a simplified interplay between physical buttons and the Ford Sync touchscreen. In fact, the brand has injected new style into the 2016 Fusion in a number of ways, further introducing a sporty new appearance package for the S trim with 18-inch Ebony-painted alloy wheels.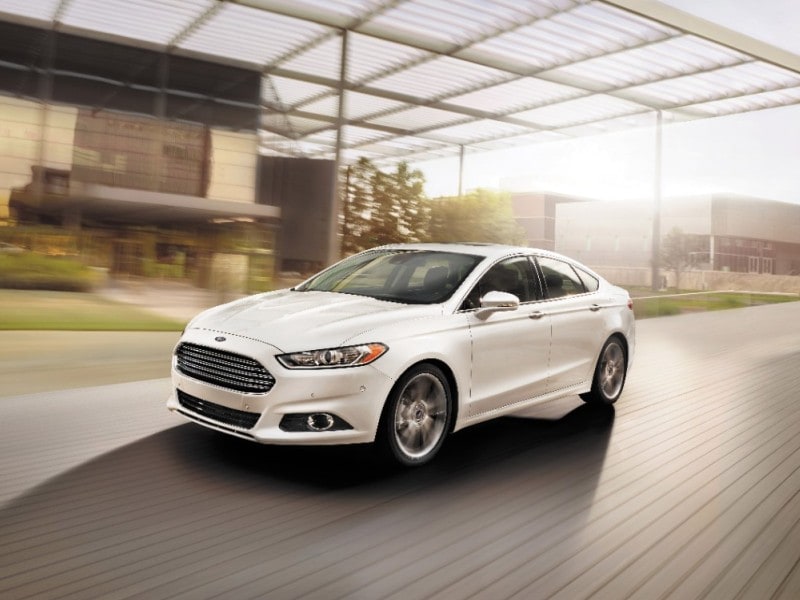 Chevrolet Malibu
The 2016 Chevrolet Malibu clearly takes aim at the upper echelons of the mid-size sedan segment, especially in its new Premier edition. Part of a new push by Chevy to develop a more recognizable identity for its lux lineup—similar to the Ford Titanium trims—the Premier name will be reserved for on the most well-equipped Chevrolet models. The 2016 Malibu Premier, for example, is one of the few mainstream sedans with ventilated seats as standard equipment, and it also boasts standard features like LED daytime running lamps and taillamps, wireless phone charging, a rear-seat media hub with two USB ports and a 110-volt outlet, and Chevrolet MyLink infotainment technology with an 8-inch screen. Moreover, despite the fact that pricing for the 2016 Malibu Premier has not been released yet, it's worth noting that the MSRP for the most expensive 2015 model was $31,305, for the 2LTZ trim.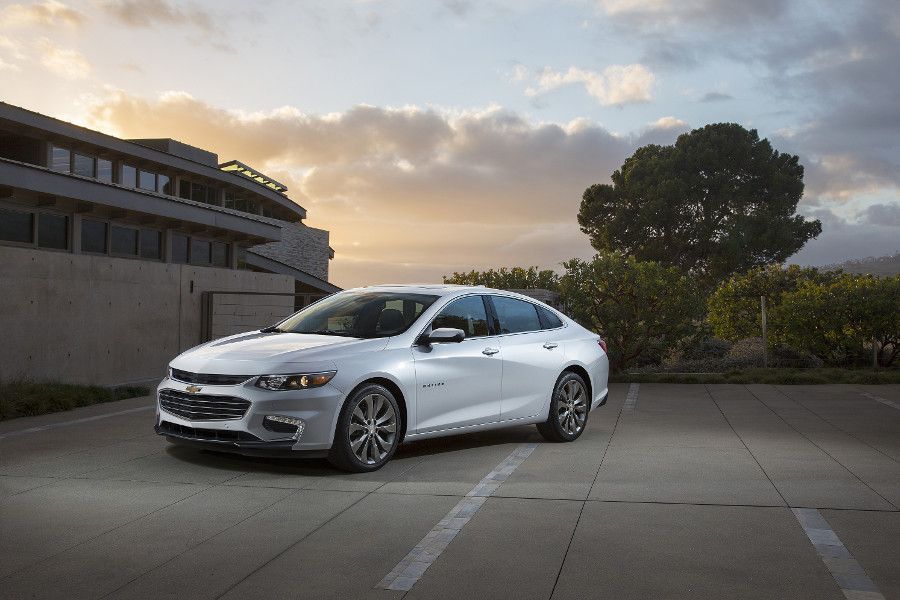 Photo by Chevrolet Media
Ford Mustang
Thanks to the 2016 Ford Mustang, there are even muscle cars with ventilated seats: That cool comfort feature is standard in both the EcoBoost Premium and GT Premium models, each of which takes its own unique approach to the segment. The former, of course, brings all the hallmarks of EcoBoost technology, including a potent mix of performance—with 310 hp and 320 lb.-ft. of torque—and fuel economy—backed by EPA ratings of up to 21 mpg city/32 mpg highway/25 mpg combined. The GT jolts the senses with traditional V8 motivation; in this case, by relying on a 5.0-liter unit that delivers 435 hp and 400 lb.-ft. of torque, along with up to 25 mpg on the highway. In terms of cost, the Mustang EcoBoost Premium squeaks in under the $30K mark, at $29,300, with the price of admission to the GT Premium posted at $36,300.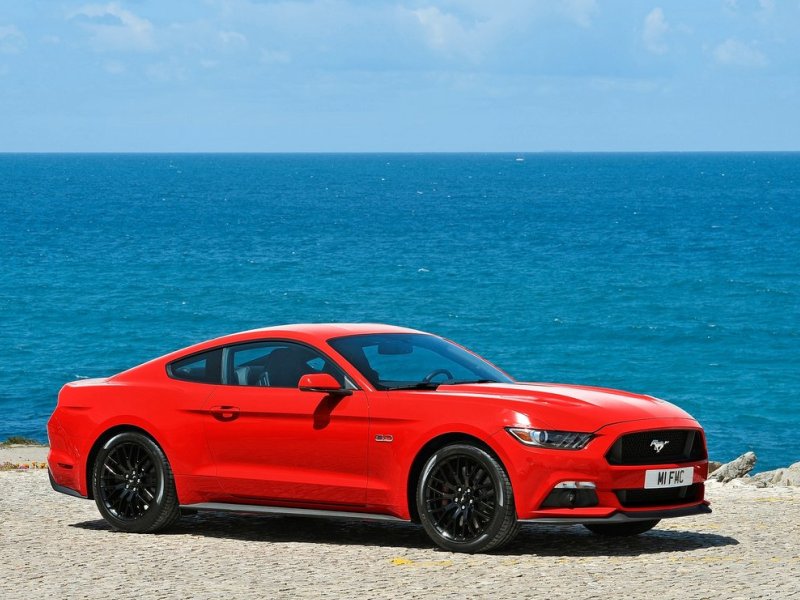 Photo by Ford
Hyundai Sonata
Also elevating ye olde bar in the mid-size sedan segment is the 2015 Hyundai Sonata. As was the case with the previous-generation Sonata, this all-new edition revels in "class-above features" like a hands-free, no-kick, power-opening trunk, a healthy complement of safety and infotainment features, and a trio of sophisticated temperature technologies; and that includes a heated steering wheel, heated front- and back-row seating, and ventilated seats for the driver and front-row passenger. Then, because that latter luxury is part of a $3,500 Tech Package for the $26,625 Sonata Limited—for an outlay of $30,125—this entry is ideal for budget-minded buyers who prefer sedans with ventilated seats. Drivers who prefer a turbocharged soundtrack to accompany their Sonata also are well cared for by Hyundai. After all, in the Sonata Limited 2.0T, owners get standard ventilated seats and a 2.0-liter, 245-hp turbocharged engine, paired to a sport suspension, for an MSRP of $33,525.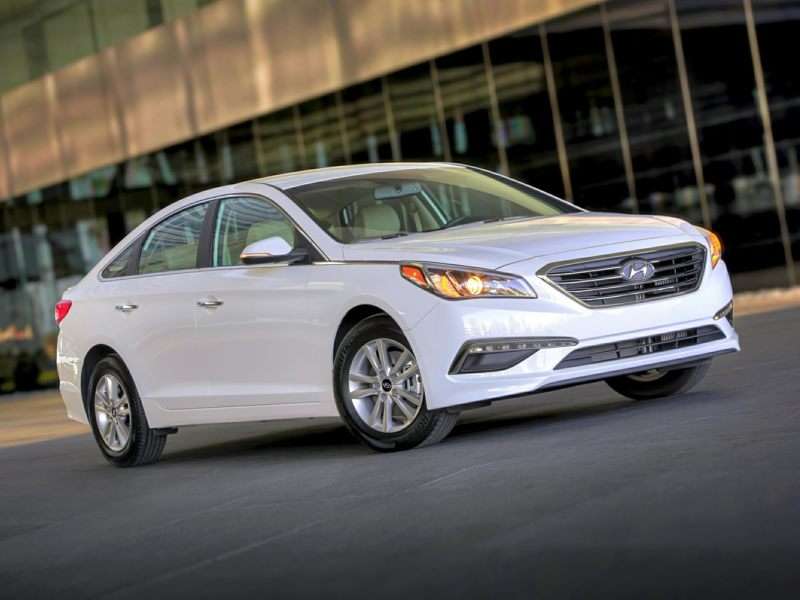 Chrysler 200
The Chrysler brand finally has a credible choice of its own in the mid-size sedan segment, which, as you could probably tell by now, seems to be the main source of affordable cars with ventilated seats. Putting two and two together, you get the 2016 Chrysler 200C that provides ventilated seating in its premium package, all for a little north of $30K. Yes, that does mark a roughly $8,000 increase versus the 200's entry point, but the extra cash can be considered well spent for drivers who further enjoy Uconnect technology with an 8.4-inch touchscreen, a nine-speaker premium audio setup with 506 watts of power, LED daytime running lamps and fog lamps, 17-inch Satin Silver aluminum wheels, and a sophisticated cabin environment with perforated Nappa leather seating, a leather-wrapped two-tone multi-function steering wheel, and accents of bronze chrome and real, open-pore wood.
Kia Optima
The 2015 Kia Optima presents a particularly interesting opportunity if you're shopping for cars with ventilated seats: On the one hand, it really only offers a single ventilated seat, for the driver, naturally, but on the other, it's relatively inexpensive when so equipped. The Optima opens at $21,690, upgrading to the EX brings shoppers to $24,190 and the upgrade bundle is $3,300; less destination fees, etc., the net result is $27,490, well under the $32,000 transaction price of an average car today. That being said, an all-new 2016 Optima will debut in the near-term future, offering ventilation for both the driver and front-seat passenger, albeit for pricing that has yet to be revealed. What has been revealed is the Optima itself, complete with a fresh evolution of the car's aggressive styling, two available turbocharged engines and technologies including Android Auto and Apple CarPlay.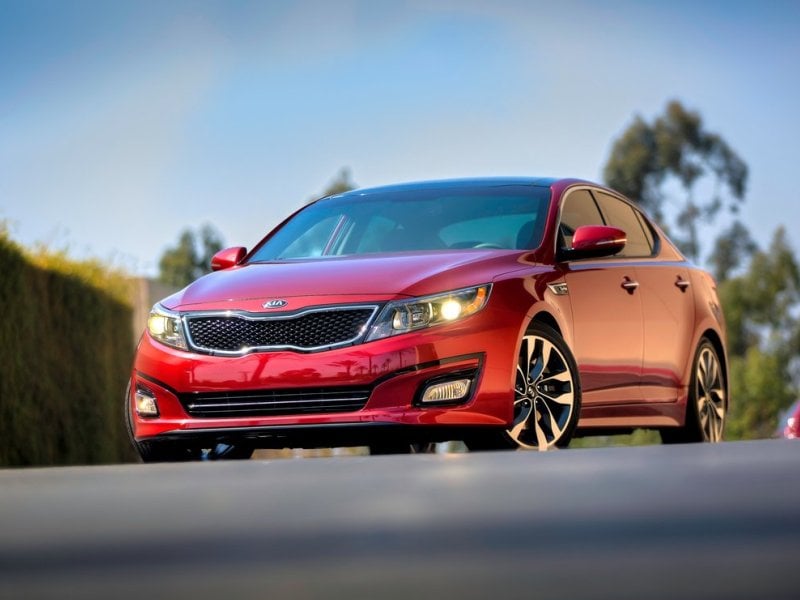 Kia Soul
Leave it to the funky one to feature heated and cooled seats for as low as $23,690—the MSRP of a 2015 Kia Soul "plus" added to that of the three option packages necessary for fanny fanning. That's a serious premium when put up against the price of a standard Soul—$15,190—though it's still low enough that the comfy Kia is No. 1 among the cheapest cars with ventilated seats. Even better, that cost also covers such standard goodies as an Infinity audio system with speaker lights that pulse in time with the music, Voice-Command navigation, an 8-inch display, UVO eServices telematics, a panoramic sunroof, heated rear seats, and a heated steering wheel. For the new model year, the 2016 Kia Soul dials up a new look, too, with a Designer Collection that offers two different two-tone color themes: red with a black roof or white with a red roof.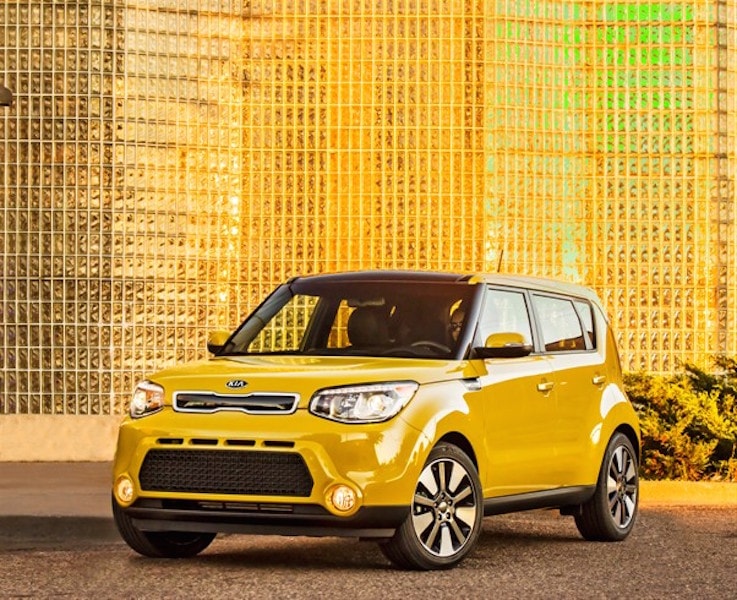 Hyundai Tucson
The Hyundai brand has pushed all of chips to the center of the table in the compact crossover segment, gambling that the redesigned 2016 Hyundai Tucson will launch the nameplate's third generation to rejuvenated sales. Likely to help matters is a long list of first-in-class luxuries, led by ventilated front seats, a hands-free "smart" rear liftgate, LED headlights, and an LCD instrument-cluster display. There's also been a major breakthrough in the transmission department: The Tucson matches its new—and newly available—1.6-liter turbo engine with the segment's first dual-clutch automatic transmission. Together, the four-cylinder engine and seven-speed transmission are projected to produce 175 hp, 195 lb.-ft. of torque and an EPA line of 26 mpg city/33 mpg highway/29 mpg combined. Needless to say, crossovers with ventilated seats won't come much cheaper than the Tucson, despite the near-five-figure price surge—from $22,700 to the $32,650—to move up from the starter model.