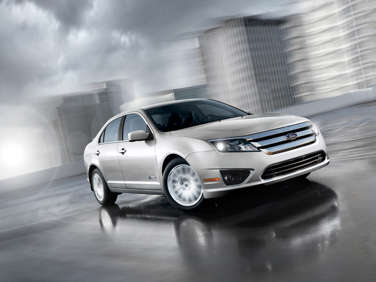 When it comes time to buy a family sedan, it's not always a simple decision to go with either a mid-size or a full-size vehicle from the same company. While some drivers enjoy the presence and additional interior room offered by a larger car, modern mid-size cars have maximized passenger space while keeping fuel costs lower than one might expect. There's something to be said for the prestige of choosing a car company's flagship sedan, but from a practical perspective the next step down in size and cost is also often a solid option for most families.
Let's compare three mid-size four-door passenger cars against their full-size stable mates and see how they match up.
01. 2011 Ford Fusion
The 2011 Ford Fusion is a mid-size sedan leader, a vehicle which offers a good amount of interior room while keeping its outside dimensions relatively compact. The Ford Fusion rewards drivers with excellent suspension response (particularly when ordered in Sport trim), and it can be had with a host of high end features including the SYNC vehicle interface, heated leather seats and a navigation system.
The 2011 Ford Fusion starts out with a 2.5-liter, four-cylinder engine that generates 175 horsepower and 172 lb-ft of torque. Fuel mileage for this motor shows as 22-mpg city and 31-mpg highway, and it can be had with either a six-speed manual or six-speed automatic transmission. A pair of V-6's are also offered with the Fusion: a 240 horsepower 3.0-liter unit, and a 263 horsepower 3.5-liter, with the latter found in the Fusion Sport. Of the two, the smaller V-6 edges ahead in terms of fuel efficiency with a rating of 20-mpg city and 28-mpg highway. Six-speed automatic transmissions are standard with all six-cylinder engines, while all-wheel drive can be ordered as an option.
02. 2011 Ford Taurus
The 2011 Ford Taurus definitely feels big. The full-size Ford Taurus sedan is the largest and best-equipped model in the Dearborn-based automaker's lineup, and it combines a very spacious cabin with a trunk that dwarfs that offered by the Fusion. The Taurus also comes with Ford's fullest list of safety and technology options, including a blind spot warning system, adaptive cruise control, SYNC and a navigation system. The SHO edition adds a beefier engine as well as a host of performance upgrades to the vehicle's suspension and brakes.
The 2011 Ford Taurus offers V-6 power right out of the box, deriving 263 horses and 249 lb-ft of torque from the same 3.5-liter unit found in the Fusion Sport. Fuel economy for this motor shows as 18-mpg city and 28-mpg highway, and a six-speed automatic transmission is included free of charge. The Ford Taurus SHO amps things up with a twin-turbo EcoBoost 3.5-liter V-6 that churns out 365 horsepower and 350 lb-ft of torque, matched with standard all-wheel drive (optional on the regular Taurus) and a six-speed auto gearbox. Fuel economy for this beast checks in at 17-mpg city and 25-mpg highway.
03. The Verdict
The Ford Fusion and the Ford Taurus offer two very different driving experiences. The Fusion, especially when found with either its six-speed manual transmission or available Sport model, is a more tossable sedan that can be put through the corners with a minimum of drama. The Ford Taurus SHO comes with gaudier performance numbers, but the sedan feels heavier than its smaller sibling and relies on its all-wheel drive system to keep it pointed in the right direction.
In terms of comfort, the Taurus is the definite champion, and fuel mileage differences between the two V-6 models are not significant enough to make that deciding factor. The entry-level Fusion's combination of price and efficiency will definitely pull in a big crowd, but the Taurus is a more capable road trip cruiser for larger families.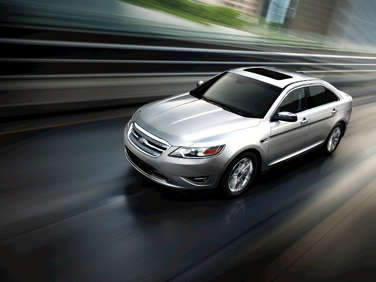 04. 2011 Jaguar XF
The 2011 Jaguar XF is an ultra-modern mid-size luxury sedan that helped to lead Jaguar into the modern era in terms of styling and design. The Jaguar XF has helped to attract a younger demographic to the British brand's showrooms, and as a result its techno-themed interior is less traditionally upscale and more forward-thinking than Jaguar efforts of the past. Interior room is solid, although some headroom in the rear is given up for the sake of a plunging roofline, and the vehicle's trunk is quite large.
The 2011 Jaguar XF offers three different V-8 engine choices: a 385 horsepower, 5.0-liter base motor, a supercharged 470 horsepower edition of the same engine in the Supercharged model and an even more potent supercharged 510 horsepower version of this unit in the XFR. All come with a six-speed automatic transmission, and the standard XF's 16-mpg city and 23-mpg highway rating rules the roost.
05. 2011 Jaguar XJ
The 2011 Jaguar XJ offers a sleeker take on the automaker's revitalized design language, resembling from some angles a stretched version of the XF - albeit one with a personality all of its own. The Jaguar XJ can be had in standard and extended wheelbase editions, which is important as the base sedan is not quite as spacious inside as some of its German competitors. The XJ's luxury quotient is substantial, with buyers able to equip the automobile with features ranging from four zones of automatic climate control and heated and cooled leather seats all the way up to a massage feature, a surround sound system and adaptive cruise control.
The 2011 Jaguar XJ matches the Jaguar XF in terms of engine choice, with the same trio of 385 horsepower, 470 horsepower and 510 horsepower 5.0-liter V-8's on tap. The latter two motors feature a supercharger, and a six-speed automatic is the only available XJ gearbox. Fuel mileage for the entry-level full-size sedan is rated at 16-mpg city and 23-mpg highway.
06. The Verdict
The Jaguar XF and Jaguar XJ present an interesting conundrum for luxury sedan buyers. In terms of overall passenger room, the difference between the cars is negligible until the long-wheelbase version of the XJ is brought into the equation. In fact, the XF's trunk is actually larger than the one offered by its bigger brother. Fuel economy is also largely identical across the lineup, thanks in part to the XJ's aluminum chassis that makes it much lighter than many of its Teutonic competitors. This same lightness imparts the full-size sedan with a level of handling prowess that places it very much on the XF's radar in a track situation.
Pricing between these two Jaguar models, however, is quite different. The XJ costs nearly half again the XF's MSRP, and while it bridges that chasm with truly opulent luxury and a heavy dose of prestige most budget-conscious luxury shoppers will aim for the almost-equal XF instead.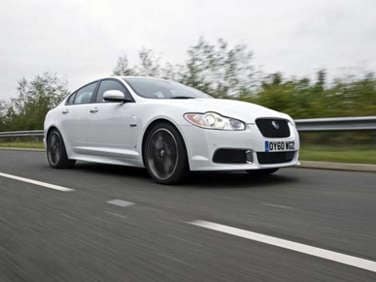 07. 2011 Chevrolet Malibu
The 2011 Chevrolet Malibu has been lauded as a solid family sedan choice in the mid-size segment. Sporty looks and a focus on value have helped push the Chevrolet Malibu into the conversation alongside vehicles such as the Toyota Camry and the Honda Accord, and the vehicle can be ordered with features such as leather seats, automatic climate control, a sunroof and a Bose stereo system. Passenger room is good up front but somewhat more restricted out back, and a 15.1 cubic foot trunk is average for the segment.
The 2011 Chevrolet Malibu's excellent fuel economy rating of 22-mpg city and 33-mpg highway can be pegged directly to its 2.4-liter, four-cylinder engine. A six-speed automatic transmission manages this unit's 169 horsepower and 160 lb-ft of torque. The same gearbox is also found yoked to the Malibu's 3.6-liter V-6, which offers up 252 ponies and 251 lb-ft of torque.
08. 2011 Chevrolet Impala
The 2011 Chevrolet Impala represents one of the last remnants of the "old" GM. The Chevrolet Impala is certainly large inside, as evidenced by the availability of six-passenger seating, and its 18-cubic foot trunk does an excellent job at handling oversized luggage. The Impala's soft suspension and somewhat dated chassis make it much less of a driver's car than other entries in the full-size sedan class, a fact recognized by Chevrolet's decision to update the automobile in the near future.
Under the hood, the 2011 Chevrolet Impala soldiers forward with a standard 3.5-liter V-6 engine that puts out 211 horsepower and 216 lb-ft of torque. Fuel economy for this version of the Impala shows as 19-mpg city and 29-mpg highway. A more powerful 3.9-liter V-6 bumps output up to 224 horsepower and 235 lb-ft of torque, but a fuel mileage price is paid. A four-speed automatic transmission is the only gearbox available with either engine.
09. The Verdict
The Chevrolet Malibu is a much more modern car when compared against the Chevrolet Impala. While the Impala certainly trumps the Malibu when it comes to interior volume, the fact that the mid-size sedan is able to offer more power, better or comparable fuel economy and a chassis that features a ride that is both comfortable and dialed-in help to push it ahead of its bigger brother. Equipment levels in either car are also very comparable, which again affords an advantage to the less expensive yet still impressive Chevrolet Malibu, and the Impala is less competitive overall in the full-size sedan class.
Try Autobytel's Car Comparison Tool