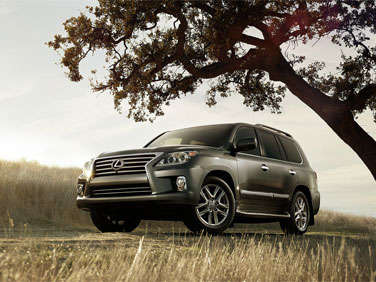 Platform-sharing is a fact of life in the auto industry, but it's not always clear what the differences are between two vehicles that happen to be built using similar designs.  This is especially true in the SUV world, where several different models can be built off of the same chassis, drivetrain and interior components and spread across several brands. 
We decided to investigate some of the most popular sport-utility vehicles on the market and then compare them to their luxury counterparts in order to get a better idea of just what the premium offerings bring to the table.  Let's look at 10 SUV cousins and see how much of a family resemblance we can spot with each.
01. 2012 GMC Yukon
The 2012 GMC Yukon is a full-size SUV that is itself based on the same frame as GM's popular line of Chevrolet Silverado and GMC Sierra pickup trucks.  The GMC Yukon features seating for up to nine passengers, 109 cubic feet of space thanks to its gargantuan interior, and the availability of the high end Denali trim level (which installs luxury features as well as unique trim inside and out).
Under the hood, the 2012 GMC Yukon offers a 5.3-liter V-8 as its base motor.  This unit generates 320 horsepower and 335 lb-ft of torque and is matched with a six-speed automatic transmission.  Four-wheel drive is available with the Yukon for those who wish to sample the vehicle's not-inconsiderable off-road capabilities.  The Yukon Denali keeps the six-speed autobox but introduces a 403 horsepower, 6.2-liter V-8 that can also be counted on to generate 417 lb-ft of torque.  Although four-wheel drive leaves the Denali's options sheet, all-wheel drive puts in an appearance.
02. 2012 Cadillac Escalade
The 2012 Cadillac Escalade is the same size as its GMC Yukon sibling, and rides on the same platform.  The Cadillac Escalade also borrows the drivetrain employed by the Yukon Denali (403 horsepower, 6.2-liter V-8) along with its optional all-wheel drive system. 
Wherein lie the differences?  Inside the cabin of the Escalade opulence is very much the word.  Heated seats for the first two rows (the Escalade seats a maximum of eight passengers compared to the Yukon's nine), the availability of a Bose surround sound system, extended leather for the seats and trim and more than one rear seat entertainment system are some of the highlights that can be loaded into the Cadillac's passenger compartment.  Stylistically, the Escalade is also very much a looker, drawing stares thanks to its enormous front fascia and optional 22-inch rims.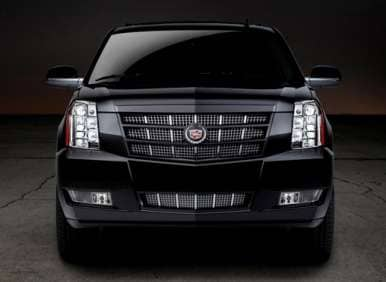 03. 2012 Ford Expedition
The 2012 Ford Expedition is another large sport-utility vehicle that prizes cargo space (108.3 cubic feet in total) and passenger room (seating for up to eight across three rows) as its primary attributes.  The Ford Expedition is also a worthy tow vehicle, with its long wheelbase making it a safe option for pulling trailers of up to 9,200 lbs.  Like the Ford trucks that it is based on it's possible to order the Expedition in a number of different trim levels, including the King Ranch with its Chaparral leather upholstery and heated first and second row seats.
Under the hood, the Expedition features a 5.4-liter V-8 that generates 310 horsepower and 365 lb-ft of torque, yoked to a six-speed automatic transmission.  Four-wheel drive is available for handling rough weather or unpaved terrain.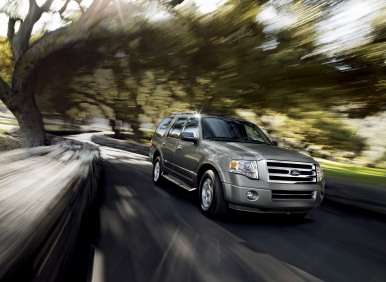 04. 2012 Lincoln Navigator
The 2012 Lincoln Navigator does a solid job of visually distinguishing itself from its Ford cousin, and it also turns the sane trick inside with a much higher level of features, fit and finish.  An overwhelming amount of standard equipment is the calling card of the Lincoln Navigator, including a navigation system, heated and ventilated leather seats, power everything, and a surround sound audio system.  The 2012 Lincoln Navigator maintains the same basic drivetrain as the Expedition (like the Cadillac, swapping all-wheel drive in for four-wheel drive), and it comes within 200 lbs of the Ford's tow rating.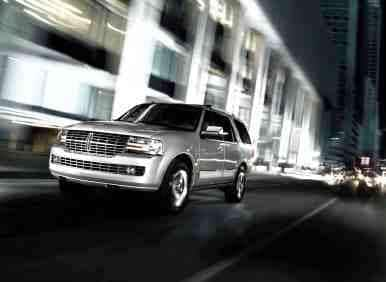 05. 2012 Chevrolet Traverse
The 2012 Chevrolet Traverse is the top-of-the-line crossover manufactured by the bowtie-wearing brand.  The Chevrolet Traverse comes with three rows of seating that can be configured to carry either seven or eight passengers, while the vehicle's total cargo capacity is listed at an impressive 116 cubic feet.  Three zones of automatic climate control, heated and ventilated leather seats, a navigation system and 20-inch wheels can all be added to the crossover's equipment list.
The 2012 Chevrolet Traverse is motivated by a 3.6-liter V-6 that generates 281 horsepower and 266 lb-ft of torque - figures that improve by seven horses and four lb-ft of torque with the vehicle's available dual exhaust system installed.  A six-speed automatic transmission is standard and all-wheel drive can be installed as an option.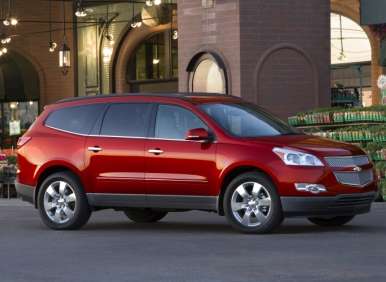 06. 2012 Buick Enclave
The 2012 Buick Enclave is essentially identical to the Traverse in every way that counts - although it does make the dual exhaust system, and hence the extra power from the V-6 engine, standard.  Where the Buick Enclave stands apart from its Chevy cousin is in style and flavor.  The Enclave's exterior puts forward a classier, less pedestrian look thanks to the judicious use of chrome and a revised front end.  Inside, the Buick pulls ahead in terms of materials quality and features, with the base model offering much of the gear found in the top-tier Traverse.  A quieter, more isolated ride is also part and parcel of the Enclave experience.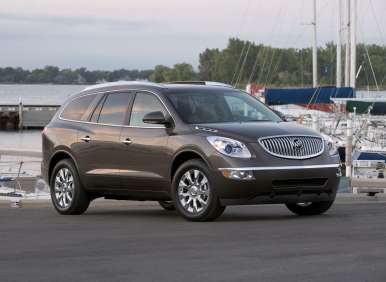 07. 2012 Ford Flex
The 2012 Ford Flex is one of the more unique-looking full-size crossovers on the market.  Resembling a tall, stretched-out wagon more than a bulbous people mover, the Ford Flex appeals to buyers charmed by its retro vibe.  It also puts in a strong performance when it comes to passenger and cargo room, with seating for up to seven occupants and the ability to accommodate up to 83 cubic feet of gear with the second and third rows out of the picture.
The 2012 Ford Flex is initially offered with a 3.5-liter V-6 that is good for 262 horsepower and 248 lb-ft of torque.  A six-speed autobox is standard with the Flex, and all-wheel drive is optional.  Buyers of the Flex EcoBoost model are treated to a twin-turbocharged version of the same motor that generates a hefty 355 horses and 350 lb-ft of twist, managed by the same transmission but sent to all four wheels by default.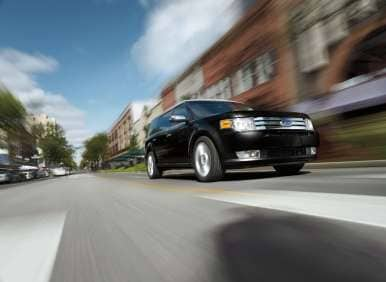 08. 2012 Lincoln MKT
The 2012 Lincoln MKT is perhaps the most dramatic re-imagining of a shared platform on this list.  The Lincoln MKT's semi-polarizing styling is impossible to ignore, particularly when it comes to the dual-waterfall chrome grille that dominates the vehicle's front end.  Lincoln has also done an excellent job of obliterating the Flex's straight lines, introducing a sloping roof, bulging rear haunches and a unique hatch.  Like most of the brand's automobiles, the MKT comes with a generous level of equipment right out of the box and can be configured to include a surprising number of high-tech options.  Interior cargo space is down to 76 cubic feet, a seven cubic foot drop compared to the Flex, and the rear row does not have quite as much headroom due to the imposition of the re-styled roof.
The 2012 Lincoln MKT also gains a fresh entry-level engine, a 3.7-liter V-6 that pushes out 268 horses and 267 lb-ft of torque (front-wheel drive only, however).  The MKT EcoBoost model matches the Flex in terms of output, and both drivetrain combinations come with a six-speed automatic transmission.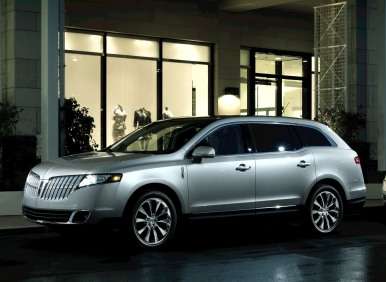 09. 2011 Toyota Land Cruiser
The 2011 Toyota Land Cruiser was once reserved exclusively for rugged individualists seeking to conquer new and far-flung territories, but while the full-size SUV has retained its go-anywhere off-road capabilities it has also packed on the premium features.  The Toyota Land Cruiser is now the most expensive vehicle in the Japanese brand's lineup, and the seven-passenger sport-utility vehicle (which also offers 82 cubic feet of cargo space) comes with items such as four zones of automatic climate control, a high end stereo system and heated leather seats as standard equipment.
The 2011 Toyota Land Cruiser offers up a very usable 381 horsepower and 401 lb-ft of torque from a 5.7-liter V-8.  This engine is shifted via a six-speed automatic transmission, and full-time four-wheel drive is included with all models.
10. 2011 Lexus LX
The 2011 Lexus LX is in most ways a clone of the Land Cruiser - full-time four-wheel drive, powerful V-8 motor (with a slight horsepower boost of two ponies and two lb-ft of torque), seven passenger seating and good cargo hauling capability - but it does provide a number of tweaks to help distinguish itself as well as justify its higher price tag.  The Lexus LX 570 comes with the kind of elegant interior finish that most buyers expect from the luxury automaker, and wood trim, heated and cooled seats, surround sound and adaptive cruise control are all available with the SUV.  The Lexus also features an adaptive suspension system that allows drivers to raise or lower the ride height of the vehicle as well as smooth out road imperfections with a greater degree of control compared to its Toyota stable mate.