E85 fuel promises blue skies and a tomorrow without oil. But do they deliver?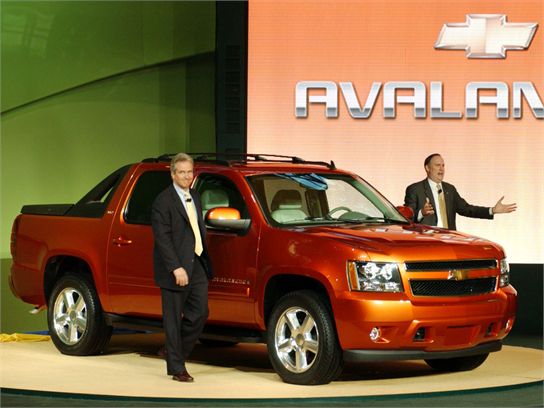 Go figure: Our oil salvation is corn. So says the U.S. Government, some environmentalists, and, mostly, domestic automakers, led by the General Motors advertising charge to "Live Green and Go Yellow." The General is backing up this claim with an aggressive product assault of flex-capable vehicles, which can operate either with E85 fuel or gasoline. Those that are available are primarily in the large vehicle segment – you know – SUVs and trucks – though there are a handful of sedans with flex-fuel systems. Ford and Chrysler are also on the corn fuel bandwagon, of course, each promising to build and sell a growing number of flex-fuel vehicles to the general public. Proponents claim that E85 fuel and the flex-fuel vehicles that go with it will reduce our dependence on oil, is a more environmentally friendly solution, and provides a subsidy for American farmers.
Some call it the anti-hybrid plan for an oil-free and clear sky society. Others say that's hogwash. They point out that E85 takes more energy to refine than does regular gasoline, costs more per gallon, and is less efficient that regular gasoline – thus causing more fill ups -- of more expensive fuel. Then there's its utter lack of distribution, the availability of a wide selection of vehicles, and refining issues that hurt price and performance. Fix those fairly intimidating hurdles, however, and flexible fuel vehicles make an intriguing future solution to regular gasoline, one the nation should invest in. But there's still a long way to go between here and there. If we ever do get to a place where E85 fuel and the flex-fuel vehicles that go along with it are affordable and convenient to operate, it may offer a way to reduce the amount of oil we use, and the pollution we create.
According to the National Ethanol Vehicle Coalition, there are no E85 fueling pumps in Orange County, California. In fact, most of the E85 pumps are centralized in the Midwest. And while the government has made plenty of noise recently about increasing the availability of E85, the reality is that it takes an estimated $200,000 to fit a gas station for that type of fuel option, a price tag gas station owners are likely to blanch at given the limited number of flex-fuel vehicles on the road. Of late, the CEOs of Chrysler Ford and General Motors have been lobbying aggressively for government assistance in making E85 more available around the nation, and with that, promising many more flex-fuel vehicles. Until the happens, however, flex-fuel vehicles will offer only a minimal impact on our oil consumption – and there's no telling how successful adoption of E85 would be, even with a readily available supply, as the fuel is less efficient and at least as costly as regular gasoline.
If you're in the market for a truck, you're in luck, as General Motors, Dodge, Ford and Nissan offer full-size pickup trucks that are E85-capable. But that's about it: for the 2006 and 07 model years, SUVs are limited to GM models such as the Chevrolet Tahoe, and cars are limited to the Impala and the Monte Carlo. DaimlerChrysler currently builds several flex-fuel vehicles, including the Chrysler Sebring, Dodge Caravan and Dodge Grand Caravan, Dodge Durango, Dodge Ram and Dodge Stratus. According to the National Ethanol Coalition, however, all are reserved for fleet purchase. This will soon change, but the impact won't be felt until 2007 – and, really, the 2008 model year -- as General Motors, Chrysler, Ford and others ramp up their flex-fuel initiatives. While Asian automakers have been noticeably quiet about E85, you can bet that if E85 gains momentum, Toyota, Honda and others will quickly join the flex-fuel party.
Page 2
Chevrolet Monte Carlo and Impala 3.5-liter V6 engine: 16/23 E85 MPG Flex Fuel identification: K
Chevrolet Silverado, GMC Sierra 5.3-liter V8 engine: 12/16 E85 MPG Flexible fuel identification: Z
Chevrolet Suburban, GMC Yukon XL 5.3-liter, V8 engine: 11/14 E85 MPG Flexible fuel identification: Z
Chevrolet Tahoe, GMC Yukon 5.3-liter, V8 engine: 11/15 E85 MPG Flexible fuel identification: Z
Ford F-150 5.4-liter, V8 engine: 11/15 E85 MPG Flexible fuel identification: V
Ford Crown Victoria, Mercury Grand Marquis, Lincoln Town Car 4.6-liter V8 engine: 12/18 E85 MPG Flexible fuel identification: V
Nissan Titan 5.6-liter, V8 engine: 10/14 E85 MPG Flexible fuel identification: B
In addition to 2006 models, Chrysler, Dodge and Jeep will expand their available flex-fuel lineup, currently reserved for fleet sales. Vehicles will include those powered by the 4.7-liter V8 engine, such as the Jeep Commander, Grand Cherokee, Dodge Durango, Ram and Dakota; the Chrysler Sebring, with the automaker's 2.7-liter V6 engine, and minivans with the 3.3-liter V6 engine. In addition to DaimlerChrysler's plans, look for significantly more available models from General Motors and Ford, as domestic automakers put pressure on Congress to help expand the availability of E85 fuel, and improvements are made to the refining method – thus bringing the price down. Also on the horizon is a flex-fuel program from Toyota, which currently sells these vehicles in Brazil. Toyota says that they will have E85 capable vehicles for sale in the US market during the 2008 model year. Honda, while aggressively pursuing hybrid and hydrogen fuel cell programs, says that they are looking at E85.