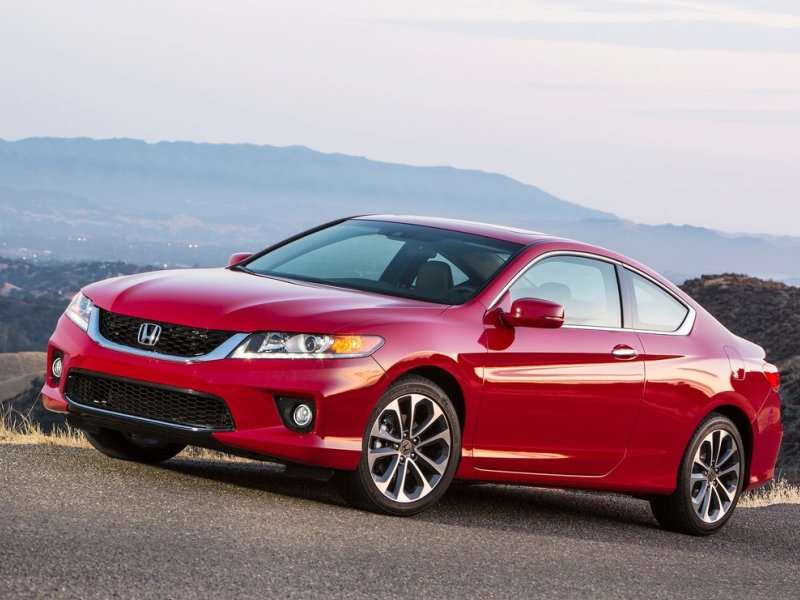 A 2013 Honda Accord Coupe Si? Well, that's sort of the situation here, as a Honda Factory Performance (HFP) package is now on sale for V6-powered versions of the two-door Accord. The upgrade will be limited to 500 units and includes:
A retuned, track-tested sport suspension
Aero enhancements like a rear decklid spoiler and a full HFP body kit
HFP floor mats and exterior badges
Red cabin illumination
19-inch HFP alloy wheels
Three-year/36,000-mile warranty coverage
Now, unlike the Honda Civic Si range, which showcases a powertrain upgrade over the standard Civic family, the 2013 Honda Accord Coupe HFP has the same engine as the rest of the V6 Accord lineup. Still, we're talking about 278 hp and 252 lb.-ft. of torque that compares well to what's in a Hyundai Genesis Coupe, for example. The Hyundai's specs start at 274 hp/275 lb.-ft. of torque, but that's with premium fuel; with regular—the fuel recommended for the 2013 Honda Accord Coupe—the Genesis' output falls to 260 hp/260 lb.-ft. of torque.
"The new Accord Coupe V6 is already a natural on twisty roads, but the HFP package really takes it to a new level," said Lee Niffenegger, program senior engineer at Honda Performance Development. "With a lowered ride height, sport suspension and more performance-oriented tires, the HFP kit definitely provides more controlled body motions and enhanced stability."
And although Honda declined to release any actual numbers, the company reported that, after on-track evaluations, the HFP Accord Coupe "felt more confident and stable and is capable of going around the track faster than the stock car."
The HFP package for the 2013 Honda Accord Coupe is available now as a dealer-installed package that is priced at $4,620, excluding installation costs and, of course, the MSRP of the car itself. Which currently stands at $30,350.