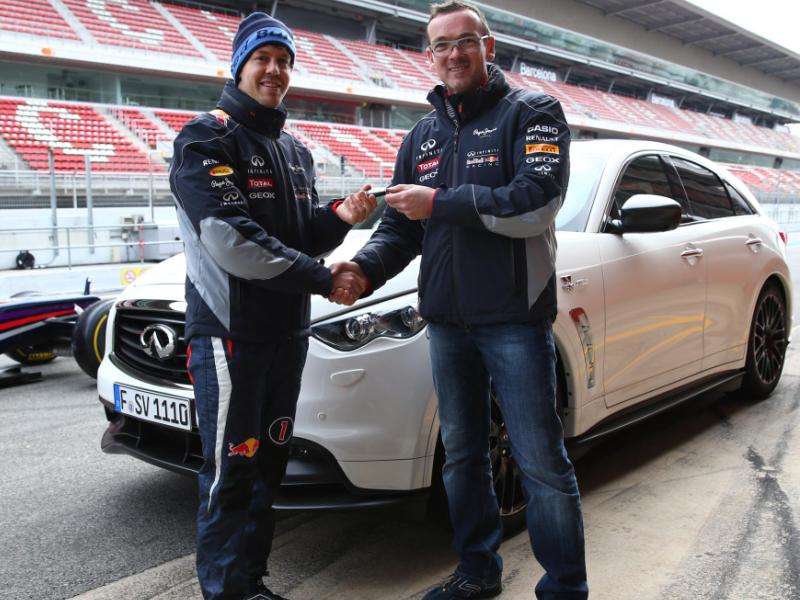 The 2014 Infiniti Q50 Eau Rouge—the hi-po, F1-inspired sport sedan first shown at the 2014 Detroit auto show—still hasn't been approved for production, but it did take a significant step in that direction: A running prototype of the vehicle recently hit the track at the Millbrook Proving Ground in the UK, where multi-time Formula 1 driving champion Sebastien Vettel, who also happens to be Infiniti's "director of Performance," put the car through its first on-track testing.
It was an early chance to see how the 2014 Infiniti Q50 Eau Rouge would do with Nissan's new twin-turbo V6 engine, which also was introduced during the 2014 auto show season, in Geneva. The powerplant is based on the same 3.8-liter unit that motivates the Nissan GT-R, but with upgrades that deliver 15 more horsepower, albeit with a 20 lb.-ft. reduction in torque. The bottom line is 560 horses, 443 lb.-ft. of twist, a projected 0-60 time of under 4 seconds and terminal velocity expected to exceed 180 mph.
The 2014 Infiniti Q50 Eau Rouge concept then went from the track to the Beijing Motor Show to provide the public with its first look at the car in a drivable configuration.
Said Johan de Nysschen, president of Infiniti Motor Company Limited: "Taking the decision to build and develop a prototype of the Q50 Eau Rouge concept following the positive response we received in Detroit and Geneva, was a logical next step for us in our evaluation process. Having a four-time world champion like Sebastian Vettel take an active part in the testing program around the prototype ensures that we will meet the level of performance criteria we desire for an Infiniti high-performance sport sedan."