What would we pick for our family sedan? Check it out.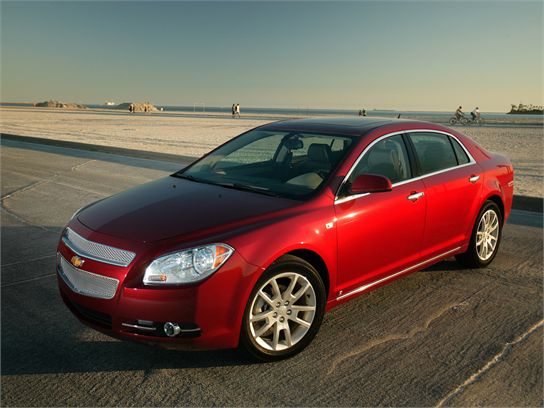 As automotive journalists, one of the most frequently asked questions we get is, "What car would you drive?" It's a natural, of course. Since we drive so many cars, we have a good idea of what works and what doesn't. To help answer the inevitable, we've assembled our favorite family sedans. Starting with the EPA's market class ratings, we pared it down to 10 vehicles that get at least 4 stars from us. Some are expected, some are surprising, and at least one obvious choice is missing because it didn't make the stars cut...Toyota Camry, we're looking at you.
By Keith Buglewicz Photo credit: Oliver Bentley, Manufacturers
Page 2
With its starring role as hybrid poster child, emissions savior and environmentally sound transportation choice Hollywood types looking to "green" up their image, it's easy to forget that the Toyota Prius is also a practical midsize four-door with plenty of cargo room to boot. The Prius was a good choice for city dwellers even before gas prices spiked, and remains so today. In fact, it's the only family car on our list ranked above 4 stars.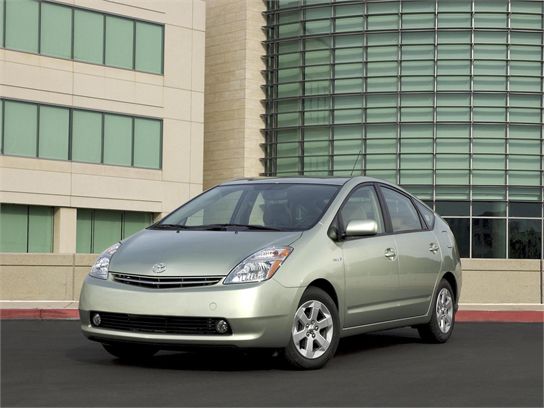 Page 3
The 2008 Chevrolet Malibu has been one of those rare instances where love at first sight blossomed into a meaningful relationship. We love the Chevy Malibu's looks both inside and out, but as it turns out the Malibu is also a terrific car to drive. With plenty of power from the V-6 and an available six-speed automatic transmission with the four-banger as well as a hybrid version, the Malibu should be on any family-car shopper's list.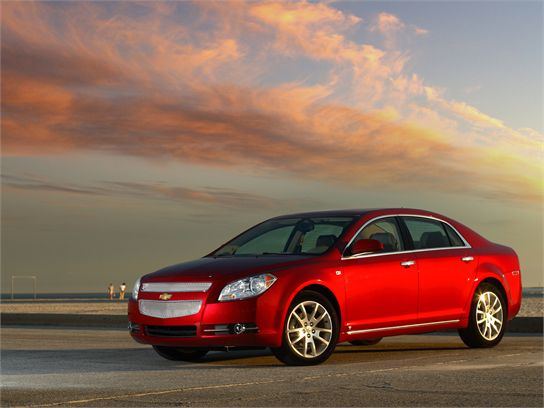 Page 4
Considering it's actually an updated Ford Five Hundred – a car we weren't particularly fond of – we were surprised by how much we liked the 2008 Ford Taurus. Ford astutely fixed the things we didn't like about the Taurus's predecessor, updated a few other things along the way, and left the good stuff alone. With tons of room for passengers and cargo, fresh styling and a comfortable and quiet ride, the Ford Taurus and its Mercury Sable sibling deserve a look.

Page 5
Honda moved the 2008 Accord up to the full-size class, and for some of us the newer, bigger Accord has lost some of its sporty feel. Regardless, the added size brings more room especially in the rear, and the Accord is still a tough act to beat. With a wide variety of engines, two body styles – including the sporty Accord coupe – the 2008 Accord still boasts enough innate goodness to land it on our list. We wish the Accord interior didn't suffer from buttonitis, but beyond that, there's little to dissuade buyers from driving off in Honda's big family sedan.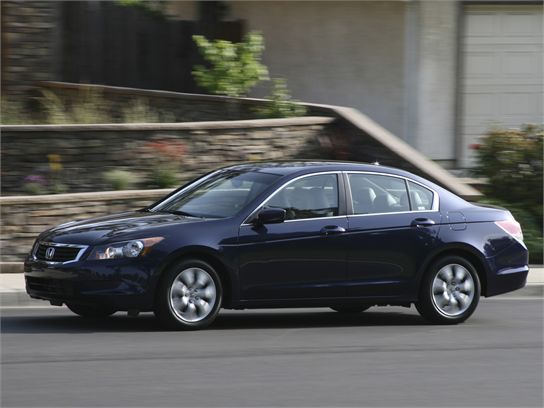 Page 6
Hyundai tried to position the Azera as a luxury car, but with the introduction of the 2009 Hyundai Genesis, the 2008 Azera has moved down a notch, at least in our minds. The Azera always was more of a high-end family car than a luxury sedan anyhow, and a darn fine one at that. With plenty of gadgets to keep the techno-savvy occupied, and a comfortable and quiet ride for the passengers and driver, the Azera's worth more than a second glance.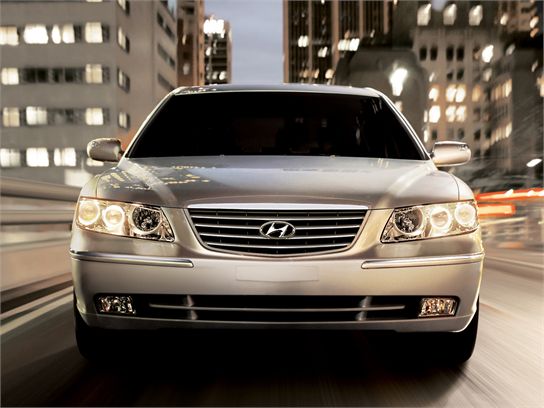 Page 7
Hyundai's formula of lots of car for not a lot of money is in full effect with the 2008 Elantra. Only available with a four-cylinder engine, the Elantra might just be the perfect choice for families on a budget. Think it's too small? Think again. When the Elantra was redesigned a few years ago, Hyundai added enough interior volume to classify the Elantra as a midsized car, and outfitted it with an interior that's surprisingly comfortable, especially for the price.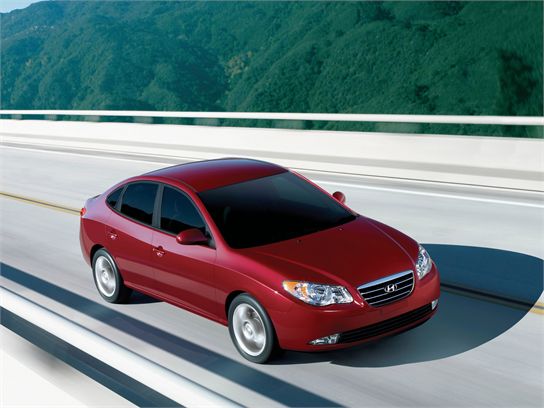 Page 8
Three Hyundai models on the list? Hey, don't accuse us of anything here. It just turns out that Hyundai is making some darn fine cars these days. The 2009 Hyundai Sonata – on sale now – is but one example. With comfortable seating, a new interior inspired by the company's Veracruz crossover wagon, more power from the V-6 and four-cylinder engines, and all the high-tech and luxury bits buyers expect, the 2009 Hyundai Sonata has a lot going for it.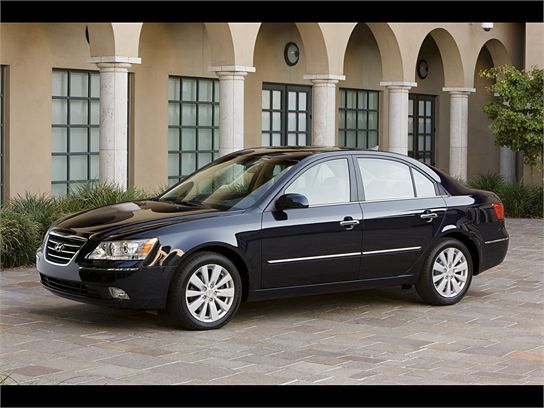 Page 9
Like the Honda Accord, the 2008 Nissan Altima comes in coupe and sedan flavors. The Honda and Nissan are comparable in many other ways as well, with both offering plenty of room, lots of power, good handling and a good-sized trunk. However, unlike the Accord, the Altima offers a hybrid version that improves significantly on fuel mileage, something that outweighs the fact that we're not particularly fond of the Altima sedan's hindquarters.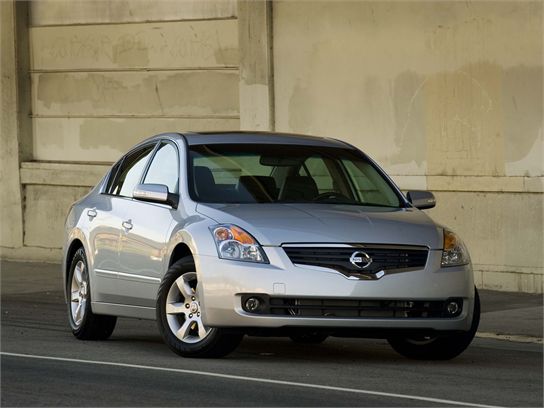 Page 10
The 2008 Volkswagen Passat is available in both sedan and wagon versions, but we're concentrating on the Passat sedan here. For buyers who want a different kind of driving experience than what's available from the Japanese makes, the VW Passat serves up a healthy dose of European sensibility, albeit at a higher price than you might expect. With that in mind, Volkswagen has added enough niceties to the Passat to make it a near-luxury car that's worth the price.