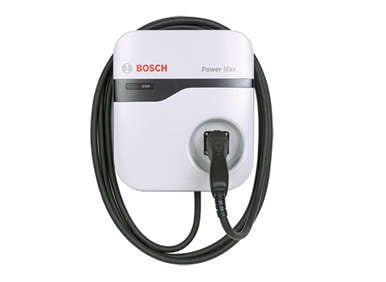 Bosch is continuing to make a name for itself as an EV innovator, following up the recent debut of its low-cost $449 Power Max 240-volt charging system with the announcement that it would help launch America's first commercially available plugless charging alternative. The aptly named Plugless Level 2 Electric Vehicle Charging System was introduced at the 2013 conference of the Electric Drive Transportation Association in Washington, D.C., and features three basic components:
The vehicle adapter, which is permanently attached to the bottom of each vehicle and specially designed for each model
A control panel that is hardwired to a 240-volt, 30-amp circuit and designed to be located in front of the vehicle's parking area
The system's Parking Pad, installed on the floor of the garage or parking area to transmit power to the vehicle
The system operates on a completely hands-free basis, too. Once everything is setup, the control panel will help guide drivers into the proper position over the Parking Pad, which, in turn, will automatically initiate the charging process. And as far as that setup process goes, Bosch will help with everything. As the exclusive distributor and installer for the technology (from the Evatran Group), Bosch will oversee the complete installation process, provide ongoing post-installation support, and even assist with financing. Installation costs will vary, of course, with hardware for the Chevy Volt and Nissan LEAF—the two vehicles currently compatible with the system—listed at $2,998 for the former and $3,098 for the latter.
Conveniently, Bosch also has kicked off a new financing program, too, and it covers not only the new plugless systems but also the rest of the charging systems available from the company. On installations of $1,000 and above, Bosch is offering a $0 down, same-as-cash loan with no monthly payments for 12 months when repaid in full in 12 months; installations priced higher than $3,500 can qualify for $0 down, five-year financing at 2.99 percent.
"We are thrilled to launch the first wireless charging system," said Rebecca Hough, CEO and co-founder of Evatran, "Plugless L2 gives EV drivers a more convenient, reliable charging option. Working with Bosch's existing network of certified electricians and 1,300+ Bosch Car Service centers across the U.S., combined with their industry-leading financing options, we're bringing a game-changing charging solution to the EV market."
For more info, visit www.PlugInNow.com.
Image: Courtesy of Bosch.