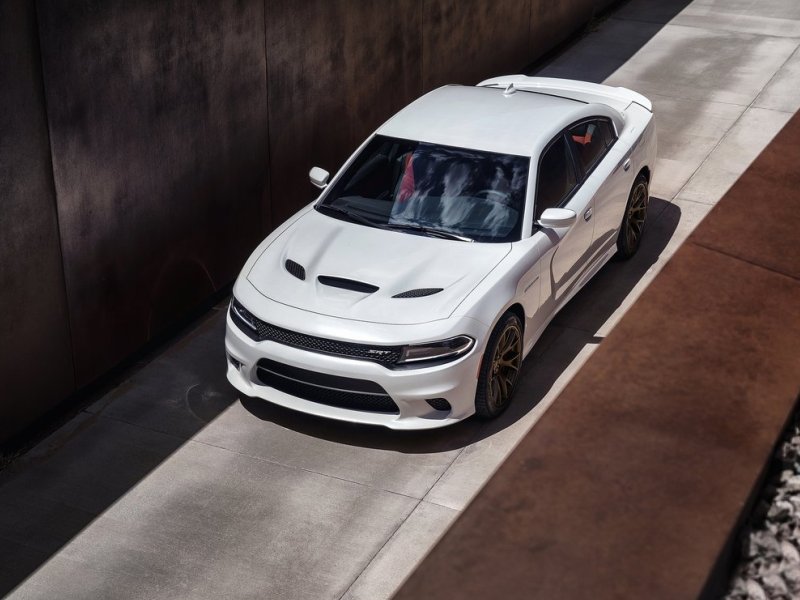 2015 dodge charger srt hellcat
It's not often that an EPA grade of 22 mpg highway gets called "remarkable," but then again, it's not often that a car like the 2015 Dodge Charger SRT Hellcat comes along. In fact, when you remember that the Hellcat also can run the quarter mile in 11 seconds flat, then reach a terminal velocity of 204 mph, a high point of 22 mpg may indeed represent "a fuel-economy rating as remarkable as its performance numbers" (as claimed by Dodge). 
Consider how the 2015 Dodge Charger Hellcat stacks up against the Chevrolet SS full-size sport sedan, for example. The Hellcat's full EPA line is 13 mpg city/22 mpg highway/16 mpg combined, while the automatically transmissioned SS tops out at 14/21/17; but at the same time, the 2015 Dodge Charger Hellcat also owns advantages of 292 hp and 235 lb.-ft. of torque. The Ferrari FF comes closer to reaching the Hellcat's output—the FF's V12 makes 650 hp and 503 lb.-ft. of torque—but it also turns up EPA ratings of just 11 mpg city/16 mpg highway/13 mpg combined.
Picking off some more low-hanging fruit, today's Toyota Tundra can't even reach 20 mpg highway.
Providing those benefits and more, the Hellcat's HEMI obviously impressed the editors of WardsAuto, too, since they recently honored the engine with one of the industry's top powertrain prizes and a place on their "10 Best Engines for 2015" roster.
According to Drew Winter, editor-in-chief of Ward's Auto World and senior editor of WardsAuto.com:  "A 707-hp engine in a car starting at less than $60,000 is an achievement all by itself, but what impressed WardsAuto editors beyond the V8's prodigious output, diamond-coated washers, extra-strong alloy pistons and all the other extras that went into engineering this masterpiece, is how civilized the beast is in ordinary driving.
"It's easy to make a street-legal race car, but it is a major accomplishment to make such a powerful engine a pleasure to drive to the grocery store as well as at the track."
Just keep in mind that the 2015 Dodge Charger SRT Hellcat actually has an MSRP of $63,995, while the Challenger Hellcat, packing the exact same powerful engine, is priced from $59,995.