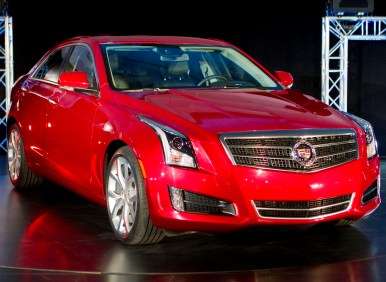 The 2013 Cadillac ATS compact sport sedan was created to take on German competitors from the likes of Audi, BMW and Mercedes-Benz, but nowadays, that means putting as much attention on fuel efficiency as on athleticism. After all, it may surprise some folks to know that the top choices in this segment are all comfortably above the 30-mpg mark on the highway—and that includes the ATS.
According to recently published EPA figures, the ATS with its standard 2.5-liter I4 engine and six-speed automatic transmission will be capable of 22 mpg city/33 mpg highway/26 mpg combined. How does that fare against the aforementioned Teutonic trio? Let's take a look, while also comparing power and pricing on entry-level models, too:
Cadillac ATS—$33,900; 3,315 lbs.; 202 hp and 191 lb.-ft. of torque; 22 mpg city/33 mpg highway/26 mpg combined
BMW 328i—$36,500; 3,360 lbs.; 240 hp and 255 lb.-ft. of torque; 23/33/26
Audi A4—$32,500; 3,509 lbs.; 211 hp and 258 lb.-ft. of torque; 24/31/26
Mercedes-Benz C250—$34,800; 3,428 lbs.; 201 hp and 229 lb.-ft. of torque; 21/31/25
As you can see, the ATS does offer some notable advantages here: It's not as powerful as the BMW, but its price of admission is a significant $2,600 lower. Also, although the Cadillac is more expensive than the Audi, the latter carries nearly 200 more pounds and relies on a CVT—not the kind of transmission often associated with performance vehicles. And the ATS edges the M-B in terms of price, weight, horsepower and fuel efficiency.
2013 Cadillac ATS: Other Powertrain Scores
The 2013 Cadillac ATS also will offer drivers two high-performance engine options, including a 2.0-liter turbocharged I4 and a 3.6-liter V6, both of which feature direct injection and variable valve timing. The former is good for 272 hp and 260 lb.-ft. of torque and is projected to return EPA marks of 22 mpg city/32 mpg combined, and the latter develops 321 hp and 275 lb.-ft. of torque, with projected EPA ratings of 19 mpg city/28 mpg highway.
"The ATS is all about balanced performance, and that's exactly what the powertrain systems are designed to provide," said Mike Anderson, global chief engineer for the Cadillac four-cylinder engines. "They are also refined, which enhances the driving experience with smoothness and predictability that inspires confidence as the revs climb."
Customers can expect the 2013 Cadillac ATS to go on sale in the very near future.