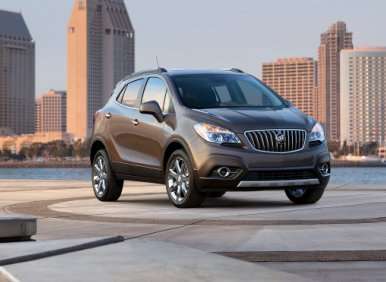 GM's first entry in the premium small-crossover segment—the 2013 Buick Encore—will be the most fuel-efficient domestic crossover in any segment. That's per the automaker, which recently announced the Encore will post an EPA line of 25 mpg city/33 mpg highway/28 mpg combined in its two-wheel-drive configuration. And rather than parsing terms like "domestic" and "crossover," let's merely note that, regardless of how you slice things, those are fairly strong numbers.
On the other hand, a quick look at possible rivals is in order, so here's how the Encore matches up against some of the smaller, two-wheel-drive, gasoline-only, automatically transmissioned crossovers on the market today: 
Vehicle                 
EPA ratings
Power (hp/lb.-ft.)
Length
Buick Encore
25/33/28
140/148
168.5
MINI Countryman S
25/32/28
181/177
161.8
Volkswagen Tiguan
21/26/23
200/207
174.5
Ford Escape
23/33/26
178/173
178.1
Mazda CX-5
26/32/29
155/150
179.3
If that seems like an eclectic crew of competitors, you should be aware that Buick chose most of them, and even called out the VW and the MINI as the Encore's "direct import competition." I added the Mazda, mostly because it's known for its SKYACTIV-ated fuel-efficiency marks.
2013 Buick Encore: Fun Factoids and the Party Line
There are some distinct efficiency advantages with the 2013 Buick Encore, of course:
Compared to the average new vehicle, the Encore's fuel-efficiency grades will allow drivers to save about $420 annually in fuel costs
The Encore's EPA-estimated fuel cost of $1,900 per year is unbeaten by any 2013 model-year crossover now sold in the United States
Regular fuel is recommended for the Encore, while targeted rivals like the Tiguan and Countryman require premium
Coincidentally, there also was some other important Buick news today on the fuel-efficiency front: the brand is rejiggering the lineup for the Buick Regal, and customers will no longer be able to get the now-standard 2.4-liter I4 without GM's eAssist technology. This means that when the Encore debuts, every member of the Tri-Shield lineup except for the Buick Enclave will offer an entry model that can get at least 32 mpg on the highway. That includes the Buick Verano (32 mpg), Regal with eAssist (36 mpg) and Buick LaCrosse with eAssist (36 mpg), as well as the Encore (33 mpg).
"Right from its inception, Encore was designed to offer customers the safety and comfort expected of any Buick, but with an added emphasis on space and fuel efficiency," said Jim Danahy, the Encore's chief engineer. "We did things like specify one optimized wheel and tire package to ensure that every customer has the best driving experience possible."