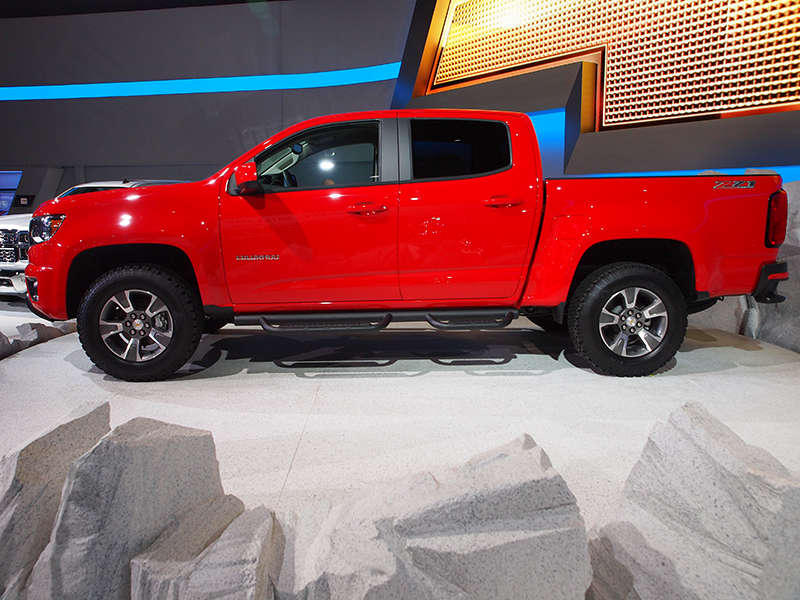 2015 chevy colorado
With the all-new 2015 Chevrolet Colorado now in transit to dealerships, Chevy has released the official EPA fuel-economy grades for models equipped with a standard 2.5-liter four-cylinder engine: The most efficient configuration, pairing that powerplant with a six-speed automatic transmission and rear-wheel drive, will serve up marks of 20 mpg city/27 mpg highway/22 mpg combined; the work truck with a six-speed manual will be capable of 19 mpg city/26 mpg highway/22 mpg combined; all-wheel-drive models of the 2015 Chevrolet Colorado, paired solely with the automatic, come in at 19 mpg city/25 mpg highway/21 mpg combined.
That 27-mpg grade is the high-water point for the segment, and for all gas-powered mainstream pickups. However, a quick comparo is worthwhile, since the real difference-maker with the 2015 Chevrolet Colorado is that its efficiency lead comes with a significant power advantage over its rivals. Consider the following leaderboard, showing power and efficiency ratings for midsize automatically transmissioned pickups, as well as for a few full-sizers for more context:
2015 Chevrolet Colorado—4 cylinders, 200 hp/191 lb.-ft. of torque, 20/27/22
Toyota Tacoma—4 cylinders, 159 hp/180 lb.-ft. of torque, 19/24/21
Nissan Frontier—4 cylinders, 152 hp/171 lb.-ft. of torque, 17/23/19
Colorado—V6, 305 hp/269 lb.-ft. of torque, 18/26/21
Chevy Silverado—V6, 285 hp/305 lb.-ft. of torque, 18/24/20
Silverado—V8, 355 hp/383 lb.-ft. of torque, 16/23/19
The party line from Tony Johnson, Colorado marketing manager: "Offering segment-leading four-cylinder fuel economy is yet another item to add to the Chevrolet Colorado's long list of segment leads. It shows once again how the midsize segment can benefit from a fresh competitor offering the latest technologies."
Note: EPA ratings for the new GMC Canyon midsizer from the Professional Grade division are identical with those from the 2015 Chevy Colorado; however, because the former wears lightweight alloy wheels as standard equipment, the Canyon will boast a 30-lb. payload advantage over the Colorado and top out at a best-in-segment 1,620 lbs.
Pricing for the 2015 Chevrolet Colorado opens at $20,120.