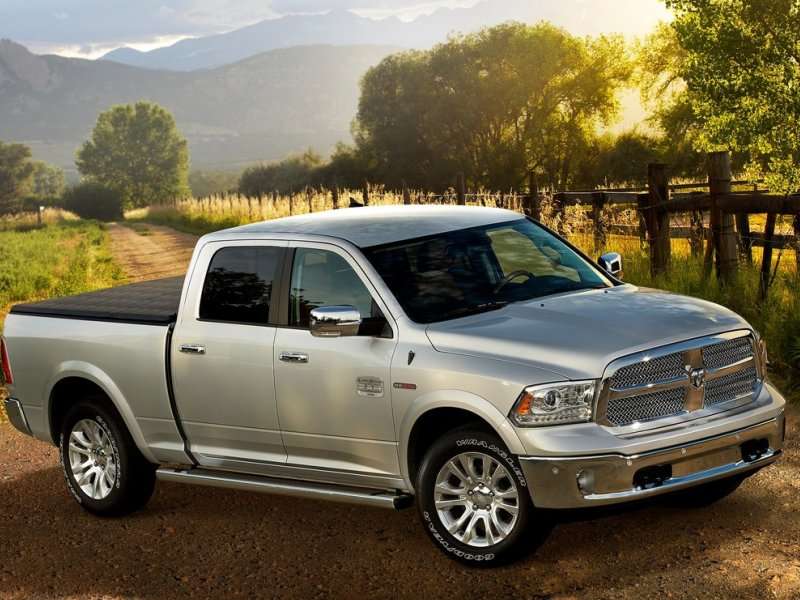 It's not often that folks get worked up about the fuel-economy of full-size pickups—and least not in any positive sense—but that could be about to change thanks to the debut of the 2014 Ram 1500 with its award-winning EcoDiesel V6 engine. Ram finally has revealed actual EPA ratings for the truck, and the results are an impressive 20 mpg city/28 mpg highway/23 mpg combined—the highest grades ever achieved by a full-size pickup. And while that's for the rear-wheel-drive model, the Ram is rated at 19/27/22 even with power routed to all four wheels.
As you might expect, the numbers are prompting some notable comparisons, especially with a certain crosstown rival. Said Reid Bigland, president and CEO of the Ram Truck Brand: "The new Ram 1500 EcoDiesel is truly in a class of its own with 28 mpg and the ability to tow 9,200 pounds. To put the Ram 1500 EcoDiesel in context, it gets 6 mpg better fuel economy than the best F150 Eco-Boost. Overall, the Ram 1500 EcoDiesel has outstanding pickup truck capability with compact-car-like fuel economy."
That may seem like a bit of an exaggeration, but the EcoDiesel variant of the 2014 Ram 1500 actually can hang with today's fullsize sedans and even some smaller crossovers. Consider: The 2014 Ford Taurus is graded at 19/29/23 with its V6 gas engine, and the all-new 2014 Chevy Impala can post a line of 19/29/22; meanwhile, the tiny 2014 Kia Sportage is rated at 21/28/24 with its standard engine, and VW Tiguan only reaches 21/26/23 when equipped with an automatic transmission.
Getting back to its more likely rivals, the 2014 Ram 1500 EcoDiesel also tows more than the standard 2014 F-150 EcoBoost, and stacks up against the most efficient V8 pickups—and that EcoBoosted entry—as follows:
2014 Ram 1500 EcoDiesel—19/28/23
2014 Chevy Silverado—16/23/19
2014 GMC Sierra—16/23/19
2014 Ford F-150 EcoBoost—16/22/18
2014 Ford F-150—15/21/17
2014 Ram 1500—15/22/17
2014 Nissan Titan—13/18/15
2014 Toyota Tundra—15/19/16