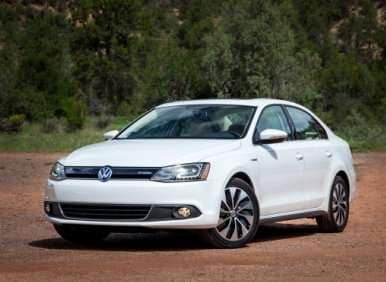 Gas prices may be cooling off a bit, but thanks to the 2013 VW Jetta Hybrid, the battle for fuel-efficiency leadership is once again heating up. The Jetta Hybrid—which is expected to get into dealerships just before the new year opens—recently received its official fuel-economy grades and the numbers are no doubt impressive. Backed by the only turbocharged engine in its segment, the car will showcase an EPA line of 42 mpg city/48 mpg highway/45 mpg combined. That combined number gives the Jetta Hybrid a 1-mpg advantage over its direct rival, the Honda Civic Hybrid, in terms of combined travel, and it gets the same mark on the highway as the Toyota Prius.
But it's not the performance of the 2013 VW Jetta Hybrid—as impressive as that may be—that represents a new development in the auto-industry's efficiency landscape; it's the fact that the car now allows Volkswagen to claim it offers more models capable of at least 40 mpg than any other automaker in the country.
Oh, the Hyundai-Kia fuel-economy fiasco helped out, too. The former brand in particular was leveraging its own family of 40-mpg entries to build buzz (and sales volume), and even though the new EPA marks on the Hyundai portfolio generally don't change all that much in reality, perception can be a funny thing—and with Ford now receiving unwanted attention for its fuel-efficiency reporting procedures, Volkswagen could be the brand getting the last laugh here.
2013 VW Jetta Hybrid: Running the Numbers
Now, as mentioned, the 2013 VW Jetta Hybrid offers some of the highest EPA marks in the country. But the big difference-maker on the road isn't so much its fuel-efficiency as it is the car's fairly zippy performance. Thanks to its 1.4-liter I4 turbo and seven-speed dual-clutch automatic transmission, the Jetta Hybrid can hightail it down the road with a 0-60 time of 8.6 seconds. No, that's not going to scare off the Infiniti M Hybrid, but it's about half a second quicker than the Honda CR-Z "sport" hybrid and some 1.5 seconds faster than the Prius or Civic Hybrid.
Perhaps more importantly, the 2013 VW Jetta Hybrid also is quicker than most of the mainstream compact sedans that rely on traditional, non-hybrid motivation—at least in their standard configurations. The Civic sedan, for example, takes more than 9 seconds for a 0-60 sprint, as do other compacts like the Chevy Cruze, Dodge Dart and Nissan Sentra. Which makes sense when you consider that the 2013 VW Jetta Hybrid offers up 170 hp and 184 lb.-ft. of torque, much more than the gas-only entry engines in the segment.
With that in mind, here's how the EPA ratings of the new Jetta Hybrid stack up against some of the market's smaller hybrid choices:
Vehicle
EPA (city/hwy./comb.)
MSRP (w/o fees, charges)
VW Jetta Hybrid
42/48/45
$24,995
Toyota Prius
51/48/50
$24,200
Ford C-MAX
47/47/47
$25,200
Honda Civic Hybrid
44/44/44
$24,200
Honda Insight
41/44/42
$18,600
Acura ILX Hybrid
39/38/38
$28,900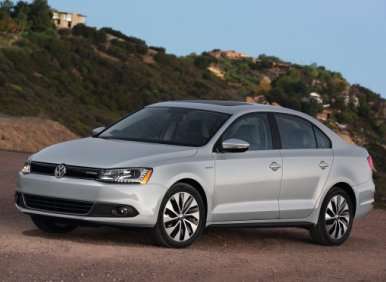 2013 VW Jetta Hybrid: Volkswagen's No. 1—and No. 7
In becoming the automaker's most fuel-efficient model, the 2013 VW Jetta Hybrid also brings the company's overall number of 40-mpg vehicles to seven. As a result, according to VW: "With sales of the Jetta Hybrid beginning later this month, Volkswagen will offer more products that achieve this benchmark fuel economy figure than any other automotive manufacturer in the United States."
However, those bragging rights do require embracing diesel powertrains, along with some parsing of the words "more products," with VW slicing its lineup as follows to come up with its magnificent seven:
VW Jetta Hybrid—42 mpg city/48 mpg highway/45 mpg combined
VW Passat TDI—30/40/34 (with six-speed automatic transmission) and 31/43/35 (with six-speed manual transmission)
VW Beetle TDI—28/41/32 (with six-speed manual transmission)
VW Beetle Convertible TDI—28/41/32 (with six-speed manual)
VW Jetta TDI—30/42/34 (with both transmissions)
VW Jetta SportWagen—30/42/34 (with six-speed manual)
VW Golf TDI—30/42/34 (with both transmissions)
On the other hand, it is worth pointing out that the Blue Oval team does take issue with VW's math and/or idea of what counts as a "model." Per Ford, by the end of 2012, it will offer "eight U.S. vehicles that deliver 40 mpg or more—double its number versus 2011 and more than any other full-line automaker."
Those vehicles include the Ford C-MAX, Ford C-MAX Energi, Ford Fusion Hybrid, Ford Fusion Energi, Ford Focus, Ford Focus Electric, Ford Fiesta and Lincoln MKZ Hybrid.
Who's the real winner here? U.S. customers, of course!