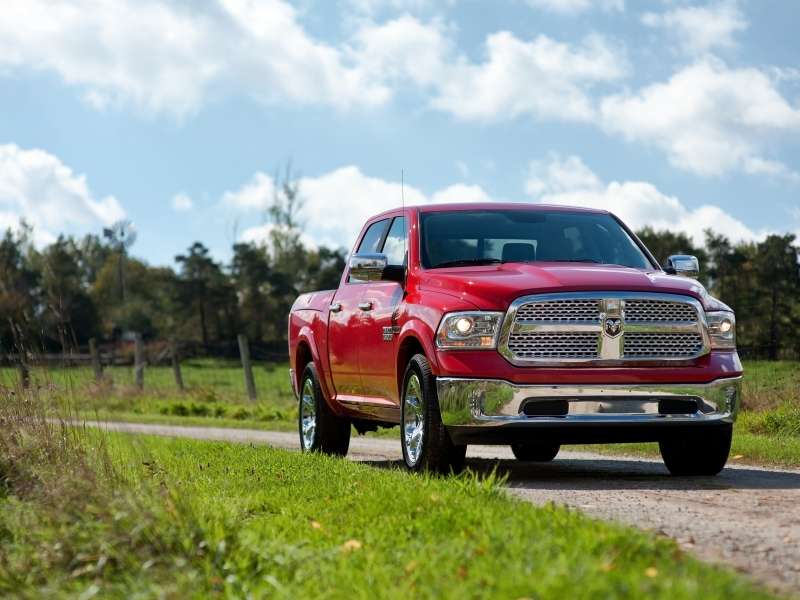 The 2014 Ram 1500 EcoDiesel isn't expected to go on sale until next month, but it's already achieved something of a sellout. Ram initially scheduled a build of 8,000 EcoDiesel pickups to help stock local lots, and the entire batch was claimed by dealers in about 72 hours.
Said Reid Bigland, president and CEO of the Ram Truck Brand for Chrysler Group LLC: "The Ram 1500 is the only half-ton truck available with a diesel, so we see this as incremental business by having the only truck that can offer best-in-class fuel economy of 28 mpg combined with 9,200 lbs. of towing capacity. It's every truck manufacturer's dream to have this kind of initial order demand for a product. Fuel economy is the No. 1 request of half-ton buyers and the Ram 1500 EcoDiesel delivers without compromising capability."
The 2014 Ram 1500 also achieves 20 mpg city and 23 mpg combined with its 3.0-liter turbodiesel V6, which means not only does it lead the full-size light-duty segment in fuel economy, it tops all the small and midsize pickups, too. Needless to say, the Ram EcoDiesel also holds the same kind of advantage when comparing all-wheel-drive models; in fact, the Ram 4X4's EPA line of 19/27/22 also bests the numbers from any current pickup with rear-wheel drive except for the four-cylinder, manually transmissioned Toyota Tacoma. And in that case, the Ram still gets a higher highway fuel-efficiency rating, while delivering an extra 81 hp and +150 lb.-ft. of torque.
Then, helping show how "clean" its clean-diesel technology really is, the Ram's new engine emits some 9.5 percent fewer grams of CO2 per mile that the Ford F-150 EcoBoost model.
But at the same time, its max tow rating is backed by outputs of 240 hp and a whopping 420 lb.-ft. of torque, with that power routed through a sophisticated eight-speed transmission with Ram's signature rotary-style shifter.
Needless to say, folks can expect the 2014 Ram 1500 EcoDiesel to be in fairly high demand at its launch—although Ram has committed to filling customer special orders ahead of dealership lots, and will open up the next round of dealer orders early next month.