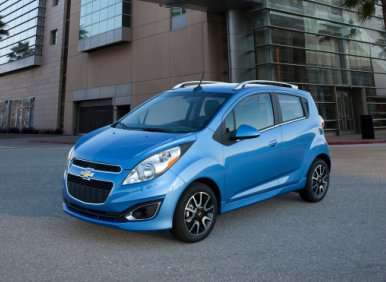 The Chevrolet Volt battery fire issue, which has garnered significant amounts of media coverage, has prompted General Motors to head in a different direction for the design of the energy storage unit in the upcoming electric version of the Chevrolet Spark subcompact. Automotive News is reporting that the new vehicle, which goes on sale in roughly seven months time, will no longer feature the same type of lithium ion battery currently found in the Volt.
Instead, the Chevrolet Spark electric car will shift to a phosphate-based lithium ion battery, an alternative design that has been judged to offer better heat management and a less volatile nature in emergency situations. The batteries are manufactured by A123 Systems Inc., a company which also has contracts with a number of other EV automakers in the United States. Phosphate lithium ion batteries are a relatively new development in the hybrid and electric car scene, but one which is already promising a longer lifespan than current lithium metal oxide units found in the Volt and the Nissan Leaf. The fresh technology will also find itself employed in upcoming hybrid versions of the BMW 3 Series and the BMW 5 Series, as well as in the Fisker Karma that will soon be reaching customers.
So far, GM has not commented on whether the phosphate-based batteries would eventually replace the lithium ion battery packs that are currently found inside the Volt. There is speculation that this could occur as part of Chevrolet's attempt to address concerns that the Volt's batteries might pose a fire hazard after the vehicle has been in an accident. So far, however, the domestic automaker has stressed that a redesign of the current battery pack is the most likely solution to allegations by the National Highway Traffic Safety Administration's allegations that the Volt's existing setup is unsafe.
The furor over the Volt's potential flammability comes after the NHTSA documented several spontaneous fires sparked by the battery packs of crash-tested examples of the compact electric sedan. General Motors has cooperated with the NHTSA in an investigation of the safety of Volt battery packs but also claims that the Administration did not follow proper disposal procedures for the batteries in question. GM has so far offered free loaner cars, as well as the option of a factory buy-back to current Volt owners who are no longer comfortable driving the electric cars pending the outcome of the investigation.