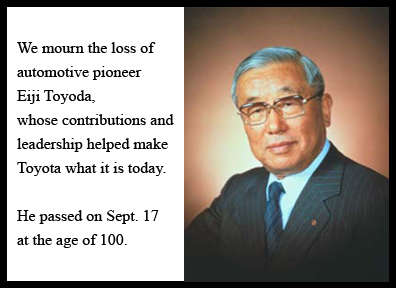 Some sad news coming out of Japan this week. Eiji Toyoda, the younger cousin of the company's founder and the longest-serving head of Toyota, passed away at 100 due to heart failure.
Toyoda's list of accomplishments during his 69-year tenure at Toyota is wide and varied. He joined the company in 1936 and became a director in 1945. In the fifties, Toyoda and production specialist Taiichi Ohno changed how the company built cars to make the process more efficient. In the sixties, Toyoda became vice president and then president of Toyota. He also oversaw the development of the Corolla and helped introduced the brand into the U.S.
Later on in his tenure, Toyoda played a key role in the creation of Lexus and approved a program that would ultimately lead to the Prius. He retired in 1994 as the company's chairman and became an honorary chairman.
We extend our condolences to the Toyoda family and Toyota.