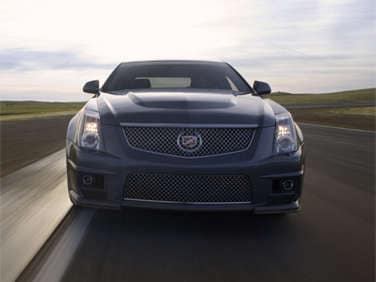 Looking for performance but still need a usable back seat? There are plenty of hot sports sedans out there that have you covered. Breathtaking acceleration, supernatural handling and aggressive styling are no longer the exclusive hallmarks of automobiles with cramped passenger compartments and token - at best - nods towards hauling more than a couple of people at a time. Modern technology has given two-ton automobiles the ability to corner authoritatively at speeds that would have frightened F1 drivers a mere ten years ago, and sedan shoppers are reaping the rewards of this significant research and development investment into suspension systems and electronic driver's aides.
Let's take a look at eight sports sedans and investigate what features make them stand out in terms of the performance that they offer and the image they portray.
01. 2012 Cadillac CTS-V
The 2012 Cadillac CTS-V is a shot across the bow of luxury shoppers conditioned by years of inertia to avoid considering a domestic premium brand when looking for a dynamically interesting sedan. The Cadillac CTS-V's chassis was developed after extensive testing at Germany's Nurburgring, and its Magnetic Ride Control suspension system helps the four-door automobile handle rapidly changing road conditions - and driver inputs - with ease. Throw in a 556 horsepower, supercharged 6.2-liter V-8 (that also generates 551 lb-ft of torque), the availability of six-speed manual and automatic transmissions and a zero-to-60-mph time of just 4.3 seconds and it's easy to see why the Cadillac CTS-V has obliterated preconceptions of what an American luxury car is capable of when the pedal hits the floor.
02. 2012 BMW M5
The 2012 BMW M5 has always served as the poster child for highly tuned sedans. All-new for the current model year, the BMW M5 gains a 4.4-liter, twin-turbo V-8 engine that pushes out a heady 560 horsepower and 500 lb-ft of torque, managed by the choice of either a six-speed manual or a seven-speed dual-clutch automated manual gearbox. Drivers can select from three different Sport modes that control the vehicle's throttle response, steering assist and suspension stiffness, as well as dial back traction and stability control for more tail-happy fun through the S-curves. The big German beast can leap to 60-mph from a standing start in an eyebrow-raising 4.0 seconds.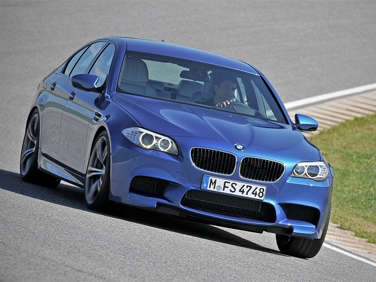 03. 2012 Chrysler 300 SRT8
The 2012 Chrysler 300 SRT8 takes another approach to the big, fast and American sedan template. The Chrysler 300 SRT8 offers full-size interior accommodations whose comforts initially mask the fact that the automobile sits on an adjustable suspension system backed by Brembo brakes and propelled forward by an enormous 6.4-liter V-8 engine. This mill, which comes exclusively mated to a five-speed automatic transmission, produces 470 horsepower and 470 lb-ft of torque, giving the Chrysler 300 SRT8 a 0-60-mph time in the 4.7 second range and allowing it to light up the tires with aplomb. This latest iteration of the 300 SRT8 helps lift the vehicle past the muscle car status it had enjoyed in years past and push it into the sport sedan category thanks to the efforts of Chrysler's chassis technicians.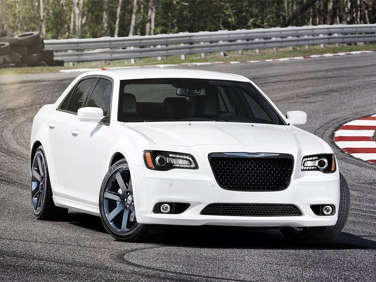 04. 2012 Ford Taurus SHO
The 2012 Ford Taurus SHO is a rare beast amongst full-size sport sedans in that it does not ask buyers to sacrifice fuel economy for the sake of driving thrills. This unique arrangement is made possible by the inclusion of a twin-turbocharged EcoBoost V-6 engine underneath the Ford Taurus SHO's hood, a motor that is tuned to balance performance and efficiency. The 3.5-liter, six-cylinder lump grinds out 365 horsepower and 305 lb-ft of torque, sent through a standard all-wheel drive system via a six-speed automatic transmission that includes paddle shifters which offer manual control over gear shifts. The Taurus SHO matches the fuel economy of the standard all-wheel drive edition of the sedan while laying down 0-60-mph runs of less than 6 seconds.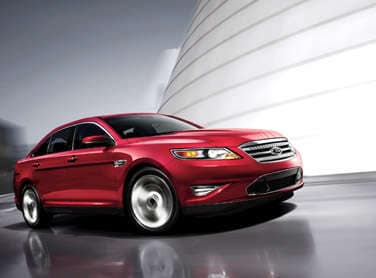 05. 2012 Mercedes-Benz E63 AMG
The 2012 Mercedes-Benz E63 AMG takes one of the automakers most recent - and popular - sedans and turns every single aspect of its character up to 11. This includes not just infusing the Mercedes-Benz E63 AMG with as much muscle and handling prowess as possible, but also giving it the kind of aggressive exterior treatment that instantly separates the E63 AMG from the more pedestrian examples of the E-Class sedan.
The differences between the AMG-tuned model and the rest of the pack are demonstrated with even greater authority on the track thanks to the E63's competition-tuned suspension, brakes and steering, as well as its twin-turbo 5.5-liter V-8 engine that churns out 518 horsepower and 516 lb-ft of torque in 'standard' form and 550 horses and 590 lb-ft of twist with the AMG Performance package installed. A seven-speed automatic transmission handles the shifting duties for all versions of the Mercedes-Benz E63 AMG.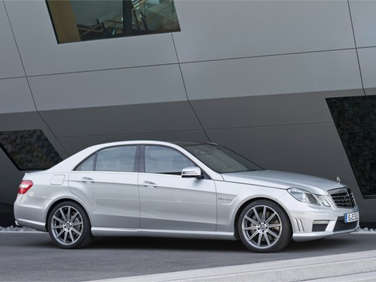 06. 2012 Dodge Charger SRT8
The 2012 Dodge Charger SRT8 is in many ways the platform twin of the Chrysler 300 SRT8, but instead of focusing on balancing premium features with performance, the Dodge skews more towards the adrenaline-inducing side of the ledger. This is immediately apparent upon approaching the Dodge Charger SRT8 as it wears one of the more 'in-your-face' set of styling cues on the market. The sedan's extroverted personality is backed up by a 470 horsepower, 6.3-liter V-8 engine that also produces 470 lb-ft of torque. A five-speed automatic transmission, adjustable suspension system and enormous brakes are also part of the SRT8 package (as is a 0-60-mph time of 4.6 seconds), and buyers can even order a stripped-down Superbee edition of the sedan for a more affordable and some would argue purer road attack experience.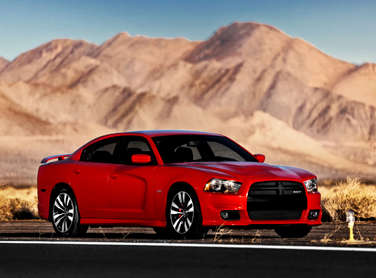 07. 2012 Jaguar XJ Supersport
The 2012 Jaguar XJ Supersport is the hotted-up edition of an already potent example of British auto engineering know-how. The 2012 Jaguar XJ Supersport gives the luxury brand's flagship a serious dose of excitement via the introduction of a 5.0-liter V-8 engine that makes use of a supercharger to grind out 510 horsepower and 461 lb-ft of torque. This is enough thrust to catapult the XJ to 60-mph in as little as 4.7 seconds - all without spilling your tea. The Supersport comes with a six-speed automatic transmission, high end 20-inch rubber and an adaptive suspension system that won't give up when pushed hard through the corners.
08. 2012 Lexus IS-F
The 2012 Lexus IS-F might be a bit smaller than most of the other sport sedans mentioned on this list, but it still packs a substantial punch when the throttle is opened up on its 5.0-liter, eight-cylinder engine. The Lexus IS-F certainly entertains the senses via its 416 horsepower and 371 lb-ft of torque, and it's also the most visually striking of any vehicle built by Lexus thanks to features like the stacked quad exhaust pipes that peek out from underneath the sedan's boy-racer aero kit. The IS-F comes with an eight-speed automatic transmission as standard equipment, and its 4.8 second 0-60-mph sprint is complemented by a revised suspension system, bigger brakes and rev-matched downshifts.