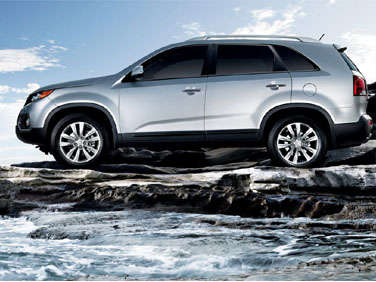 The number of people movers currently available on the new vehicle market is staggering, so it's easy to forgive new crossover, minivan and SUV shoppers for overlooking a model or two. With so much choice out there, it's only natural that a some very competent family vehicles are passed over by the general public through no fault of their own. These roomy, comfortable and in many cases affordable automobiles represent great options for drivers seeking a high capacity vehicle that doesn't run with the rest of the pack.
Let's take a closer look at eight often-overlooked family haulers:
01. 2012 Mazda MAZDA5
The 2012 Mazda MAZDA5 sports a brand new design for the current model year, and the compact, almost-but-not-quite minivan now features swoopy styling that brings it closer in line with the MAZDA3 sedan. Able to seat six passengers across three rows and carry 44.4 cubic feet of luggage with the last two positions stowed out of the way, the Mazda MAZDA5 also features car-like handling that is leagues above what most other minivans can provide.
The 2012 Mazda MAZDA5 is motivated by a 2.5-liter, four-cylinder engine that generates 157 horsepower and 163 lb-ft of torque while returning fuel economy of 21 mpg city and 28 mpg highway. The nimble van can also be had with a six-speed manual transmission – a rarity in its class – and a six-speed automatic gearbox is also available for drivers who prefer to let a computer handle the gear shifting duties.
02. 2011 Chevrolet Equinox
The 2011 Chevrolet Equinox surprises compact crossover shoppers through its combination of a smooth ride and a much more refined passenger compartment than most would expect. The five-seat Chevrolet Equinox offers a sliding second row that can move forward or backward in order to improve on either legroom or cargo space (up to 63.7 cubic feet in total), while available luxury features such as heated leather seats, a rear seat entertainment system and a voice-controlled navigation system are on hand to give the SUV a more upscale feel.
Four-cylinder power awaits buyers of the entry-level 2011 Chevrolet Equinox, which debuts with 2.4-liter, four-cylinder engine under the hood. Rated at 182 horses and 172 lb-ft of torque, the unit also delivers fuel mileage of 22 mpg city and 32 mpg highway. A 3.0-liter V-6 can also be specified as part of the Equinox's spec sheet, and it brings 264 horsepower and 222 lb-ft of torque to the table along with fuel economy of 17 mpg city and 25 mpg highway. Each engine is paired with a six-speed automatic transmission, and all-wheel drive can be selected as an option with either drivetrain choice.
03. 2011 Kia Sorento
The 2011 Kia Sorento has been given a fresh lease on life thanks to a thorough re-engineering process that has seen the introduction of a new sedan-based platform as well as mid-size passenger (seven) and cargo (up to 72.5 cubic feet) capacity at a compact crossover price. The Kia Sorento's improved road manners, combined with its extensive list of standard equipment and intriguing options such as a navigation system and a panoramic sunroof, make it an appealing, budget-friendly family vehicle.
The 2011 Kia Sorento's 2.4-liter, four-cylinder unit serves as the entry-level engine for the crossover SUV. It produces 175 horsepower and 169 lb-ft of torque, and thanks to the choice between either a six-speed manual or six-speed automatic gearbox it is capable of offering fuel economy of 21-mpg city and 29-mpg highway. A 276 horsepower, 3.5-liter V-6 is also available, and its 248 lb-ft of torque significantly perk up the Sorento's acceleration. Matched with a six-speed automatic gearbox, the V-6 returns fuel economy figures of 20 mpg city and 26 mpg during highway cruising. All-wheel drive is optional on most versions of the crossover.
04. 2011 Ford Flex
The 2011 Ford Flex looks like no other crossover on the road, thanks to the decision by Ford brass to give it styling that is reminiscent of the 1960s surf wagons popularized by the songs of the Beach Boys. The Ford Flex is definitely a modern family chariot, however, offering seven passenger seating and a whopping 83 cubic feet of total interior storage space with the second and third rows folded down.
The 2011 Ford Flex also offers crossover shoppers an intriguing high performance option in a segment where speed and handling are rarely emphasized. The Flex initially features a 3.5-liter V-6 that is good for 262 horsepower and 248 lb-ft of torque, sent to either the front or all four wheels through a six-speed automatic transmission. The Flex EcoBoost turns up the heat through the introduction of a twin-turbocharged version of the same engine, one which grinds out 355 ponies and 350 lb-ft of torque and which is managed by standard all-wheel drive and a six-speed auto tranny. Fuel economy for the faster Flex matches that of the entry-level model equipped with all-wheel drive – 16 mpg city and 22 mpg highway – indicating that the engineers at Ford were able to squeeze extra efficiency as well as substantial acceleration out of the EcoBoost motor.
05. 2011 Mazda Tribute
The 2011 Mazda Tribute combines truck-like looks with the pleasing driving dynamics associated with a crossover vehicle. The Mazda Tribute's five-passenger configuration allows for a generous 29 cubic foot "trunk" behind the second row of seating, and folding that row forward expands the SUV's total carrying capacity to 66 cubic feet.
The well-equipped 2011 Mazda Tribute starts out with a 2.5-liter, four-cylinder engine as its base power plant. Capable of producing 171 horses and 171 lb-ft of torque, the thrifty unit also returns fuel economy figures of 22-mpg around town and 28-mpg on the highway. Buyers can trade some of that efficiency for extra grunt under the right foot in the form of a 3.0-liter V-6 that is good for 240 horsepower and 233 lb-ft of torque and which features a slightly lower EPA rating of 19-mpg city and 25-mpg highway. Both models offer the option of all-wheel drive, and each can be had with a six-speed automatic transmission. The four-cylinder is additionally offered with a five-speed manual gearbox.
06. 2011 Chevrolet Traverse
The 2011 Chevrolet Traverse is certainly big, but this is one full-size SUV that drives small. What that means is that the Chevrolet Traverse benefits from a platform that emphasizes driving characteristics more often associated with a full-size sedan than a tall crossover vehicle. The Traverse manages to accomplish this feat while still offering seating for as many as eight passengers or providing a gaping 116.4 cubic feet of cargo space.
The 2011 Chevrolet Traverse also impresses in the engine bay, where it hides a 3.6-liter V-6 that can push out as much as 288 horsepower and 270 lb-ft of torque when the vehicle's optional dual exhaust system is specified. In terms of the towing the Chevrolet also shines thanks to its 5,200 lbs trailer rating. A six-speed automatic transmission helps the Traverse turn in fuel mileage numbers of 17 mpg city and 24 mpg highway, and all-wheel drive is available to improve the crossover's performance in inclement weather.
07. 2011 Mercedes-Benz R-Class
Some have called the 2011 Mercedes-Benz R-Class the German luxury brand's answer to the minivan, and in many respects this is an accurate assessment. The Mercedes-Benz R-Class, however, provides far more opulent accommodations than any van currently available, and it also comes with the automaker's flair for elegantly styled sheet metal that makes it easier on the eyes than many of its people mover competitors. Seven passenger seating (across three rows) and 85 feet of total cargo space help to back up the R-Class' claims to practicality.
Buyers of the 2011 Mercedes-Benz R-Class face an uncommon choice on the crossover market, as the vehicle can be equipped with either a gasoline-powered or a diesel-powered V-6 engine. The 3.5-liter gas motor provides 268 horses and 258 lb-ft of torque, and the vehicle features standard all-wheel drive as well as an advanced seven-speed automatic transmission. The 3.0-liter turbodiesel V-6 is rated at 210 horsepower and a stump-pulling 400 lb-ft of torque, and like the regular V-6 it also offers seven forward gears and AWD. The diesel unit trumps the traditional gasoline V-6 in terms of fuel economy (18 mpg city and 24 mpg highway versus 14 mpg city and 19 mpg highway), making it the more frugal choice for drivers facing a longer commute.
08. 2011 Acura ZDX
The 2011 Acura ZDX is an intriguing compromise, a crossover designed for premium shoppers who need the convenience and additional interior volume that an SUV has to offer, but who at the same time don't want to look like that was the driving force behind their decision to purchase a specific vehicle. The Acura ZDX provides the perfect mask, as the four-door "coupe" features a striking, slope-roofed design and muscular haunches that easily conceal the fact that it also comes with five-passenger seating, a good-size rear hatch opening and 56 cubic feet of total cargo space.
The 2011 Acura ZDX has a bit of a spring in its step thanks to its 300 horsepower, 3.7-liter V-6 engine. With 270 lb-ft of torque on tap, this motor makes the most of the crossover's standard Super Handling All-Wheel Drive system (featuring torque vectoring for precise cornering and maximum grip). The ZDX also comes with a six-speed automatic transmission and turns in a fuel economy rating of 16 mpg city and 23 mpg highway.