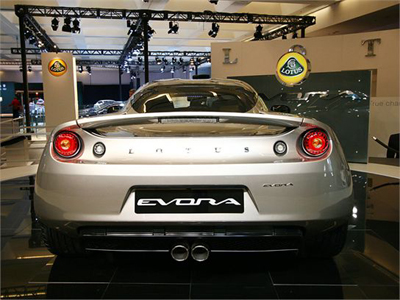 Some of the best cars at the 2008 L.A. auto show grabbed me immediately, others played with my emotions. A good car, like a good pop tune, grabs you immediately, but doesn't grip you. A great car, worthy of lust, plants a seed that grows crazy inside you, grips you like Gorilla Glue, and refuses to take a back seat in your brain. The 2010 Lotus Evora turned me into a boomerang at the L.A. auto show -- I kept returning to the Lotus booth for "one more look." Corny of me? God, I hope so. I'm not a Lotus kind of guy, but the 2010 Lotus Evora -- coming to market in December 2009 and expected to start at around $69,000 -- is the first Lotus I could fit in and see myself in. At the L.A. auto show Lotus stand, the Evora made the Elise look small and silly. When the 2010 Lotus Evora gets to the public roads, this gorgeous midengine sports car will look sinister and snap heads and -- with 276 horsepower and under 3,000 lb. -- it'll fight Porsches, too. -- Richard Homan, Content Director
Photo Credit: Staff
Page 2
Both Road Test Editor Keith Buglewicz and Managing Editor Karla Galik – obviously the two on staff with the most impeccable taste – found themselves lusting equally over the new 2009 Ferrari California Spyder at the 2008 L.A. Auto Show. Really, can you blame them? The car is beautiful, with sleek lines that echo the more expensive 599, but with a unique character. The interior is expertly designed, with only the highest quality materials throughout. Hey, GM and Ford; know how you're bragging that the Cadillac CTS and Lincoln MKS have leather-covered dashes? No they don't...this has a leather covered dash, from the edge of the windshield to where it meets your knees. It also has 460 horsepower going through its F1-inspired paddle-shifted seven-speed transmission. The only significant difference: Keith lusted after the Ferrari in red, while Karla was smitten by the powder blue California Spyder. -- Keith Buglewicz , Road Test Editor and Karla Galik, Managing Editor
Photo Credit: Staff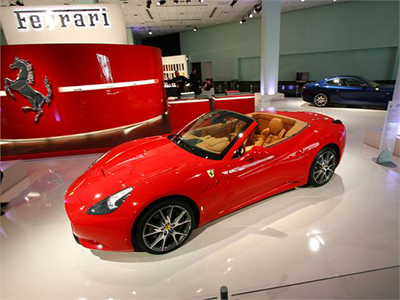 Page 3
I was standing around this vehicle and someone made the comment, "If it's called the Black Series, why is it silver?" The car quipped back, "Do you know who I am? I'm the most powerful Mercedes-Benz ever! How dare you question my paint color! I'm the most powerful, I could have you killed!" At that moment I was like, "Wow, I've been in front of my computer for so long that cars are talking." Talking or not though, I must have this car. With only 175 coming to the United States, a top speed of 198 mph, and a price tag of $299,999, lust alone doesn't cover it for me. Throw greed, gluttony, and envy in there too. -- Elliot Darvick, Manager of Programming.
Photo Credit: Staff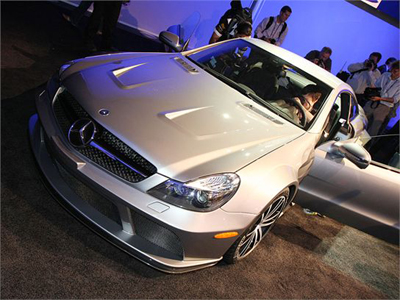 Page 4
What would I drive away from the show given the chance? That's a hard question considering all of the testosterone inspired design and horsepower shown at the L.A. auto show. I was leaning toward the Spyker C8 until I left the hall and stumbled across a pair of Gumpert Apollo sport cars quietly sitting at the end of a less traveled hallway. Having never seen one in person I had to stop and take a look. Hmmm, striking ostentatious design in "look at me orange", mid-engine Audi based bi-turbo engine producing 650 hp and a claimed down force that would enable it to drive upside down in a tunnel at speed. Well, I am living in Southern California and who wants to drive a car I'd see multiple times on my way to work? Yep, I'll take the Apollo in orange please and aren't there a pair of tunnels in Malibu somewhere? I might even have to make a fly-by on Keith and Karla in their Ferrari Californias Top Gun style! -- Ron Perry, Staff Photographer
Photo Credit: Staff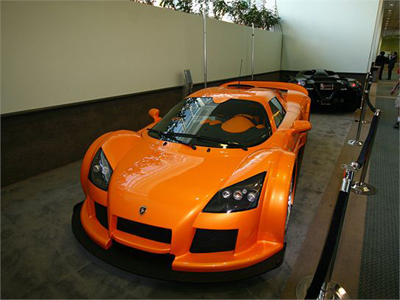 Page 5
It's not possible to ignore the Spyker C8 Aileron. That would be like keeping your cool at a cocktail party with a flaming giraffe drinking from a chocolate fountain in the corner of the room. But it isn't the exterior that pushed my lust button (which sounds really wrong); the interior of the Spyker is wrapped in more leather than a biker bar on the weird side of town. Even the backside of the rearview mirror is wrapped in leather. Calling it luxurious is an understatement. Opulent would get you closer. We'll go with savagely indulgent. There is more hand-stitching in the Spyker than a Nike factory. My only concern is for the state of Wisconsin, which had to donate a third of its cow herd to produce this interior. -- Anne Ducale, Web Content Specialist
Photo Credit: Staff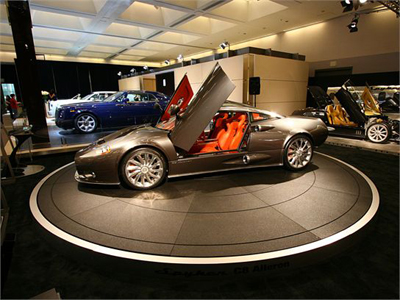 Page 6
MyRide's 2008 L.A. auto show coverage is a real-time, non-stop affair. And as long as there are new cars, concept cars and world premieres being unveiled at the L.A. auto show, we'll be collecting them and adding pages, photos and video to the stories like the one you. So over the next few days -- or even just a couple of hours from now -- you're invited to return to the 2008 L.A. auto show story you've just finished to see what amazing new cars and concepts we've added to it.
In the meantime, check out these other all-new highlights from the 2008 L.A. auto show:
Photo Credit: Staff