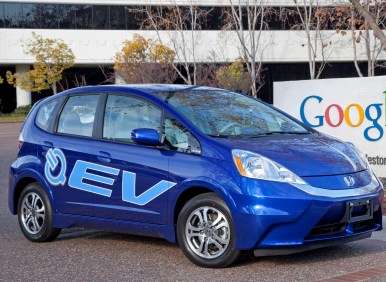 While the automotive press has been abuzz about the (mis)adventures of EV driving on the East Coast lately, a lower-profile choice is hoping for less contentious results when it launches in the region this month: The 2013 Honda Fit EV, which went on sale in limited markets in Oregon and California last year, is slated to reach dealerships in New York, New Jersey, Connecticut, Massachusetts and Maryland before the end of February.
The electrified Fit retains all the versatility of its traditionally motivated sibling, but swaps out the latter's high-efficiency gas-powered I4 engine for an advanced all-electric propulsion system. The latter technology combines a 20-kilowatt-hour lithium-ion battery and a compact electric motor to provide drivers with 123 hp, 189 lb.-ft. of torque, an EPA-certified all-electric driving range of 82 miles, and efficiency grades of 132 MPGe city/105 MPGe highway/118 MPGe combined.
The 2013 Honda Fit EV is initially being offered solely to lease customers, with terms starting at $389 per month for 36 months.
"Expanding the availability of the ultra-efficient Fit EV to the East Coast is the next logical step in Honda's strategic and customer-focused approach to growing the market for low-CO2, sustainable mobility technologies," said Steve Center, vice president of the American Honda Environmental Business Development Office. "Combining Honda's extensive EV experience with customers–which began 15 years ago with the Honda EV Plus–with the real-world feedback from early Fit EV lessees in several different markets will help us prepare for growing adoption of electric vehicles."