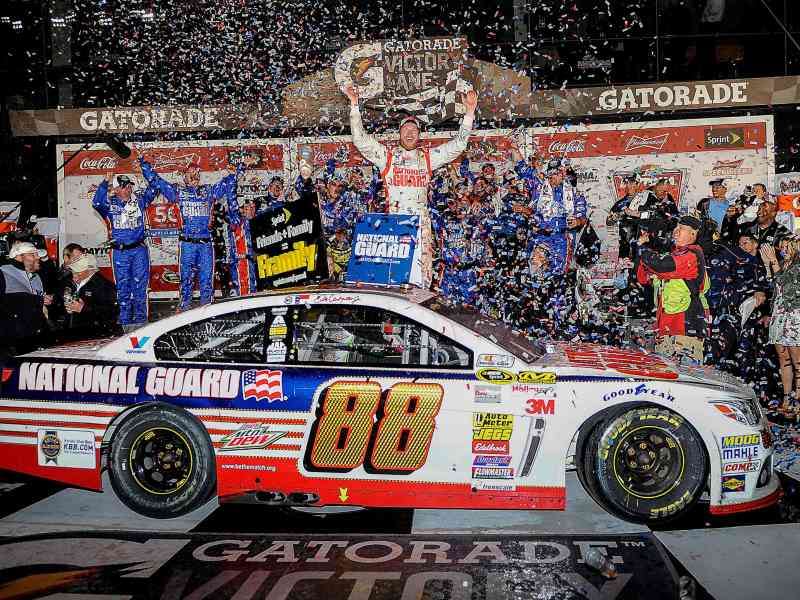 A full decade after claiming his first Daytona 500 victory—and coming after runner-up results in three of the past four years—Dale Earnhardt Jr. drove a 2014 Chevy SS to his second win at the "Great American Race." The event, of course, has marked the start of the annual NASCAR season for a few decades now, and this time around featured a weather delay of more than six hours, two last-minute crashes and one of the best race restarts of Earnhardt's career.
It came following an accident on lap 199 of the 200-lap race, which brought out a yellow flag and set up one final dash for the finish line. Earnhardt's reflexes, combined with those of his 2014 Chevy SS racecar, helped him get a quick jump on the rest of the pack when the green flag was waved for two final laps of live racing; that move made the difference, as one final on-track incident meant the race actually ended with the caution flags out.
Not that Earnhardt was worried. According to the race winner: "We had enough car to battle them off all night long and if they took the lead we could grab it back pretty quickly. We had a real fast car. ... Those last few laps I just got in front of my teammate Jeff [Gordon] on that restart. Worked with him on getting a good restart and getting pushed out in front, so I've got to thank him, without that I don't win the race."
Gordon, for his efforts, ran fourth in the race in his 2014 Chevy SS, with Jimmie Johnson (5th), Austin Dillon (9th) and Casey Mears (10th) rounding out Team Chevy's top-ten finishers.
Beyond the good news for Junior and the rest of Chevrolet's NASCAR contingent, those recent race results also could be a shot in the arm for the production model of the 2014 Chevy SS. The rear-wheel-drive, V8-powered full-size performance sedan sedan has been flying well under the ol' radar screen since its launch late last year, and it's been averaging just more than 200 sales per month in its initial three months at U.S. dealerships.
Now, some say that, because of the complexities involved in getting the car here from its beginnings as the Australian-born Holden Commodore VF, those sales numbers weren't meant to go much higher. But with a few more NASCAR wins like this, demand probably will.