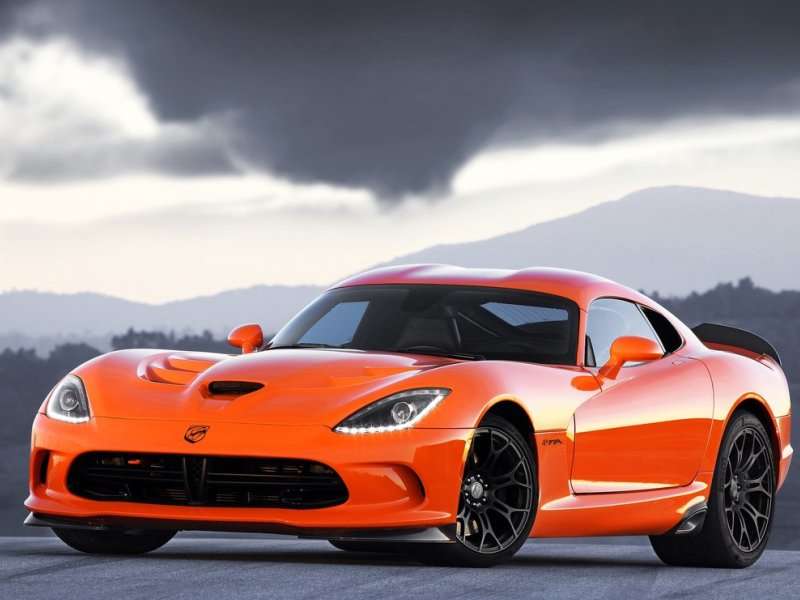 While the 2014 SRT Viper can satisfy most hardcore gearheads right off the lot, the SRT folks have cooked up something special for those who want to head right onto the track. In the words of Ralph Gilles, president and CEO of the Chrysler Group's Street and Racing Technology division: "The new 2014 SRT Viper TA is engineered for the serious performance enthusiast who needs a car that can be driven daily yet has mind-boggling limits on a road course that would rival many track-only cars. As one of the best handling and fastest supercars available on the market today, the TA enables our customers to take their passion for high performance driving to the next level. The SRT engineering team set out to create a world-class supercar that has few competitors on the track or the road at any price."
Gilles didn't happen to mention any specific performance numbers for the new 2014 SRT Viper TA, but here's what we do know: The car will be based on the lightest model on the Viper team, and maintain its 8.4-liter V10 engine that's capable of making 640 hp and more torque—600 lb.-ft.—than any other naturally aspirated sports car on the planet. SRT engineers then completely retuned the car's two-mode Bilstein DampTronic suspension for race-ready reflexes, lightened the curbweight even further by changing the Viper's standard underhood X-brace from aluminum to carbon fiber, and upsized its braking system with 32-mm Brembo two-piece rotors and pads specifically designed for optimum heat management.
The 2014 SRT Viper TA also wears the Advanced Aerodynamics Package, which combines carbon-fiber front splitters and a carbon-fiber rear spoiler for a massive increase in downforce in high-speed driving. Pirelli P Zero Corsa rubber is standard, and those tires are wrapped around ultra-lightweight wheels that help drive the car's curb weight down to just 3,390 lbs.
Just keep in mind that, although it's expected to go on sale this year, catching up to a 2014 SRT Viper TA at a dealership may be as tough as catching up to one on the track: Just 159 units of the car will be produced, including 33 in Venom Black, 33 in Bright White, and 93 in an exclusive TA Orange created just for the Viper.