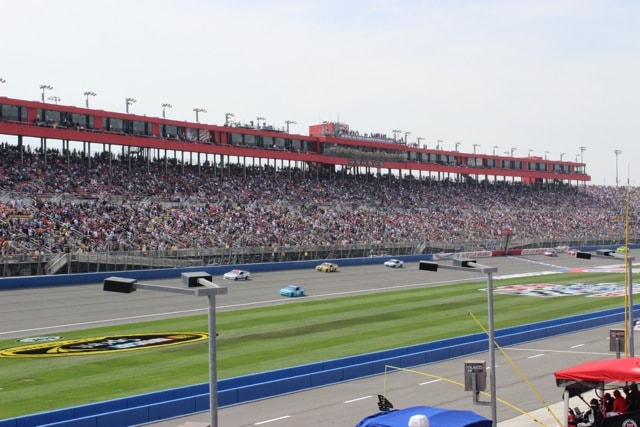 To say I knew nothing about NASCAR before attending a recent Sprint Cup Series race, the Auto Club 400 in Fontana, CA, is not exactly true. But it's pretty close.
Admittedly not a fan of car racing in any format, I spent many years in the marketing seats of large automotive companies. In that world, I learned that NASCAR, in its heyday, was the most expensive promotional sponsorship you could buy. The other thing I thought I knew was that NASCAR was a "Stock Car" racing series with real cars, battling it out on the track, with plenty of crashes and drama. The former, I found out, is still mostly true, but the latter has been majorly "modified." 
I'd always heard that watching NASCAR on television pales in comparison to being at a race, so when some friends told me they were huge NASCAR fans and went every year, I asked if I could tag along to experience my first NASCAR. With their help, and the help of a few kind industry folk, I came away knowing a lot more about the phenomenon that is NASCAR.
In fact, I went into the experience with many assumptions that turned out to be false. And we all know what can happen when you make assumptions, right? In retrospect, I discovered many false assumptions about NASCAR that needed to be rooted out.  
Photo: NASCAR 
FALSE ASUMPTION #1 - NASCAR only attracts rednecks
I admit, I was ready for a freak show. But while walking around the infield, Fun Zone, and general parking areas of Fontana's NASCAR Sprint Cup Series, all I saw were "my people." With few exceptions, they were just normal, working class folk out for a fun day at the races. Granted, this is Southern California and the ticket price to attend a race day at NASCAR starts at just under $100.00 per person, but still, I was pleasantly surprised that my first misconception was just not true. Full disclosure - I shop at Walmart, so who am I to judge?
Tip: NASCAR has a 3-Day First Time Fan Package that gets you and a friend access to the 3-day events for only $100 (which is a good deal). It must be purchased a few weeks in advance and you get Pit Passes, Scanner rental, $10 off food or drink, and a "My First Race" pin.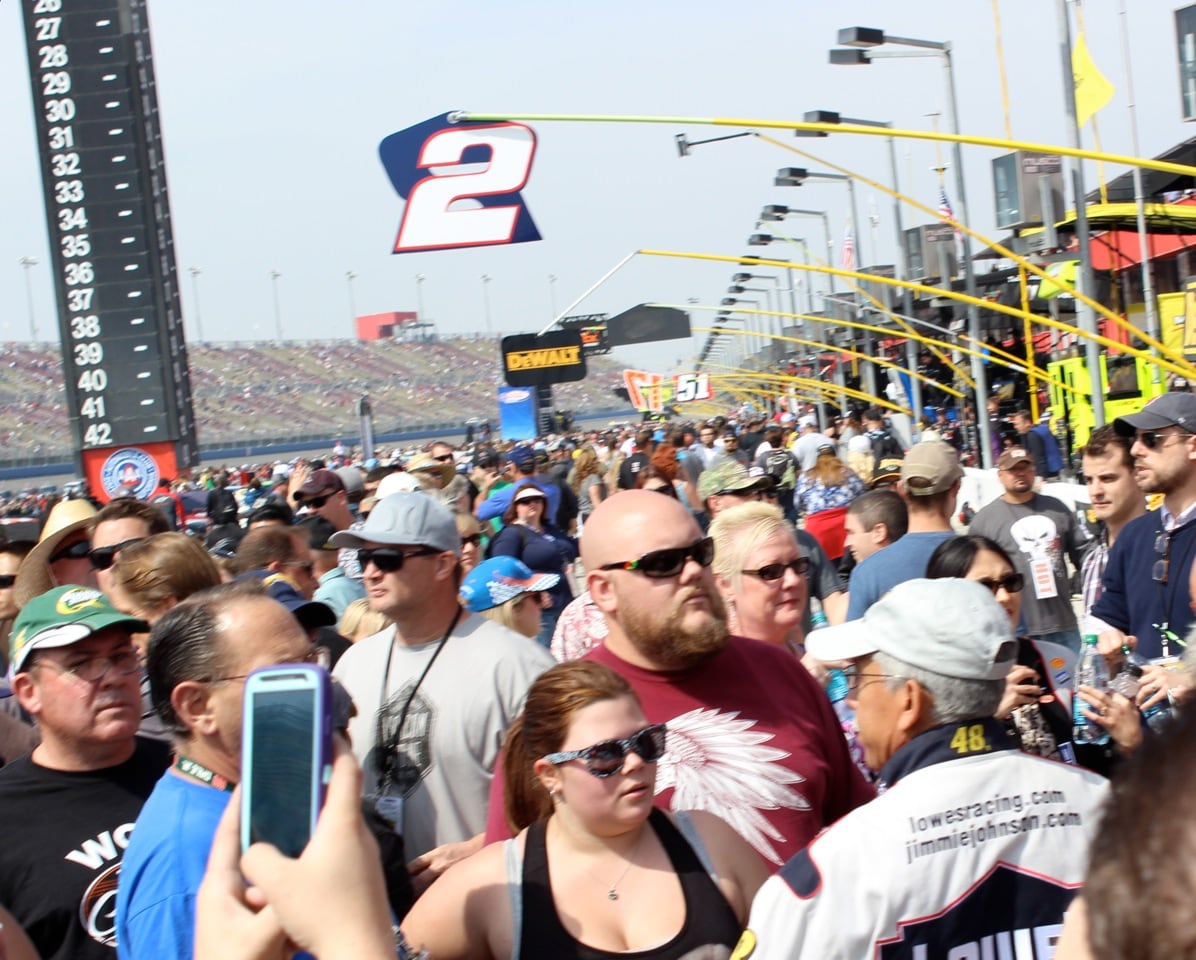 FALSE ASSUMPTION #2 - NASCAR is all about the crashes
Evidently, changes in safety and racing on larger ovals has reduced the amount of actual crashes seen at NASCAR races. Of the two or three caution flags that were thrown in Fontana, the problem was blown tires, not collisions.
Digging a little deeper into the topic, it seems there are many differing views on why the crashes aren't happening as often. Some of the drivers think it's because of the car that they are currently regulated to drive. Five-time Cup champion, Jimmie Johnson, said, "…this car is a little bit more friendly compared to the car way back when." He's referring to the very-specifically regulated vehicle that has been developed over decades of rule-changing.
Others think it's because of the larger size of tracks NASCAR races on, with plenty of room for side-by-side driving and the ability to spread out. 
Recent champion, Brad Keselowski, says it's about the aerodynamic effect of the cars. "We can't get close enough to each other to wreck," he said. "When you can't get close to someone, the potential to wreck is a lot less no matter what the situation."
Photo: NASCAR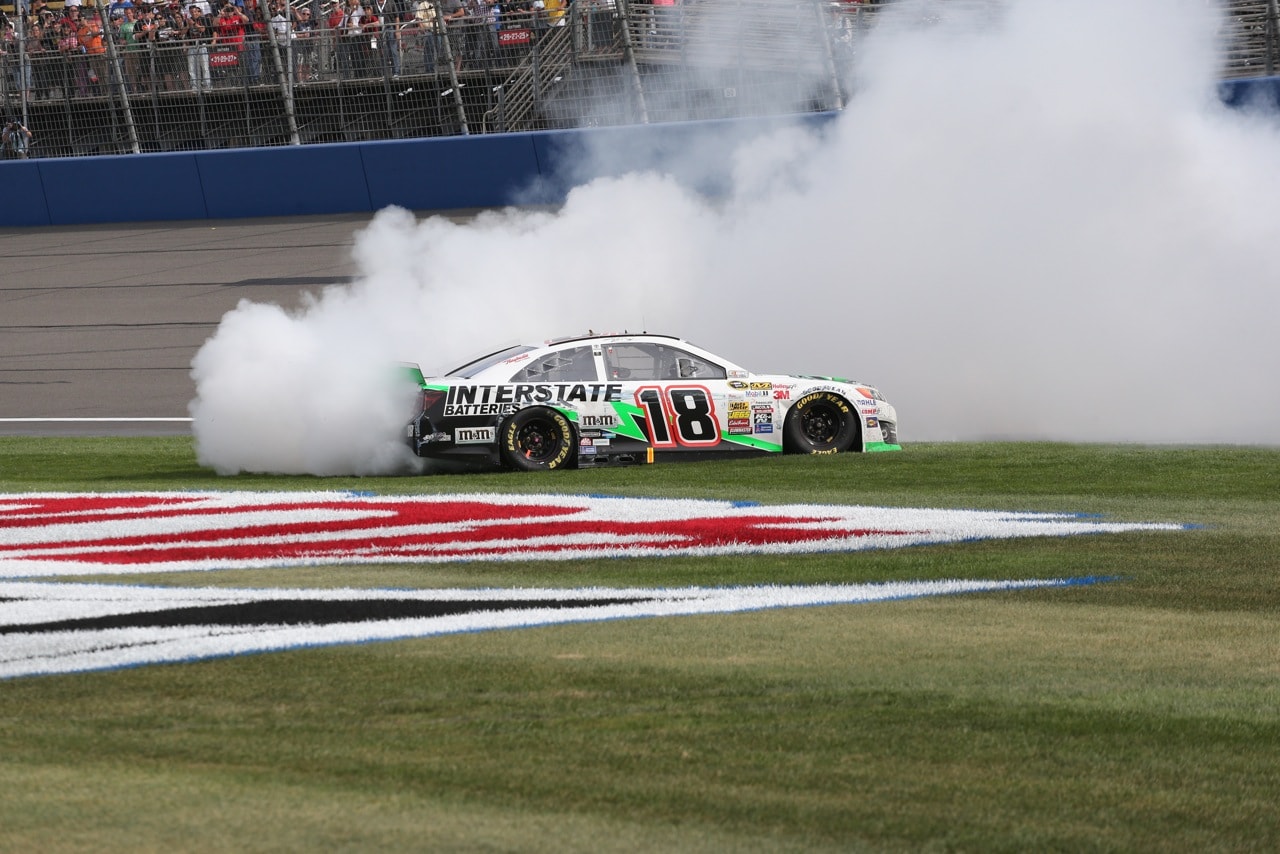 FALSE ASSUMPTION #3 - Fans are spread out equally amongst drivers at NASCAR
Sorry everyone else, but the favorite driver by a large majority at NASCAR is Dale Earnhardt Jr. The son of the great Dale Earnhardt is the consistent winner of the "Most Popular Driver" Award from the National Motorsports Press Association. This survey questions over 1 million fans every year. Last year, Dale Jr. won for the 11th consecutive year with over 700,000 votes - that's 70% of the votes against 39 other drivers. The scion of famous race champion, Dale Earnhardt, seems to have won the hearts of NASCAR fans, no matter where he comes in at race time.
Proof of this "Jr. Nation" thing was in the Fun Zone where merchandise is sold. The Dale Earnhardt Jr. merchandise truck had its own location with plenty of space around it, far away from the rows of other trucks. His merchandise lines were much longer than even famous drivers like Jeff Gordon, Jimmie Johnson and Tony Stewart. And, sadly, there was no line at all at Danica Patrick's truck when we arrived there.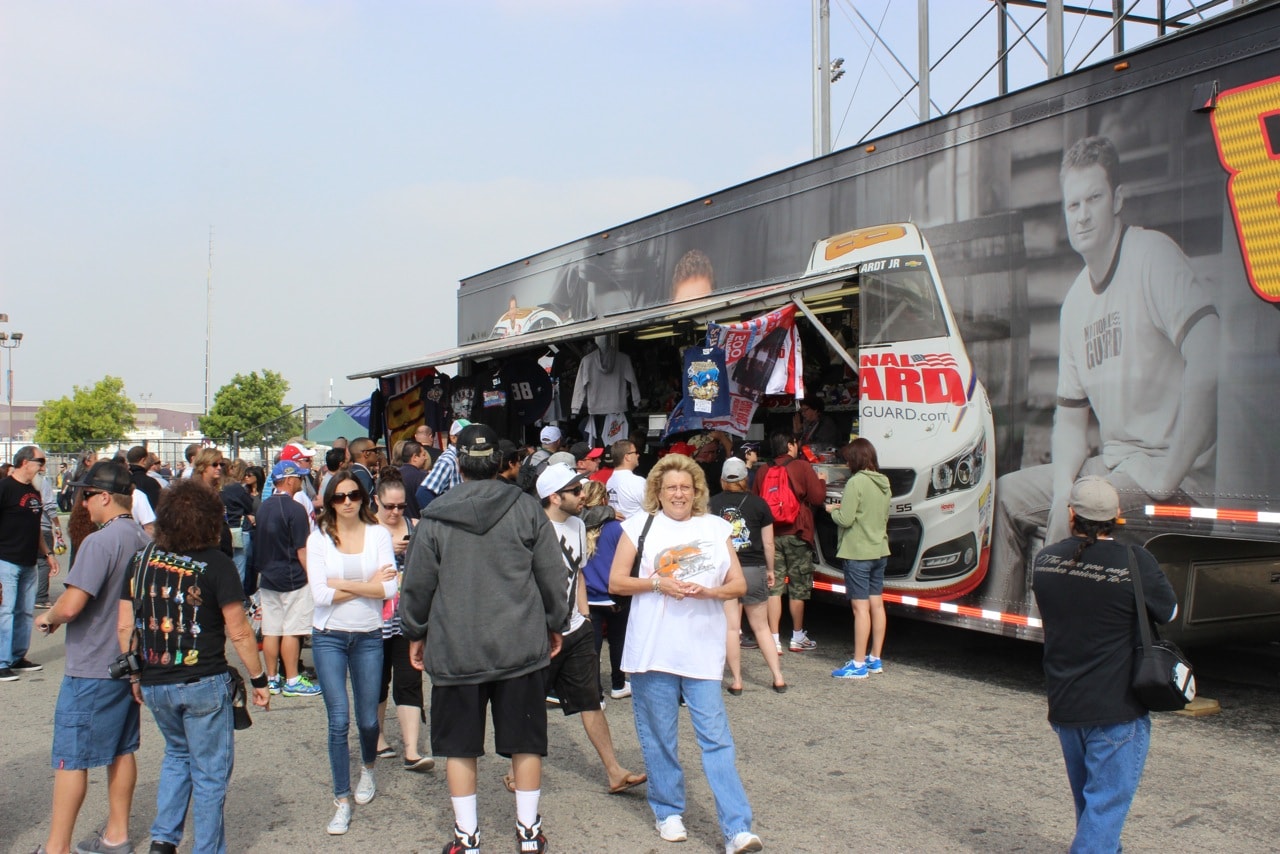 FALSE ASSUMPTION #4 - The seats closest to the track are best
This may be obvious to racing fans, but it was incredibly interesting to me to find out that, at NASCAR, the lower seats are the cheapest. Seats go up in price as you go up the bleachers due to the sightline of the race. By how much? Well for instance, at an upcoming race in Kansas the lowest level for one race day costs $36.77. The next level sells for $57.04. The upper level starts at $67.85, and the highest level by turn 1 is $78.39. As one of my friends pointed out, however, being too high up makes you miss the sound of the engines and if that's what gives you a thrill, you may want to get a little closer.
Of course, there are additional passes you can purchase and the one to get is the pit pass. There, you can check out the cars up close and possibly meet the drivers.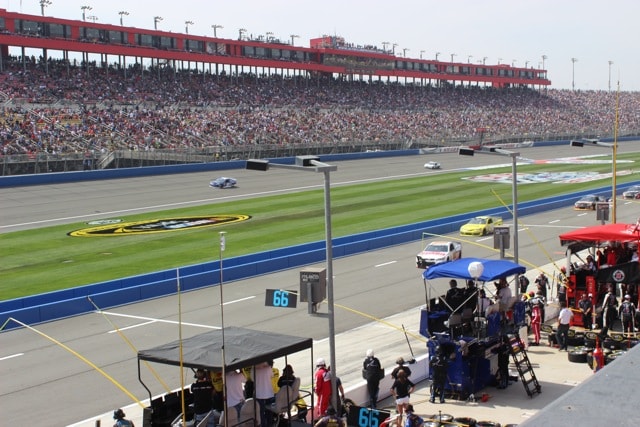 FALSE ASSUMPTION #5: The Fun Zone is a just a nice extra to enjoy at the race
Nothing I imagined about attending a NASCAR race prepared me for the depth and girth of the Fun Zone which, on its own, would have taken 3-4 hours to properly experience. The day I went, Billy Ray Cyrus was performing on the main stage at 10:15 a.m. before a race time of 12:00 noon. Past performers in Fontana have included STYX, ZZ Top, and Good Charlotte - all great bands.
But that's just one corner of the sideshow, demonstrations, and merchandising that's going on. There are food trucks representing some of the most popular local foods (we had Pink's hotdogs and King's Tacos - both wildly popular L.A. haunts), and lots of race-oriented activities for kids. It's probably the biggest argument for making a weekend of the race - there's so much to see and do, it's a special event all its own.
Photo: NASCAR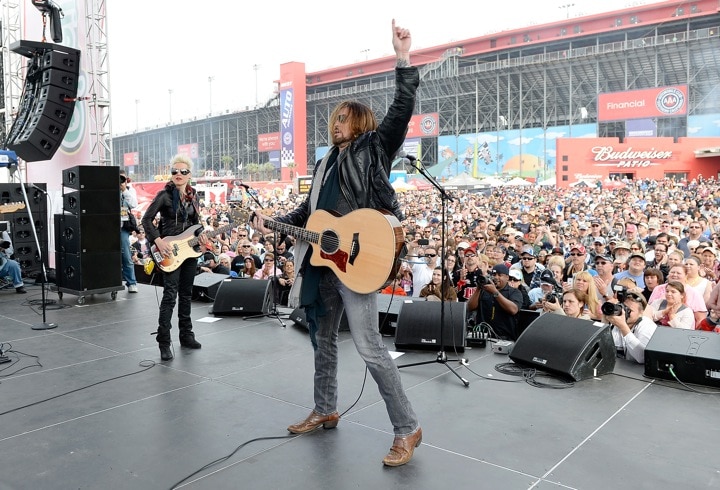 Paying it Forward - Tips and Advice from a One-Timer
I learned a thing or two about NASCAR from my two friends, Mirk and Kerry, that I'd like to pass along to other first-time racing fans. Thanks guys, it was a blast! 
Since you are stuck with all your stuff for the entire event, be strategic about the load you plan to carry, but consider these items important: comfortable shoes, sunscreen, hat, sunglasses, a cooler with water, food (if allowed), cash, earplugs, camera, binoculars and seat cushion.
Technology has really caught up with NASCAR and now, with something called FanVision, race attendees can listen to and see a live broadcast of the race from inside the cars. This device can be rented for around $55.00 per weekend, or bought for $199.00 with a $20.00 subscription per race weekend. If you're a serious fan, this is quite the device to stay informed.
As I mentioned, the Fun Zone is a day's work by itself, but with the racing grounds being so huge, you want to take time doing all the activities this famous race has to offer. It is truly set up to please the fans, not just for a television broadcast, and that's what makes it special.
The reason it's a fan-based sport is because these racers are truly "personalities." They are lone wolves with teams of professionals backing them up. It's easy to get into the spirit of rooting for your favorite personality with people like Tony "Smoke" Stewart, Jeff Gordon, Danica Patrick, Jimmie Johnson, Kyle Busch and of course, Dale Earnhardt Jr.,  who dominates television commercials and shows up on late night television regularly. You might also get a chance to take a photo with one of them or get an autograph at the race.
The one drawback to being a true fan and "staying until the end" is that all those tens of thousands of people who joined you for the race hit the streets directly after the race. Leaving early is bad form, I'm told, but bringing a camping stove, some hot dogs and chips and a frosty beverage will help you sit out the crowds after the race ends. I didn't heed this tip, but in hindsight, I wish I did.