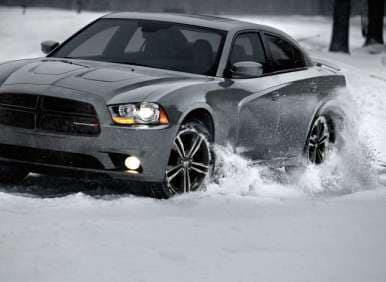 The fairly sophisticated all-wheel-drive system offered in the Chrysler Group's full-size sedans doesn't always get a lot of attention, but the company is hoping it will get a lot of sales now that it's being offered as part of the 2013 Dodge Charger AWD Sport. And conveniently enough, the new model is expected to reach dealerships this winter, priced from $32,690 and featuring "blackout" style cues drawn from another of Dodge's special editions, the Dodge Charger Blacktop.
"With the instant success of the sinister-styled Charger Blacktop, the new Charger AWD Sport delivers a similar aggressive look with the added capability of all-wheel drive," said Reid Bigland, president and CEO of the Dodge Brand. "The new Charger AWD Sport offers the unmistakable combination of up to 370 horsepower, the most sophisticated all-wheel-drive system in its class, best-in-class V6 fuel efficiency, and a style that sets it apart from any other car on the road, all at an amazing value."
(Note: Although the 2013 Dodge Charger AWD Sport hasn't hit the road quite yet, orders are already being taken for the car, which is slated for limited production that ends in February.)
2013 Dodge Charger AWD Sport: What It Sports
Essentially, the 2013 Dodge Charger AWD Sport will be offered with two different engine choices and at two different trim levels, as follows:
The 2013 Dodge Charger SXT AWD Sport is motivated by the Chrysler Group's 3.6-liter Pentastar V6—the same powerplant just named to Ward's 10 Best Engines list for a third consecutive year—but with a cool new upgrade. Thanks to a cold-air induction system and revised, sport-tuned exhaust, the powerplant enjoys a bump of 8 horses and will provide an even 300 hp in the SXT version of the AWD Sport. But even with this added power, the striking sedan still posts the highest V6 AWD fuel-efficiency marks in America, at 18 mpg city/27 mpg highway.
Alternatively, drivers can configure the car as the 2013 Dodge Charger R/T AWD Sport and gain the blistering benefits of a 5.7-liter HEMI. That proven performer makes 370 hp and 395 lb.-ft. of torque, yet also returns 15 mpg city/23 mpg highway thanks to the Chrysler Group's cylinder-deactivating Fuel Saver Technology.
Both choices also can be kitted out with premium "Plus" features like heated Nappa leather front seats, with the AWD Sport package itself bringing:
A blackout-style appearance enhanced by a Gloss Black grille and grille surround, as well as 19-inch polished aluminum wheels with Gloss Black pockets
Exclusive Beats Audio sound systems, boasting a 12-channel amplifier and 10 speakers (including an eight-inch trunk-mounted woofer)
Die-cast paddle-shifters with the Charger's first "Sport Mode" functionality for more aggressive performance
And remember, all this is in addition to an all-wheel-drive setup with segment-exclusive technology that disconnects the front axle when AWD is not needed, for true rear-wheel-drive performance and improved fuel economy.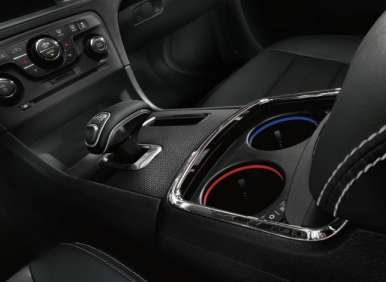 2014 Dodge Charger AWD Sport: Full Pricing Details
There's also a bit of a value play with the 2013 Dodge Charger AWD Sport, since the upgrade package represents a 40 percent savings as compared to buying all the goodies separately. Thus, adding the upgrades will cost $1,395 for the Charger SXT and $1,195 for the Charger R/T, with the MSRPs for the four versions listed as:
2013 Dodge Charger SXT AWD Sport—$32,690
2013 Dodge Charger SXT Plus AWD Sport—$34,690
2013 Dodge Charger R/T AWD Sport—$33,690
2013 Dodge Charger R/T Plus AWD Sport—$35,690
(All prices exclude $995 destination charge.)