The Dodge Journey is a model wholly reflective of its maker's niche-straddling strategies. At Dodge, they don't believe in fitting into niches, they aim to fit in two niches. In other words, the planners at Dodge typically look at two niches in a given segment and slot their product in between them. In the case of the Journey, it's smaller than Honda's Pilot, but it's larger than the Honda CR-V; similarly Journey is smaller than Toyota's Highlander, but it's larger than the Toyota RAV4.
Interestingly though, while Journey, is billed as a midsize crossover SUV, if you squint and look at its front or rear ¾ views you don't see SUV; you see minivan. And just in case you think we're blowing smoke, note how Dodge's short wheelbase minivans were discontinued when Journey came to market, essentially making Journey their replacement. Of course, had Dodge classified Journey as a minivan the Dodge boys might have averted their eyes in shame. After all, this is the company that touts its remaining minivan offering as a "man-van".
Why?
The term "minivan" has come to radiate a stigma similar to that emanating from the phrase "station wagon". With each successive generation of the car-buying public, it seems automakers have to come up with a new name for their family hauling vehicles, as the young up and comers eschew their parent's device of choice.
Baby Boomers hated station wagons so they got Minivans, Gen X considers minivans passé so they get Crossover Utility Vehicles, and so on, and so on, and so on, until enough time passes to where we can start the cycle over with station wagons being considered cool again.
Don't laugh; it's already starting to happen.
So for now the Dodge Journey is considered a mid-size crossover utility vehicle, its minivan profile notwithstanding.
Introduced in 2007, at the Frankfurt Motor Show, Journey went on sale in March of 2008 as a 2009 model. The Dodge Journey is still technically in its first generation, although significant upgrades were made to the model for the 2011 model year as part of the renaissance of all Chrysler divisions.
Dodge Journey: 2009
Dodge Journey came to market with three trim levels; SE, SXT and R/T.
The base engine was a 173-horsepower, 2.4-liter four-cylinder engine, which produced 166 ft.-lbs of torque. Fitted to the front-drive only Journey SE, the engine was mated to a four-speed automatic transmission.
The "big" engine, fitted only to Journey SXT and Journey R/T, was a 235-horsepower, 3.5-liter V6, which produced 232 ft.-lbs. of torque. The V6 was paired with a six-speed automatic transmission, which offered manual shift control. The upper trim level SXT and R/T trims offered buyers a choice of either front- or all-wheel drives.
All Journey models seated up to five in their standard configuration, however SXT and R/T offered an optional 50/50-split folding third-row bench, which enabled them to accommodate up to seven passengers. Journey's glovebox incorporated a port from the air conditioning system enabling it to keep items cool. This feature was dubbed "Chill Zone".
Standard fitment for Journey SE was sixteen-inch steel wheels, a tilt/telescoping steering wheel, air-conditioning, a six-speaker stereo audio system driven by a six-disc CD/MP3 changer, and a full complement of power accessories (windows, exterior mirrors and door locks).
Springing for the next level up got Journey customers the SXT trim, which came with all of the above plus; seventeen-inch alloy wheels, automatic headlamps, heated side mirrors, a trip computer, remote keyless entry, and storage bins in the floor of the second row and a hidden compartment beneath the front passenger seat. The 2009 Journey SXT also featured a special stain-resistant cloth upholstery, a six-way power-adjustable driver's seat, an electrochromic auto-dimming rearview mirror, a 115-volt AC power outlet, and satellite radio.
Ordering the top-of-the-line Journey R/T trim line got buyers a set of nineteen-inch alloy wheels, a pair of roof rails to enhance cargo capability, a dual-zone automatic climate control system to improve occupant comfort, leather upholstery to add an ambiance of luxuriousness, and a pair of heated seats up front. The leather-wrapped steering wheel featured integrated audio controls and the Journey's key-fob remote, in addition to unlocking the doors, would start the R/T as well.
A' la carte optional pieces included a chrome appearance package, Bluetooth connectivity, an auxiliary rear air-conditioning/heating system, a DVD-based rear-seat video entertainment system, and Chrysler's MyGIG hard-drive-based navigation and entertainment system, which also featured a back-up camera. Video from the camera was displayed on the MyGIG system's monitor in the Journey's center stack.
The 2009 Dodge Journey's safety suite was comprised of a full set of disc brakes with ABS, traction control, rollover-sensing, and stability control. Front-seat side airbags as well as side curtain airbags were included for all three rows. As an option, Dodge's product planners also specified a segment first; optional built-in second-row child booster seats.
2010
Still relatively new to the market, changes for 2010 were light; keyless entry was made standard for all models, active head restraints were incorporated for the driver and front passenger as part of the Journey's safety suite, and a larger nine-inch monitor was fitted into the interior's center stack.
Dodge Journey: 2011
Mere inches away from being considered an all-new model, the 2011 Dodge Journey represented a significant upgrade over its predecessors from 2009 and 2010. The suspension system was recalibrated, a more powerful V6 engine was installed, the interior was fitted out with better quality materials, and a new touchscreen interface brought Journey's tech quotient more up to date.
Additionally, the 2011 model was offered in five trim levels as opposed to the earlier model's three. Of the original nomenclature, only the R/T designation made the cut for the first year of the second decade of the 21st century. However, where the R/T was previously the top-of-the-line, a new "Lux" trim level was installed above R/T for 2011. That said, for 2011, the Dodge Journey's trim levels were designated; Express, Mainstreet, Crew, R/T, and Lux.
To be a base trim line, the 2011 Journey Express model came with quite a generous feature-set. It was comprised of sixteen-inch steel wheels, a pair of heated outside mirrors, and a pair roof rack side rails to enhance cargo capacity. Upscale features like dual-zone air-conditioning, illuminated cupholders, a 4.3-inch touchscreen interface, in addition to keyless ignition and entry were standard features as well. Journey Express also came with cruise control, a full set of power accessories (windows, exterior mirrors, door locks), a tilt-and-telescoping steering wheel; and a six-speaker stereo audio system fed by a CD player, a USB/iPod interface and an auxiliary audio input jack.
Opting for the Mainstreet trim level bought all of the above, plus seventeen-inch alloy wheels, firmer suspension tuning to improve handling, a rear cargo compartment cover and satellite radio.
A more significant bump in gear came with the Crew model's nineteen-inch alloy wheels, foglights, tri-zone automatic climate control, power driver's seat, and fold-flat front passenger's seat with a built-in storage compartment. The 2011 Dodge Journey Crew model also featured a second-row seat which reclined, folded with a 60/40-split, and offered fore and aft sliding adjustment to improve the leg room for passengers back in the third row of seats.
Drivers could keep tabs on their passengers (read the kids) in Journey Crew's rear compartment via the overhead console's semi-parabolic conversation mirror. Additional enhancements for the Crew model included an electrochromic auto-dimming rearview mirror, a leather-wrapped steering wheel, remote engine start, and a 115-volt AC power outlet. The audio system upgrade was by Infinity and featured an 8.4-inch touchscreen interface, along with an SD card slot.
The 2011 R/T version of the Dodge mid-size crossover was fitted with all the Crew's standard features, plus dual-zone climate control and sportier interior and exterior trim.
Fleshing Journey all the way out, the Lux trim package added nineteen-inch alloy wheels, leather upholstery, heated front seats, a rearview camera to feed the monitor in the center stack, a set of rear parking sensors, Bluetooth connectivity and audio streaming, along with a navigation system developed by Garmin.
As before, to enable the spreading of additional profit among all of the Journey's trim lines, many of the standard offerings of the upper trim levels could be had on the lower trim levels, thanks to the bundling of option packages.
Beyond those, there was also a selection of a' la Carte options. These included a sunroof, a 50/50-split third-row seat, built-in child booster seats, a navigation system and a rear-seat DVD-based video entertainment system.
Two engines were offered; the 173-horsepower, 2.4-liter four-cylinder engine, which produced 166 ft.-lbs., migrated and was fitted to the front-drive only Journey Express. As in the previous models, the four-cylinder engine was mated to a four-speed automatic transmission.
All other 2011 Journey models took advantage of the then-new 283-horsepower, 3.6-liter V6, which made 260 ft-lbs of torque. A six-speed automatic transmission with a manual shift feature was standard, along with front-wheel drive. However, all V6 models could also be had with all-wheel drive as an option.
Journey's safety suite for 2011 was comprised of a full set of disc brakes with ABS, stability control, a rollover sensor, traction control, active front head restraints, front-seat side airbags, a driver-side knee airbag, and full-length side curtain airbags capable of covering all three rows.
Dodge Journey: 2012 (Current Model)
The big news for 2012 was a new set of trim designations and a few new offerings within each. The American Value Package (AVP) replaced the Express trim line, the SE designation replaced Mainstreet, SXT returned and replaced Crew, R/T was again left alone, and the Crew moniker supplanted Lux.
As with the 2011 Journey Express, the 2012 Dodge Journey AVP uses sixteen-inch steel wheels. The AVP also touts heated mirrors, keyless ignition/entry, cruise control, and dual-zone manual climate control. The manually operated height-adjustable driver's seat is mounted in front of a tilt-and-telescoping steering wheel. Sliding and reclining are key attributes of the second-row seat. The six-speaker stereo audio system features a compact touchscreen interface, a CD player, an auxiliary input jack, an iPod/USB audio interface, and steering wheel controls.
To all of the above, the SE trim package adds tinted glass for privacy, along with a pair of cargo roof rails and a set of LED taillights.
The V6 engine makes its first Journey trim line appearance in the SXT. Journey AVP and Express use the four-cylinder. With the bigger engine comes everything listed above plus seventeen-inch alloy wheels (nineteens are an option), a cargo cover and satellite radio. If you especially value your music, a premium sound system option can be had with SXT as well.
Option packages for SE and SXT make them a bit more "civilized' with features from the Comfort/Convenience Group. Order that bundle and your Journey SE or SXT will feature a six-way power-adjustable driver's seat with four-way power lumbar adjustment. The front passenger seatback will fold flat and you'll find a storage bin under that seat.
And while you can get all of that plus satellite radio on an SE if you order the "Premium Group", you can take your four-cylinder Journey SE to new heights with the Popular Equipment Group (PEG). That one gets you everything listed above, plus remote ignition, a leather-wrapped steering wheel and shifter, an outside temperature gauge, and a compass. Additionally, PEG gets you a set of seventeen-inch alloy wheels on Journey SE (it's also available for SXT).
To get to the Crew, take everything listed above and add automatic headlamps, nineteen-inch wheels, chromed plastic exterior trim, a dual-zone automatic climate control system, an electrochromic auto-dimming rearview mirror, the premium audio system, and Bluetooth—which can also be had as an a' la carte option for both Journey SE and SXT.
The 2011 Dodge Journey Crew's option list contains a sunroof and a rear-seat DVD-based video entertainment system. You can also get heated front seats—if you opt for leather upholstery.
The R/T's monochromatic exterior paint treatment, as well as its unique set of nineteen-inch wheels, and its black leather upholstery with red stitching distinguish its appearance from the other Journey trims. Equipment-wise though, the 2012 Dodge Journey R/T is outfitted largely the same as the Crew.
To maximize utility and passenger comfort, Dodge's product planners specified a setup for the Journey they called the Flexible Seating Group (FSG). Available across the entire Journey range, FSG adds a folding and reclining third-row seat along with a three-zone automatic climate control system incorporating rear air-conditioning.
While an integrated second-row child booster seat can be had as an option on every Journey, GPS navigation is available for all but the SE.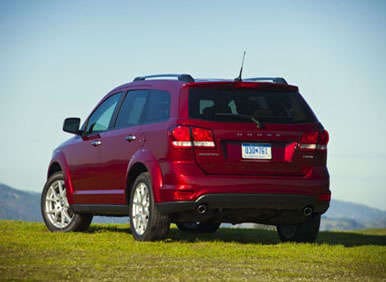 Dodge Journey: Summary
Representing something of a quantum leap over its forebears, the 2011 and 2012 Dodge Journey models offer superior performance, accommodations and perceived quality in comparison. If you want the best Journey you can buy, and money isn't a significant obstacle, we're inclined to advise you to skip the 2008 – 2010 models and go straight for the best deal you can get on an '11 or '12.
Of course, if you're reading this, money is probably an issue and you're just trying to do the best you can with the cash you have. If that's the case, you might want to look at the Honda and/or Toyota offerings, as we can't in good conscience recommend the Journey as being truly competitive to those offerings.
However, the marketplace is aware of the disparities and you'll find those early Journey models took a pretty significant depreciation hit. So, if power, performance and build quality aren't really that big a deal to you…
Regardless, you'll always want to run a vehicle history report against the VIN of any used vehicle you seriously consider purchasing. Also search the Internet for recalls (yes, Journey has had its share) and submit any used auto for which you have definite intent to a trusted professional mechanic—one highly familiar with the ways of the make and model of your choice.