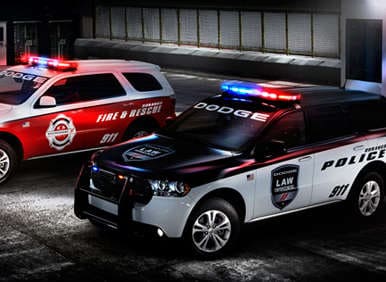 There's going to be yet another new entry in what's suddenly become one of the industry's hottest segments: The Dodge Durango Special Service will go on sale to law-enforcement agencies, fire departments and other fleets beginning in the second quarter of this year.
The catalyst for all the excitement is no doubt the retirement of the Ford Crown Victoria, which presents a huge opportunity for other automakers to make some noise—and some sales—in a part of the marketplace long dominated by the Blue Oval. As a result, we've already seen GM begin importing the Chevrolet Caprice Police Vehicle from its Australian division, Holden; the Chrysler Group has countered with the Dodge Charger Pursuit; and Ford itself is touting its new Police Interceptor sedan and utility.
The Durango Special Service looks like it will jump into the fray primarily as a work vehicle—as opposed to Ford's new SUV and the venerable Chevy Tahoe, both of which also are pursuit-rated—and it does bring a fair amount of fleet-ready content. Dodge will offer the vehicle in both two- and four-wheel-drive configurations, with either a 3.6-liter Pentastar V6 that delivers 290 hp and a best-in-class driving range of 550 miles or a 5.7-liter HEMI V8 making 360 hp and providing a best-in-class tow rating of 7,400 lbs. Customers also can expect a components upgrade that brings heavy-duty brakes, battery, alternator, water pump and engine oil cooler for added durability.
Further, even though the Durango Special Service probably won't be involved in too many high-speed pursuits, it will continue to offer the same relatively impressive driving dynamics as the production model, thanks to a four-wheel independent suspension and near 50/50 weight distribution. On the inside, the vehicle's third row of seats have been deleted for increased cargo space—although second-row climate controls remain—while a fleet-friendly interior dome light and headliner have been added, along with the wiring necessary for a spot lamp.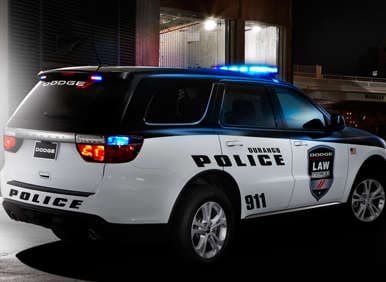 And while the question remains as to whether the vehicle will be able to nibble away at Ford's fleet market share, Peter Grady, the Chrysler Group's vice president of Network Development and Fleet Operations, is plenty eager to find out: "We're incredibly excited to add the Dodge Durango Special Service to our lineup of law enforcement vehicles. Adding Durango to our current Dodge Charger Pursuit and Ram 1500 Special Service vehicles allows us to offer a full range of fleet sedan, SUV, and truck options to law-enforcement and government agencies."