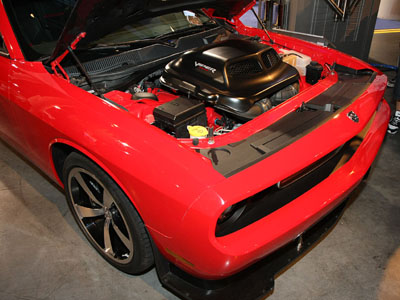 You knew Phish was going to get back together, you knew Rocky V was going to be terrible, and you knew sooner or later someone would drop a Dodge Viper V-10 engine in a Dodge Challenger body. And where better to show such a creation off than at the 2008 SEMA Show?
Photo Credit: MyRide Staff
Page 2
We thought the 6.1-liter Hemi in the Dodge Challenger SRT8 was enough to make anyone giddy, but apparently a 600-horsepower 8.4-liter V-10 was too much of a "what if" not to produce -- right up there with "what if we put a Hemi in a lawn mower?" If you happen to see a Tornado Red Dodge Challenger with a "Viper Powered" logo on a shaker hood, don't try to drag race it, just get out of your car and bow your head in awe.
Photo Credit: MyRide Staff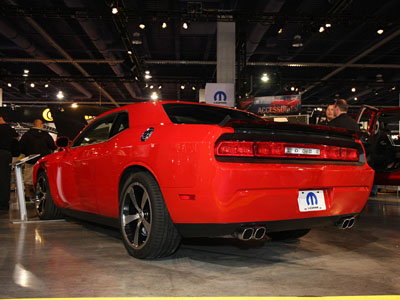 Page 3
If this car was in a movie, it wouldn't be the bad guy. No, it would be the sadistic crime boss that eats the young of his enemies. It's that mean looking. Subtle red accents around the Dodge Challenger Blacktop's rims and vehicle belt line add to the intimidation factor, like colored rings on a water moccasin. The proper reaction after seeing the Dodge Challenger Blacktop on the street is to dive behind a dumpster.
Photo Credit: MyRide Staff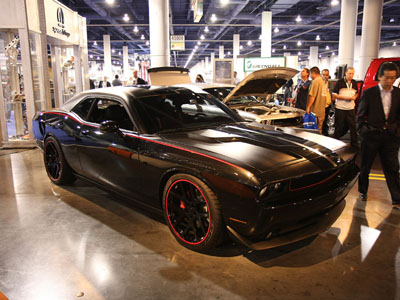 Page 4
Rolling on 22-inch Dodge Viper wheels, the Dodge Challenger Blacktop started as a 2009 Dodge Challenger R/T equipped with a 5.7-liter Hemi V-8 and six-speed manual transmission. An upgraded suspension gives the Dodge Challenger Blacktop a lower stance with sinister looks that are matched by the sinister growl of an upgraded exhaust and intake.
Photo Credit: MyRide Staff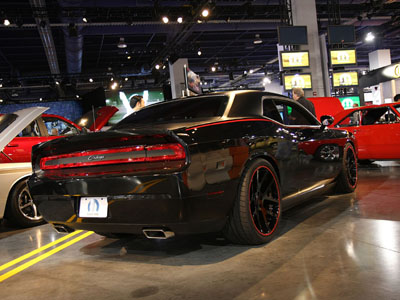 Page 5
Here is the bad news: Dodge probably won't be building a convertible version of its Dodge Challenger. Here is the good news: For an extra $16,000, you can have your existing Dodge Challenger turned into something that looks like this one from the magicians at Coach Builders Ltd. It's up to you if you want to add on the Vortech supercharger that provides the 6.1-liter Hemi V-8 a total of 560-hp.
Photo Credit: MyRide Staff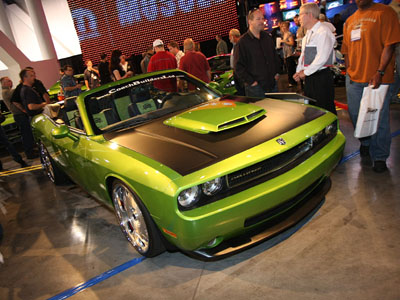 Page 6
Some people skydive, others downhill BMX bike, and some just want to drag race cars (legally of course). For those, Chrysler's Mopar Performance Parts division is producing the first drag-race, factory-prepped package cars built in 40 years. The Dodge Challenger Drag Race Package car has three engine options, a 6.1-liter or 5.7-liter Hemi V-8, or a 5.9-liter Magnum Wedge, and to complement the powerhouse, 1,000 lbs. have been trimmed off the production Dodge Challenger SRT8 by eliminating major production systems (this isn't for comfort cruising). Chrysler has committed to making at least 100 Dodge Challenger Drag Race Package cars available.
Photo Credit: MyRide Staff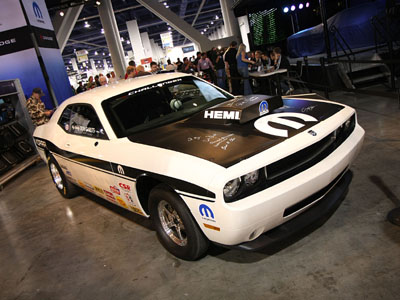 Page 7
Take one of the hottest forms of racing (Formula DRIFT) and one of the hottest cars on the market (Dodge Challenger), add in Samuel Hubinette (also known as the Crazy Swede), and as Frank Caliendo imitating John Madden would say, "Boom!" you have the 2009 Mopar Drift Dodge Challenger. Pouring out an estimated 850-horsepower and 849 lb.-ft. of torque, this vehicle's BFGoodrich tires stand little chance of survival during next season's Formula DRIFT series. And while you are pondering this beast!
Photo Credit: MyRide Staff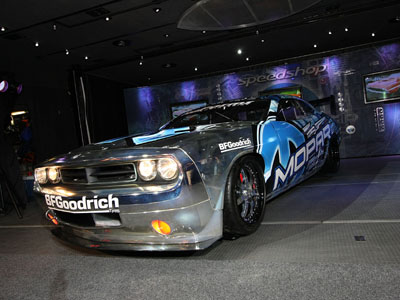 Page 8
Check out the best accessories, wheels, audio systems, custom cars and even green technology at the 2008 SEMA show!
Photo Credit: MyRide Staff