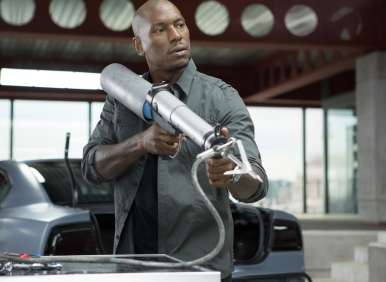 While the four-rings brand gets to make hay from the fact that Tony Stark is driving an Audi R8 e-tron in "Iron Man 3," it's not the only automaker with a big role in a silver-screen sequel this spring: Dodge and the SRT brand are partnering with "Fast & Furious 6"slated to premiere on May 24, 2013—to show off a trio of high-performers driven by the franchise's resident Dodge fanatic, Dom Toretto (again played by Vin Diesel).
Toretto's daily driver is Dodge Challenger SRT8, but he also gets behind the wheel of a Dodge Charger SRT8 as well as an incredible 1969 Dodge Charger Daytona. On the track, the winged wonder was the first NASCAR racer to break 200 mph, but the brand also sold about 500 to the public, with a choice of either a 440-cubic-inch V8 or a rare 426-cubic-inch HEMI. For a little history lesson, here's how those vintage V8s stack up against the 392-cubic-inch HEMI that motivates today's 2013 Dodge Challenger SRT8 and 2013 Dodge Charger SRT8:
Charger Daytona with optional 426-CID/7.0-liter V8—425 hp and 490 lb.-ft. of torque
Charger Daytona with its standard 440-CID/7.2-liter V8—375 hp and 480 lb.-ft. of torque
Charger SRT8/Challenger SRT8 with 6.4-liter HEMI—470 hp and 470 lb.-ft. of torque
"Dodge has been at the heart of the 'Fast & Furious' franchise since the beginning and we are proud to be part of 'Fast & Furious 6,'" said Tim Kuniskis, president and CEO of the Dodge brand. "Like 'Fast & Furious 6,' Dodge fuels the passions of the automotive enthusiast. Our innovative vehicles stand apart in performance and style, providing our customers with a way to express who they are and what they can do in the world."
The movie also will star humans like Duane (The Rock) Johnson, Jason Statham, Paul Walker, Michelle Rodriguez and Ludacris, and further be supported by Dodge/SRT efforts like …
Dodge Movie Marketing for "Fast & Furious 6"
"Dodge continues to be as much a part of the 'Fast & Furious' franchise as our all-star cast who have the opportunity to sit behind the wheels of the Dodge Charger, Challenger and Daytona," according to Stephanie Sperber, president of Partnerships and Licensing for Universal. "We're thrilled to showcase this partnership on screen, especially with the action-packed sequences involving Dodge vehicles, in what has become one of the most successful franchises in Universal's history."
They're also likely to be thrilled by Dodge's full-on marketing offensive, which will include:
National and local TV spots that will feature the 2013 Dodge Charger, 2013 Dodge Challenger and 2013 Dodge Dart, along with scenes from the movie
Interactive enhancements that allow smartphone users to tag the commercials with the Shazam app, then see exclusive content and enter a contest to win a Dart (from May 13 through June 30, 2013)
The www.Dodge.com/Fast-six website, packed with in-depth content about both the movie and Dodge vehicles
"Fast & Furious" t-shirts and hats from the brand's lifestyle website—www.life.dodge.com
A special movie-based livery for the first four races of the ALMS season for the No. 91 Fast & Furious SRT Viper GTS-R
In addition, there's also another way to win a new set of wheels—in this case, one of the Dodge Charger SRT8s used in the movie—thanks to a contest for filmgoers: All you have to do is buy your tickets for a showing at one of the 500 Regal Theatres located across the country, and make sure you do so online via www.Fandango.com.