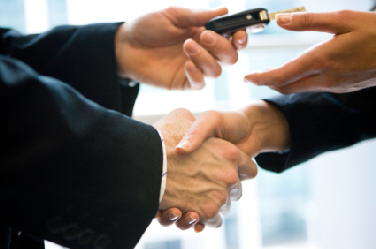 Wouldn't it be great if we were all in a position of paying cash when we want to buy a car? Unfortunately, only a small amount of the population is in a financial position to do this. If you aren't one of them, your options are limited.
You can do without your own wheels and save yourself a lot in monthly payments, insurance, maintenance costs and gas.
You can get an auto loan and finance your car purchase. There are certain fees involved in getting a loan and you have to be in a position to actually be given the loan. Good credit is generally required. At the end of the finance term, you own the vehicle (up until this point, the finance company owns the car) and you have built up equity in your vehicle.
The third option is to lease your car purchase. There are certain fees involved in this method and there are monthly payments to look after every month. At the end of the term, you hand the vehicle back to the dealer. However, less money is required up front and the monthly payments are smaller. The traditional method of financing a vehicle is the auto loan method. This is also the most straightforward method. However, financing the full amount of a new vehicle is not always the best option – at least for everyone. The advantages of an auto loan or traditional financing are:
You are building equity.

Once you have completed the term of your loan, you have no more payments to worry about.

At the end of the loan term, you are free to sell or trade the vehicle at any time on your own terms.

There are no mileage limitations; you can drive the car wherever you want to.

The insurance rates are lower on this type of loan as compared to other loan options.

The vehicle can be modified, as you want to modify it. Other financing options usually put some restrictions on modifications. Now let's look at the disadvantages of traditional car financing:

These are usually higher monthly payments.

You have to have a down payment – either cash or a trade-in.

You are buying a vehicle that depreciates the minute you drive it off the lot. How much will it be worth when you are finally done paying for it?

After the financial cycle is completed, there could be increased maintenance costs due to the age of the vehicle. The second financing option, leasing, has its own set of advantages and disadvantages. If you find yourself trading in your vehicle every couple of years for a newer model, you might be better off to consider leasing. With a lease, you just pay for the vehicle depreciation and the use of the vehicle. Some of the advantages of leasing are:

Lower monthly payments versus traditional financing

Little or no down payment is required.

Little in the way of expenses as the vehicle warranty and maintenance plans typically last for the duration of the finance period.

Leasing gives you the opportunity to drive a new vehicle.

Leasing provides better tax deductions if the vehicle is to be used for your business. Now let's take a closer look at the many disadvantages to leasing:

Leases have several restrictions in place. You can't make any modifications to the vehicle as you can with traditional financing.

There is usually a mileage limitation established during the leasing process. Make sure you understand how much your yearly mileage is going to be to see if this option works for you.

You are not building any equity. When the financing term is over you hand back the car and you walk away.

You are locked into a lease. If you need to break it, you have to pay a penalty. This could be as high as six months of payments depending on your terms.

You can look forward to the day that the payments will stop but when you hand it back, you have nothing left. In both types of financing, you don't own the vehicle. However, with traditional financing you will at one time. When the payments are finished you will own it outright. With a lease, you never do own the car.