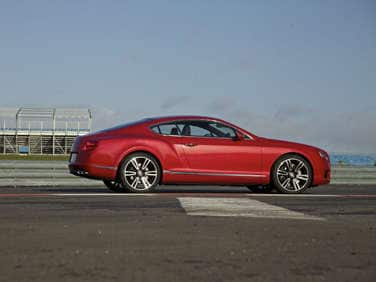 Bentley's presence at the North American International Auto Show was designed to draw attention to its new take on the Bentley Continental GT uber-luxury sports coupes. The 2012 Bentley Continental GT V-8 now offers a new eight-cylinder engine that the British brand touts as offering a high level of output while introducing a new, more economical element that had been absent from past editions of the car.
The 2012 Bentley Continental GT V-8 and Continental GTC V-8 are motivated by a twin-turbo, 4.0-liter V-8 that generates a stout 500 horsepower and 487 lb-ft of torque. An eight-speed automatic transmission sends that power to all four wheels via the coupe's standard all-wheel drive system, and Bentley's very European claim that the big cruiser can "cross countries on a single tank" of fuel indicates a 500 km plus range for the Continental GT. The engine's enhanced fuel economy is made possible via a cylinder deactivation system that can cut the V-8 motor to a four-cylinder unit when cruising.
Corporate parent Volkswagen had a significant hand in the development of this engine by way of Audi, where a direct link can be made between the 4.0-liter V-8 and the 4.2-liter motor commonly found across the premium car company's lineup. The vehicle's 6.0-liter W-12 engine is still available as an option with the super luxury car, and this mill provides 567 horsepower and 516 lb-ft of torque to help better define the top tier edition of the car.