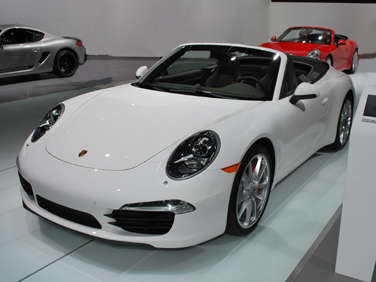 Amidst jokes about bringing balmy weather to a warmer-than-normal Detroit in January, Porsche debuted the 2012 Porsche 911 Cabriolet this morning at the North American International Auto Show. The all-new Porsche 911 Cabriolet follows the introduction of its 911 Coupe sibling in late 2011 as the next variation of the German company's many-headed sports car hydra.
The 2012 Porsche 911 Cabriolet boasts a host of improvements over the previous model, including a new top mechanism that can be operated while the vehicle is traveling at speeds of up to 31 miles per hour. The 911 Cabriolet also offers a more coupe-like roofline with its cloth top in the raised position, and is just a tick over 130 lbs lighter than the convertible that it replaces – an impressive achievement for an open air automobile.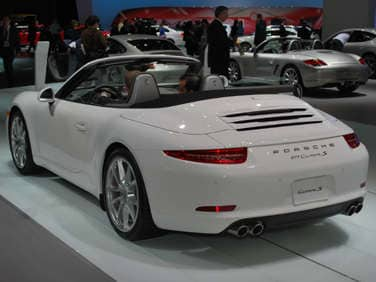 Mechanically, the 2012 Porsche 911 Cabriolet is the identical twin of the 911 Coupe, with a 350 horsepower, 3.4-liter flat six-cylinder engine occupying the rear quarters in the base Carrera model and a 400 horsepower, 3.8-liter six-cylinder taking up residence in the Carrera S. Both engines come mated with an industry-first seven-speed manual transmission as standard equipment, while a seven-speed PDK dual-clutch automated manual is available as an option with either motor.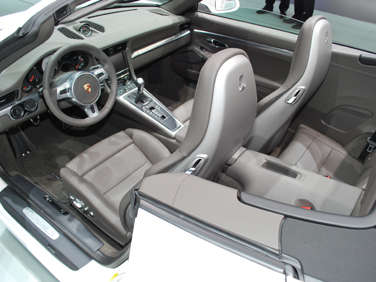 Like the steel-roof 911, the 2012 Cabriolet offers eyebrow-raising performance, with a zero-to-60-mph sprint of 4.5 seconds possible when the Carrera S is equipped with the PDK transmission and the Sport Chrono package (featuring launch control). Top speed for the convertible is listed as 188 miles per hour. Although official fuel mileage figures have yet to be released for North America, Porsche is claiming that the 911 Cabriolet is 15 percent more efficient than its predecessor on the European cycle.