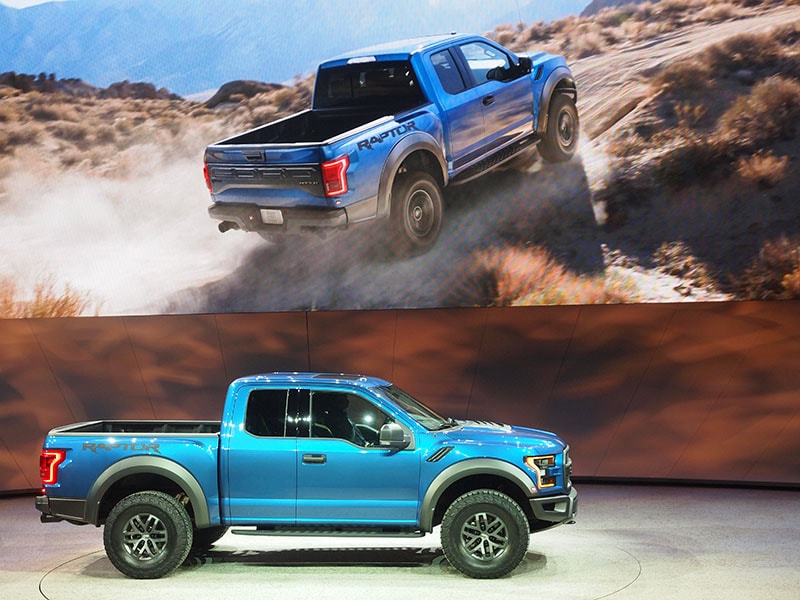 It's only fair that Detroit muscle should be well-represented at the 2015 Detroit Auto Show, and indeed it was with a powerful range of options taking the stage to wow gearheads and fans of smoky burnouts with their eye-popping engines and bulletproof drivetrains.  There's really never been a better time to be a muscle car fan than the modern era, and as proof we've picked out 10 of our favorite Detroit muscle cars from the 2015 North American International Auto Show to give you some of the high performance flavor that was in abundance at the Cobo Center this year.
1. 2016 Shelby GT350R Mustang
When the Shelby GT350 first debuted at the L.A. Auto Show it was hard to imagine its potent package getting better, but somehow that happened in Detroit with the 2016 Shelby GT350R Mustang.  Lighter than the GT350 by 130 lbs thanks in part to carbon fiber wheels and a stripped interior, the Shelby GT350R is powered by a 5.2-liter flat-plane crank V-8 engine that produces more than 500 horses.  This output is fed to the rear wheels via a six-speed manual transmission, and a magnetically-adaptive suspension system helps to keep the hotted-up Mustang planted through aggressive cornering maneuvers.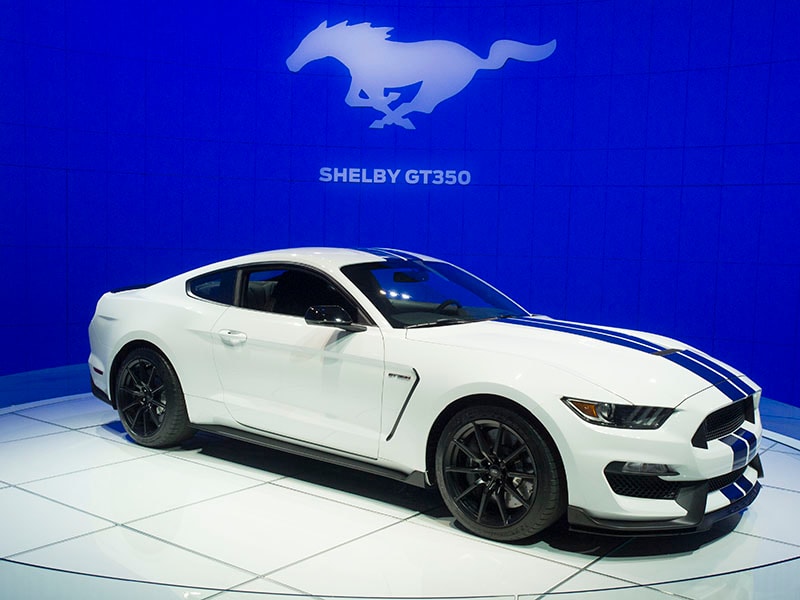 2. 2015 Dodge Challenger SRT Hellcat
If you feel that ultimate power is the most important aspect of a Detroit muscle car, then you simply can't beat the 2015 Dodge Challenger SRT Hellcat.  Packing a 6.2-liter, supercharged Hemi V-8 engine that delivers 707 ponies and 650 lb-ft of torque, the Challenger SRT Hellcat is the mightiest muscle car on the block by a wide margin.  Available with either a six-speed manual or an eight-speed automatic transmission, this performance coupe can reach a staggering top speed of 199 miles per hour - if you can somehow launch it off of the line without incinerating the rear tires, that is.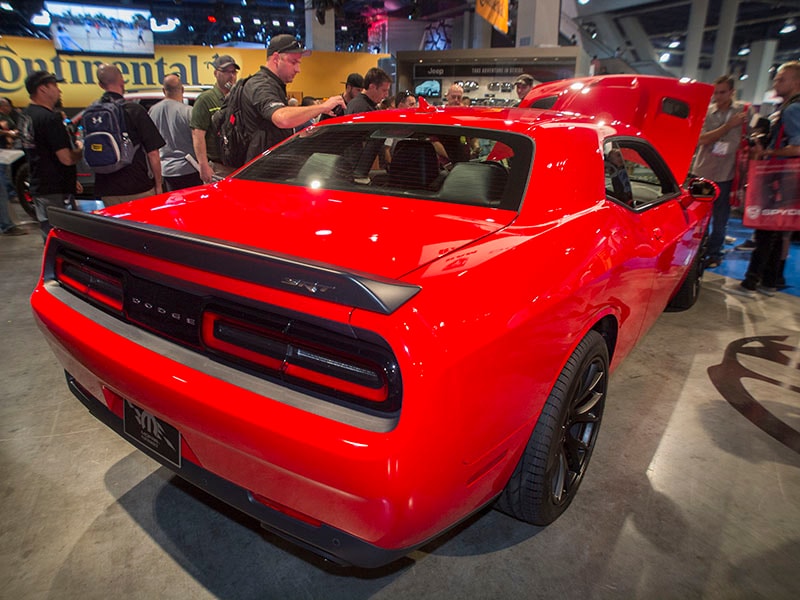 3. 2016 Cadillac CTS-V
The 2016 Cadillac CTS-V is an all-new take on the brand's notorious super sedan, and while we're disappointed that a six-speed manual transmission is no longer on the order sheet for the car (an eight-speed auto is now the sole gearbox to be had), we're ecstatic about the Cadillac's supercharged 6.2-liter V-8.  With 640 horsepower and 630 lb-ft of torque on tap, it's impossible to deny this luxury car's muscle cred, and the re-worked body and reinforced chassis also ensure a safe and stable run all the way up to 200-mph.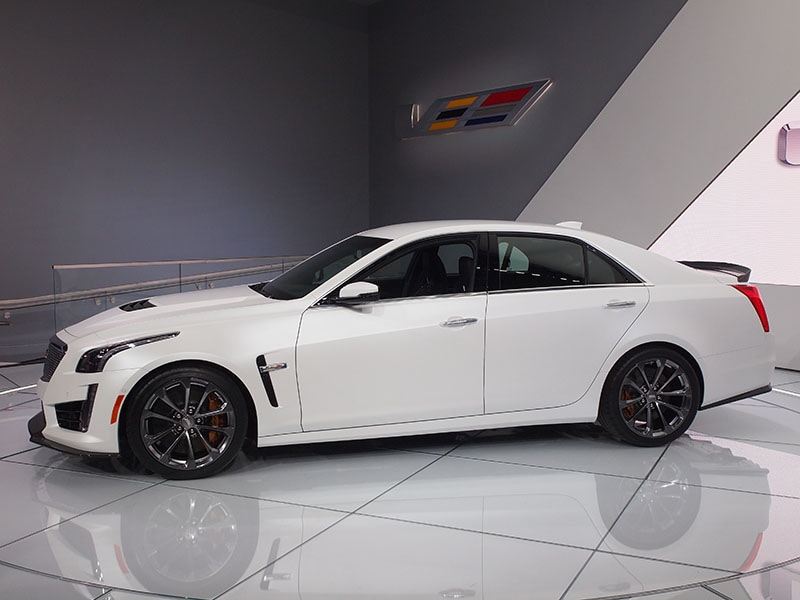 4. 2017 Ford Raptor
The 2017 Ford Raptor made an early debut at this year's Detroit Auto Show, and the muscle truck brought some major changes to the table compared to last year's model.  Gone is the V-8 engine but in its place is a 3.5-liter, twin-turbo EcoBoost V-6 that Ford promises will be even more powerful than the departing 5.0-liter mill.  Also new is a 10-speed automatic transmission, a first for the Blue Oval and a unit that is intended to split the difference between the need to bound over dunes and rocks and the realities of modern fuel efficiency regulations.  Four-wheel drive remains standard with the Ford Raptor, which rides on a completely redesigned platform.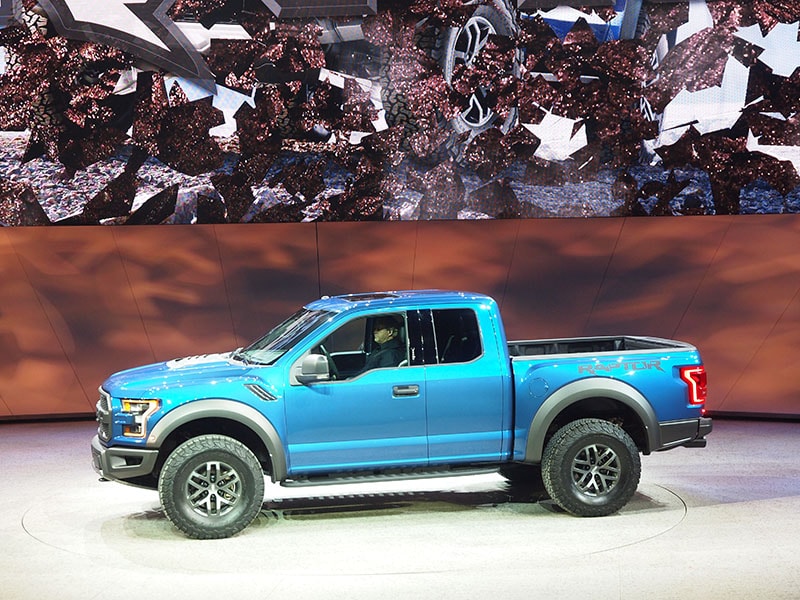 5. 2015 Chevrolet Corvette Z06
The 2015 Chevrolet Corvette Z06 is a true supercar, not 'just' a muscle car, but its ridiculous power numbers and its Detroit heritage would make it a criminal offense not to include it on this list.  With 650 horsepower and 650 lb-ft of torque generating by its 6.2-liter supercharged V-8 engine, the Z06 will rocket to 60-mph in just 2.95 seconds when equipped with its optional eight-speed automatic transmission (the seven-speed manual gearbox needs a couple tenths extra to do the deed).  Credit goes to the car's lightweight construction, heavy focus on aerodynamics, and exceptional launch control system for making the Corvette Z06 manageable for every day drivers.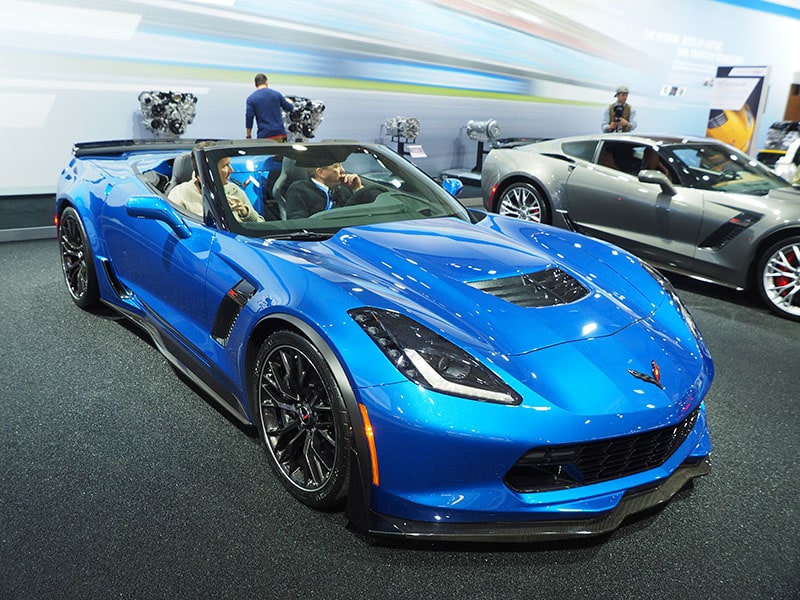 6. 2015 Dodge Charger SRT Hellcat
Intrigued by the Challenger SRT Hellcat, but need an extra set of doors to add enough practicality to convince yourself that a 707 horsepower commuter car is a good idea?  Enter the 2015 Dodge Charger SRT Hellcat, a vehicle which lifts the Challenger's drivetrain lock, stock, and almost barrel (it's automatic-only) in order to create the most muscular sedan to have ever escaped a Detroit engineer's imagination.  The longer wheelbase and better aero of the Charger platform help to make the SRT Hellcat version quicker than the Challenger SRT Hellcat to 60-mph, and they also add an additional five miles per hour to the vehicle's top speed.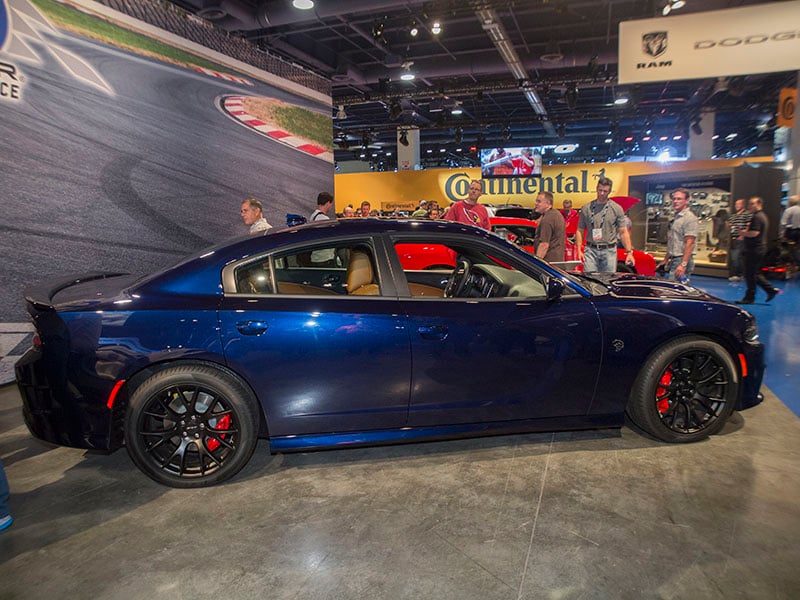 7. 2015 Ford Mustang GT
We've already discussed Shelby's latest take on the Mustang platform, but we'd be remiss if we didn't discuss the all-new 2015 Ford Mustang's other intriguing edition.  The Ford Mustang GT includes a 435 horsepower, 5.0-liter V-8 that's also capable of generating 400 lb-ft of torque.  You can choose between either a six-speed manual or six-speed automatic transmission with the GT, which also features an independent rear suspension setup for the first time since the late 1990s.  Handling and acceleration go hand-in-hand with this latest Mustang muscle car, and the coupe's overall driving experience is more refined that ever before.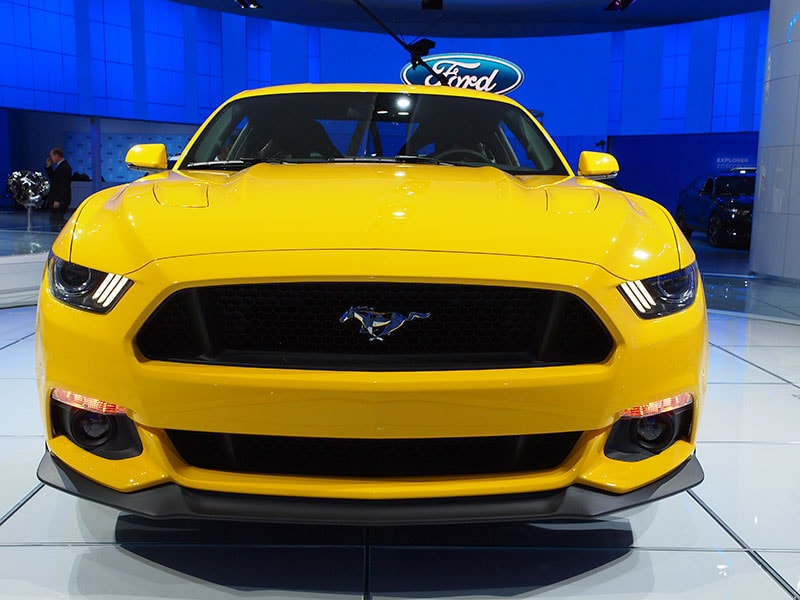 8. 2015 Chevrolet Camaro Z/28
The 2015 Chevrolet Camaro Z/28 is the initial salvo that generated the Shelby GT350R response in the track-ready muscle car wars.  The Camaro Z/28 features a similarly stripped-down design philosophy, with as much weight saved as possible compared to the standard Camaro SS.  Of course, power is up, too, with 505 horses and 481 lb-ft of torque on hand thanks to the presence of a 7.0-liter V-8 engine mated to a six-speed manual transmission.  60-mph arrives in a scant 4.4 seconds from behind the wheel of the Z/28, but perhaps more telling is this road circuit star's 172-mph top speed.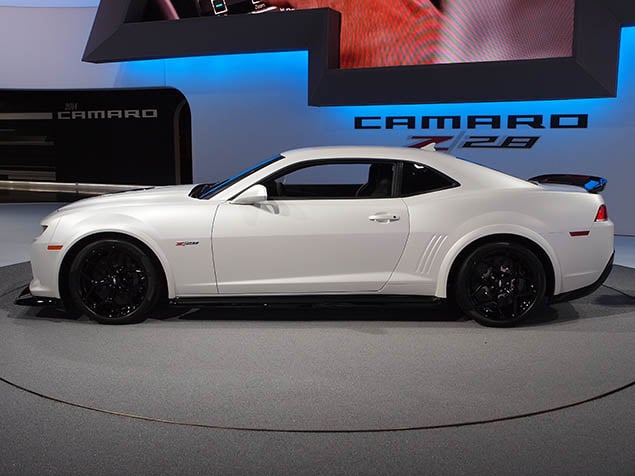 9. 2015 Cadillac ATS-V
The 2015 Cadillac ATS-V joins the Raptor in offering six-cylinder excitement for muscle car fans, and it does so by way of a similar twin-turbo engine design.  Available as either a coupe or a convertible, the ATS-V's forced induction motor pushes out 455 horsepower and 445 lb-ft of torque to the rear wheels, managed by the choice of either a six-speed manual or eight-speed automatic transmission.  Huge Brembo brakes are on hand to haul the ATS-V down from super-legal speeds, and a magnetically-adaptive suspension helps keep the car pinned to the tarmac at all times.  60-mph is achieved in under four seconds by the Cadillac, which boasts a top speed of just under 190-mph.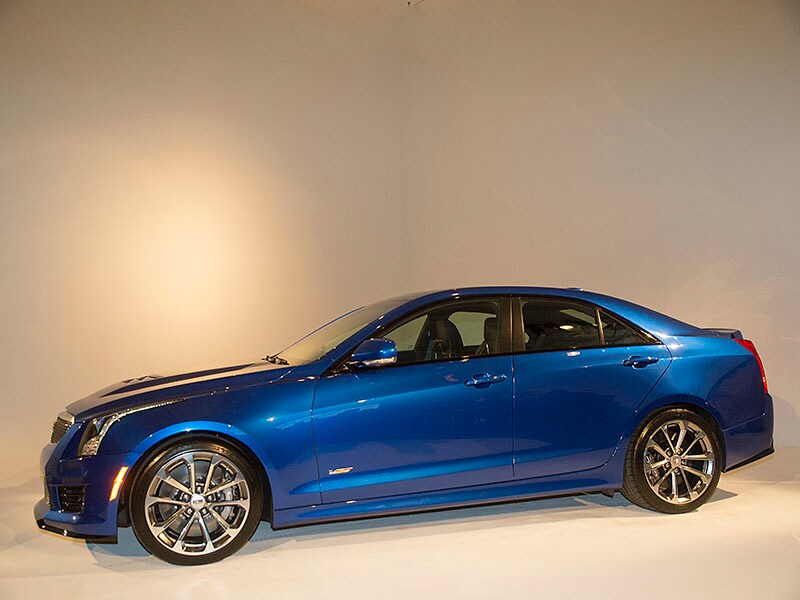 10. 2015 Dodge Viper GTS
The 2015 Dodge Viper GTS is another supercar / muscle car hybrid, a ten-cylinder monster whose ability to slice and dice a race track requires the careful attentions of a highly-skilled driver.  640 horsepower and 600 lb-ft of torque are numbers that command respect, and with the ability to crest the 200-mph mark while hunting down the next apex, the Dodge Viper GTS has earned every inch of its high performance pedigree.  A six-speed manual transmission is the only gearbox available with this Detroit muscle monster, and the GTS model also features a five-way adjustable suspension system.