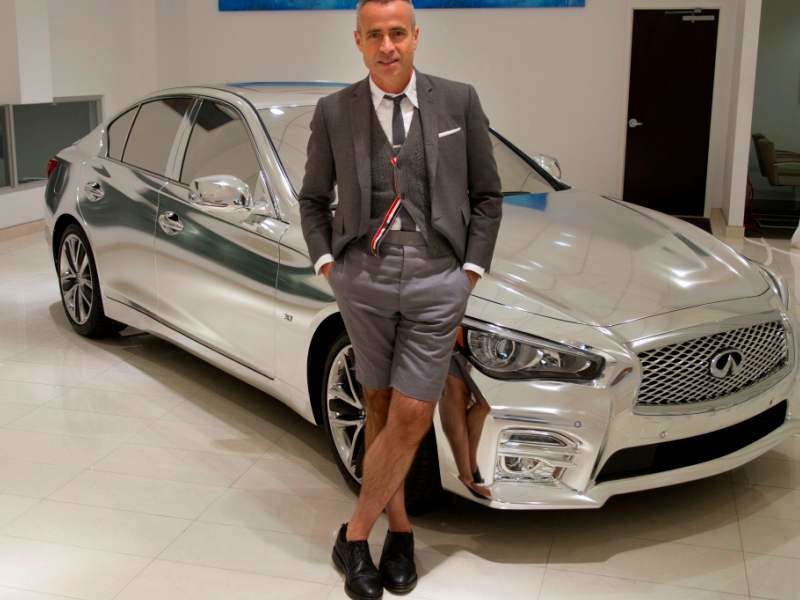 Award-winning fashion designers Thom Browne and Zac Posen, in concert with Infiniti and Gilt.com, have worked together to create a pair of exclusive 2014 Infiniti Q50 sport sedans that will be sold via the upscale online shopping site to raise money for the St. Jude Children's Research Center. The choice of charity was a personal decision on the part of Browne and Posen, reflecting a hands-on approach to the project that is readily apparent from one look at the one-of-kind cars—details of which are provided on the following pages.
Now, to be clear, this isn't an auction. Each of the carefully prepared 2014 Infiniti QX50s will be priced at $75,000, and that will bring not just the cars, but also $10,000 in shopping credit at Gilt.com, a style consultation with a Gilt expert and a custom accessory created by either Browne or Posen and inspired by Infinti's new luxury sport sedan. The former has designed a sterling silver personal-card case that's highlighted by his hallmark red, white and blue stripe accent, while the latter has created a leather smartphone clutch done in the same sophisticated red shade that he used to enhance the 2014 Infiniti Q50.
Those fashion accessories also will be available separately, in very limited quantities, via the Gilt.com website. All items, including the designer 2014 Infiniti Q50 models, will go on sale on Dec. 12, 2013.
"We're always looking for new opportunities to showcase our brand in interesting and unexpected ways and we're excited to be able to do so with an innovative brand such as Gilt and two of the most well-respected and creative designers out there," said Keith St. Clair, director of Marketing Communications and Media for Infiniti USA. "These two one-of-a-kind Q50s designed by Thom and Zac embody the true essence of Infiniti's inspired performance. To see this collaboration come to fruition is truly inspiring and we're eager to see who the lucky buyers will be in December."
2014 Infiniti Q50: The Personal Touch
The Thom Browne edition of the 2014 Infiniti Q50 is highlighted by a striking chrome exterior finish, then complemented by sterling-silver cabin accents and red, white and blue interior striping. An additional bonus can be found in the trunk, where there's a set of luggage designed by Browne as well.
"I've always admired Infiniti and Gilt as brands inspired by innovation, so this was an opportunity to get creative and translate my vision for fashion to the road," he said. "I went into this project almost as if I was designing a bespoke suit. Everything is made-to-measure, from selecting the materials and colors, to tailoring the upholstery to fit the curves and lines of the interior, and also making sure that the hallmarks of my design aesthetic are still reflected throughout."
Posen also commended his partners, noting that: "I'm so excited to be working with Infiniti and Gilt.com, who are both known for their innovation and style. I've designed runway collections and accessories but never a car, so when Infiniti and Gilt approached me about this project, I knew it was going to be a fun and exciting journey and a challenge that I was excited to dive into right from the start."
To meet said challenge, Posen's 2014 Infiniti Q50 wears its own striking exterior finish that provides an "ombré" effect in which the car's color gradually deepens from a light silver matte at the front to a high-gloss dark grey at the back. For some of the red-carpet effect, the cockpit is done in velvet and leather in exactly that color.
For more information on the Gilt.com 2014 Infiniti Q50, visit www.gilt.com/InfinitiQ50; to learn more about the rest of the 2014 Infiniti Q50 portfolio—a stunning reinterpretation of the sport sedan in its own right—contact your local Infiniti dealership.